The Hoffman Center for Business Ethics Library
Welcome to the webpage for the W. Michael Hoffman Center for Business Ethics Library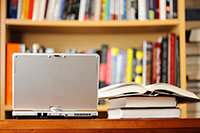 The W. Michael Hoffman Center for Business Ethics has an extensive multimedia library that contains one of the largest collections in the United States of business ethics books, journals, videos, and resources for practitioners.  The library is not only open to the Bentley University community, it is also a rich source of materials for visiting scholars and research fellows, as well as ethics practitioners, and anyone else who may be interested in developing a better understanding of the theory and practice of ethics in business.  
Please feel free to stop by our library located at our Center, Adamian building, room 108, to browse our book collection.  If you prefer, you can also search our collection through our online program called Library Thing.
Business Ethics Journals
These sets of journals are available in our library.
Business and Professional Ethics
Business Ethics: A European Review
Business Ethics Quarterly
Business and Society
Business and Society Review
California Review Management 
Environmental Ethics
Harvard Business Review
Journal of Business Ethics
Public Integrity