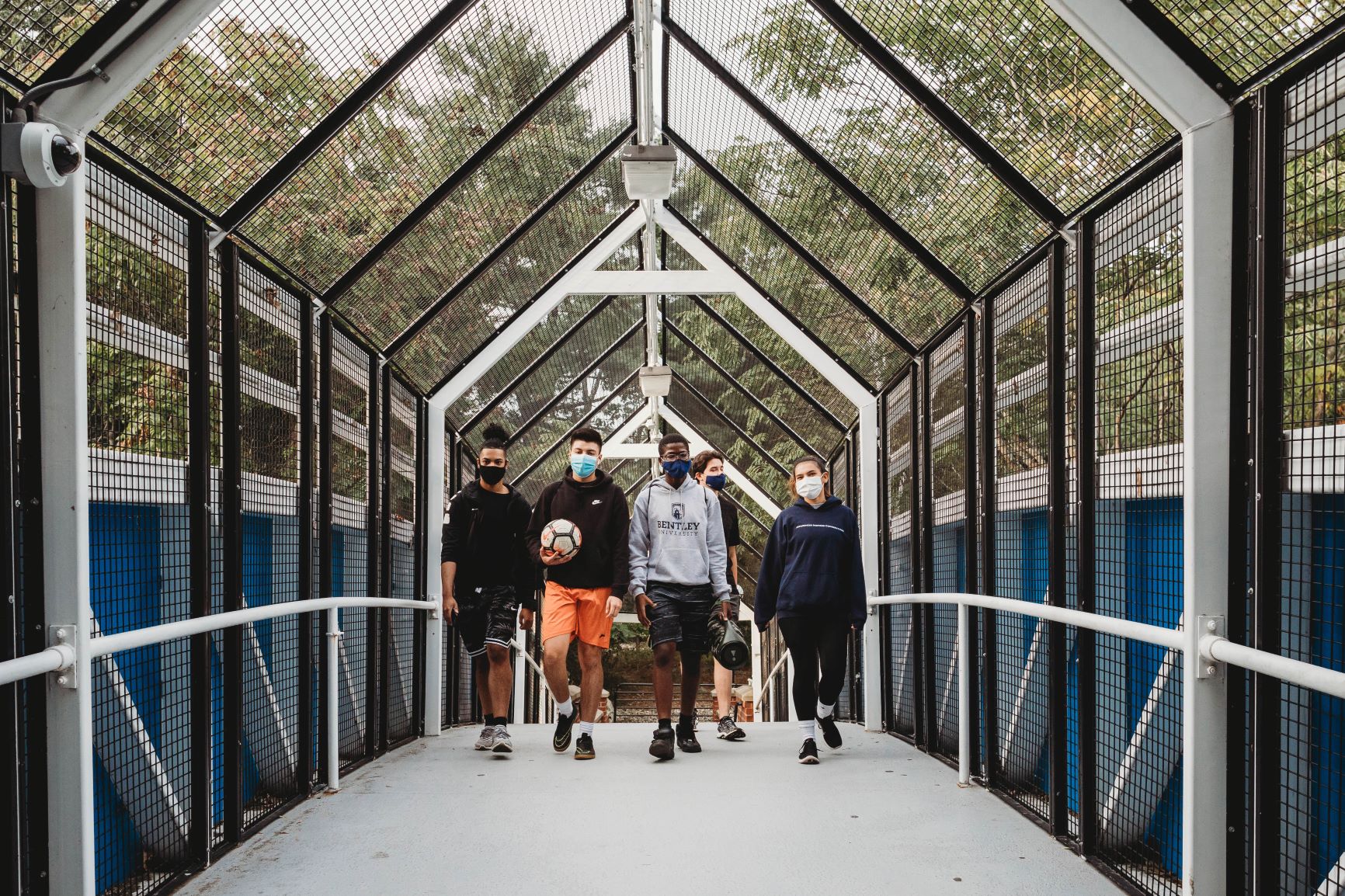 Bentley University is committed to providing an accessible, equitable, and inclusive learning environment. If you are having difficulty accessing information and need this content in an alternate format, please contact Director of Educational Support Technology and First Year Academic Programs, P.J. Dickson at pdickson@bentley.edu or 781-891-2898.
Fall 2022 Transfer Student Registration Video and Powerpoint - Coming Soon
Planning Your First Semester Classes
Academic Calendar - See here for information on the semester schedule, holidays, and when classes are not held. 
Fall/Spring Block Schedule - Grid showcasing the Bentley Block Schedule; specifically; days and times of all classes.  Most day classes meet twice a week.  Evening classes, double block classes, and Saturday classes meet once a week. 
English Placement - Do you have questions about how Bentley determines your English placement? Here's a guide to understanding your personal placement.
Math Placement - The Math Department examines your math background to determine your personal placement.  Here is a guide to understanding your math placement. 
Modern Language Placement - If you are interested in selecting Modern Language as a course option for the first semester, see this helpful guide to self-selecting the Modern Language level that is right for you.  For more information, see the department website.  
Transfer Credit  - Please refer to this page for policies and procedures regarding credit that may be awarded for prior coursework. 
Bentley Lingo - Use this guide for course abbreviations and useful Bentley terminology.  
Registration Step-by-Step Guides
Transfer Advising Information
Welcome to the Academic Advising Center's web page designed specifically for Bentley's transfer student population.  We are excited that you have chosen Bentley as the institution to complete your degree.  We realize that the transfer process can be an exciting yet challenging time.  The team members of the Undergraduate Academic Services are here to support you as you transition and immerse yourself in the Bentley curriculum and culture.  It is our mission to create a comfortable, engaging and informative environment while providing a collaborative working relationship with various professional staff members, current students and faculty members at Bentley.
The Undergraduate Academic Services is a student-centered resource that works in partnership with Bentley undergraduates to help them succeed academically and personally. Providing a safe, non-judgmental atmosphere, along with meaningful one-on-one advising sessions, informative programs, and comprehensive support services, the Academic Advising team consistently works to meet students where they are. Engaging with the advisors, programs, and services of the Undergraduate Academic Services, Bentley students can take charge of their own education, developing into successful professionals and lifelong learners.
Students are strongly encouraged to utilize the many resources available to help them identify and achieve their personal, professional, and academic goals.
First Year/Transfer Advisors:  All first-year and transfer students are assigned a faculty or staff member as their primary academic advisor during their first semester on campus.  These formally assigned advisors are available to assist students with early curriculum planning as well as provide support with any academic and social adjustment issues during the transition to college.
Professional Advisors:  All Undergraduate students have access to the undergraduate professional advising staff in the Office of Academic Services.  Advisors are available to help students with a wide range of issues including: Major and Minor selection, study abroad planning, academic difficulty intervention, strategies for enhancing academic success, and help with course selection.
Peer Advisors:  Each year, the Office of Academic Services recruits a select group of upper-class peer advisors to be available on a drop-in basis.  Peers work closely with the professional advisors and are an additional resource for students looking for general academic advising assistance.  Peers have been extensively trained to provide accurate and friendly service, and have the ability to address a variety of student questions and concerns with objectivity.
Faculty:  Our faculty have diverse backgrounds and an abundance of experience and knowledge in their particular field. Bentley students are encouraged to use our expert faculty as exploratory and advisory resources.  The faculty's expertise within their chosen fields allows students to benefit from their knowledge of career options, course options, and research opportunities.
Responsibilities and Supporting Roles for Academic Success
Student Responsibilities for Academic Success:
Transfer students must connect and meet with their advisor per Transfer Seminar requirements.
Transfer students should continue to connect with their assigned advisor or a professional advisor in the Undergraduate Academic Services at least once a semester.
Students should prepare for their advising appointments.  
Students must become familiar with policies, procedures and the relationship between their decisions and the subsequent outcomes.
It is strongly encouraged for First & Second Year Students to attend programs to explore major/minor options and other academic opportunities.
Students should become familiar with the wide variety of academic resources on campus.
All students should connect with various members of the Bentley community (faculty, staff and student leaders).
Working with advisors, faculty, staff and parents, students should create and continually clarify personal and professional goals.
Students must accept responsibility for the actions or inactions that impact their academic progression and plan.
Academic Advisor Role:
The Undergraduate Academic Services will provide a safe, non-judgmental and comfortable advising atmosphere.
Advisors will participate in frequent professional development/training.
Advisors will adopt a clear understanding of the undergraduate curriculum and the tools necessary to assist students in developing appropriate academic plans as well as personal and professional goals.
Advisors will be knowledgeable about academic opportunities and be able to recommend a course of study (when appropriate) that is congruent with the student's professional and personal goals.
Advisors will provide the appropriate amount of challenge and support that encourages the development of decision making skills.
Advisors provide intervention for students who receive progress reports and/or other notifications of possible failure or concerns.
Advisors will appropriately refer student to college support services (counseling, career services, residence life, multicultural center, education abroad, etc) when necessary.
Transfer Seminar
Transfer Seminar is a 6-week seminar designed to facilitate the intellectual, social, and personal transition of students to Bentley University. The goal of Transfer Seminar is to assist students with their adjustment to Bentley and to increase the likelihood that they will be academically and socially successful at Bentley University.
Transfer Seminar is taught by a professional staff member who will also serve as the students' academic advisor.  In addition, each seminar will have the benefit of a student facilitator – a former transfer student who can share experiences, perspectives and make a positive impact on the new student experience.
Transfer Seminar Facilitators
Previous College(s): Bryant University. I transferred from there after one semester my freshmen year and came here in Spring of 2019.
Hometown: New Castle, NH
Why I chose Bentley: I chose Bentley because I wanted challenge myself academically and go to a school in close proximity to Boston.
How I picked my major:  I like marketing because it is the creative side of business and I found that I prefer to collaborate in a team setting and this field allows for a lot of social interaction and outside thinking.
Favorite class I have taken at Bentley: My favorite class at Bentley was Consumer Behavior with Dobscha because she is very dedicated to ethics in marketing efforts by companies. She also gives great insight into understanding the consumer side of marketing.
Bentley student activities I have been involved in: I am a member of the Bentley Women's Tennis Team and a member of the Bentley Marketing Association (BMA).
What I love most about Bentley: The students are mostly very driven here and take class seriously. I like the competitive environment because it pushes me to do better and everyone is very involved on campus.
One piece of advice I have for students: Don't take yourself too seriously and don't be afraid to make new people. It may take time to get in your groove, but everyone has their own timeline.
Minor(s): IDCC, Data Technologies
Previous College(s): Northeastern University
Hometown: Rochester, NY
Why I chose Bentley: I chose Bentley because I saw an opportunity to focus on my field of study and build a strong professional and social future.
How I picked my major: I chose Marketing because I have strong interest and skills in creative communication and analytical thinking to appeal to others.
Favorite class I have taken at Bentley: My favorite class I have taken at Bentley is MK322 (Marketing Research) because I enjoyed using numbers and statistics to make marketing decisions.
Bentley student activities I have been involved in: I am a member of Bentley's Honors Program and the Bentley Marketing Association.
What I love most about Bentley: I love that Bentley is a collaborative school! It fosters an environment in which students can meet everyone and build connections, whether it be in the classroom or on campus.
One piece of advice I have for students:  Put yourself out there! Not only take advantage of the resources and opportunities provided to you, but put in the extra effort to submerge yourself into the culture of the school as well- join clubs, talk to your professors, and reach out to other students! Putting yourself outside of your comfort zone will bring you experiences and relationships you wouldn't have otherwise.
Previous College: Suffolk University. I transferred after my freshmen year and came to Bentley in Fall of 2019.
Hometown: Bedford, MA
Why I chose Bentley: I chose to transfer to Bentley since I did not feel challenged at my former university and wanted the chance to experience a more "traditional" closed campus university. It was always my goal to transfer after my freshman year, and Bentley turned out to be the right choice.
How I picked my major:  Family members who worked in the finance industry influenced my decision to major in finance and the amount of career opportunities as well as career paths interested me.
Favorite class I have taken at Bentley: Some of my favorite classes at Bentley were FI-351 with Professor Uhlmann and HI-343. The history class was asynchronous, and I found the content of the course interesting and enjoyed the choice to choose what area of history I wanted to focus on. FI-351 is a requirement for all finance majors, and while it is a difficult class, Professor Uhlmann covers the material in a very different and interesting way.
Bentley student activities I have been involved in: I am a brother in the professional co-ed fraternity Delta Sigma Pi, Senior Advisor for the South Asian Student Association, and a member of Radio Bentley.
What I love most about Bentley: I love Bentley's campus and the diversity in the amount of campus involvements that are available to students, especially for such a small school.
One piece of advice I have for students: Try to get involved and interact with your fellow transfers! Transfer seminar is a great place to meet other students in a similar position as you. Also, try and get involved with clubs, organizations, and intramural sports on campus. Campus Groups is the best resource for this, as well as the activities fair during the first week of classes!
Major(s): Language, Culture and Business & Business Studies
Minor(s): International Affairs
Previous College(s): NEOMA Business School
Hometown: Hangzhou, China
Why I chose Bentley: I chose Bentley because I think it's a community with great hospitality, I felt so engaged and involved socially and academically during my exchange year that I fell in love with the campus immediately. In addition, I feel like it's a place with numerous opportunities, and I decided to immerse myself in this Bentley experience.
How I picked my major: I have always been a big language fan. Having spent time in France for 1.5 years, I feel that I'm really connected to the French language and culture. LCB gives me the opportunity to direct me into working on things that I'm passionate about.
Favorite class I have taken at Bentley: I really enjoyed the language classes that I've taken at Bentley. They are usually in very small sizes and fun. I got a lot of chances interacting with my professors and practicing languages with the LPs are of great joy.
Bentley student activities I have been involved in: Besides being a TSF, I'm also a tutor at CLIC and a service-learning program manager. In addition, I'm also an ambassador in the WorldView Program and I'm involved in the Chinese Young Professionals Association.
What I love most about Bentley: People are so open-minded and willing to share their experience with you as friends or mentors. In terms of academics, I benefit a lot from the small class size that Bentley classes usually are, each student would be able to have a voice in class and be engaged.
One piece of advice I have for students: Don't be afraid to ask questions! There are always people there who are willing to help you for whatever situations or problems you run into.