Committing to equity and justice for all racial groups
The Racial Justice Task Force, launched during the racial reckoning of 2020, engaged the campus in a series of restorative experiences  and reflective discussions focus our learning and strengthen our resolve. While the Task Force completed its work in 2021, the Discovery Document that was created detailed findings and offered resources and recommendations to guide the path forward in the Universities continuing journey towards becoming a more anti-racist community. This webpage provides updates on the journey and resources to support the community.
We do not advance our efforts by pretending there are quick ways to impact issues of racial justice. We encourage you to spend time with the elements within the document and on this web page to continue our collective commitment to long-term, institutional change that will embed anti-racism into everything our University does and is. 
The Path Forward
The ultimate impact of this work will be determined by two things: the degree to which individuals, groups, offices, and departments begin and sustain their own process of discovery that leads to action and the ability of the institution to resource and institutionalize structures that enable the implementation of the recommendations for investment.
The Task Force recommended the following three steps be taken to ensure campus-wide efforts to drive systemic change continue beyond the Task Force. Below are updates about Bentley's progress in creating inclusive structures on campus.
1
Create a formal campus-wide structure to facilitate the implementation of systemic efforts that impact the culture and to ensure that progress is monitored. 
2
Charge the Inclusive Excellence Council with the immediate implementation of the following action items connected to the strategic priorities identified in this document.
3
Actively monitor and publicly share progress with the campus to encourage transparency and ensure accountability. 
From Aspiration to Action
The Racial Justice Task Force together created a vision for who we want to be as a community. The following three main strategic areas of priority are essential to address if we want to truly become a more anti-racist campus. Note this is not an exhaustive list, but rather areas identified as most important to address at this point in Bentley's evolution towards a more just and equitable community. Below you will find updates about current projects and initiatives stemming from their strategic priorities.
Invest in Black, Indigenous and People of Color (BIPOC) Communities
Aspiration Statement: A community and a culture that truly values, respects, and empowers BIPOC voices and contributions and understands that for the University to thrive it must actively work to uncover and remove structural barriers preventing the full, equitable, and authentic engagement and sense of belonging of BIPOC individuals. 
Invest in Intentional Anti-Racist Knowledge and Skill Development
Aspiration Statement: A community where everyone is expected to participate in comprehensive curricular and professional development opportunities designed to increase individual racial consciousness, enhance capacity to engage in cross-racial interactions, and create a culture where authentic and brave conversations about race and racism are the cultural norm.
Invest in the Institutionalization of Systems and Practices that Ensure Racial Justice and Equity
Aspiration Statement: A community that ensures racial equity and justice through non-hierarchical decision-making processes, robust data collection and reporting requirements, and transparent accountability mechanisms that enable more data-driven and equity-minded decision making to promote more inclusive practices and policies.
Investments in BIPOC Communities
Promoting Mental Health and Wellness of Faculty and Staff of Color– In collaboration with BARE Mental Health & Wellness, the Office of Diversity and Inclusion sponsored a series of two-hour sessions for members of the Faculty & Staff of Color Affinity Group to support their mental well-being. Facilitated by Dr. Jess LoPresti and Dr. Tahira Abdulla-Swain, co-founders of BARE, these sessions covered topics such as self-worth, belongingness, creating balance, resiliency and self-compassion. 

Safe & Inclusive Spaces at Bentley– In response to the call for Bentley to create spaces that affirm the identities and nurture the success of BIPOC communities, Bentley has partnered with the architectural firm, DREAM Collaborative, to collect input from Bentley community members to create a safe and inclusive spaces plan with this commitment in mind. Efforts to engage with community members will begin in April 2022. 

Investing in Indigenous Communities- The Honoring Indigenous Communities Working Group was established in the early spring 2022 semester to explore and develop a comprehensive land acknowledgment for the university that recognizes the legacy and contributions of the Indigenous communities who are the first inhabitants of this land. The group is also working on identifying recommendations to share with University leadership on best practices for investment in and recognition of Indigenous communities within Bentley and greater Boston area. 
Investments in Anti-Racist Knowledge and Skill Development
Racial Equity Course Development Grants- a collaboration between the Bentley Learning & Teaching Council, the Badavas Center, and the Office of Diversity & Inclusion. These grants provide summer stipends for faculty to develop new undergraduate and graduate courses at Bentley that explore issues of race in the United States. Two grants were awarded in 2021 and six grants were awarded in 2022. 

 
Investments in Institutionalizing Equitable Systems and Practices
Bentley Equity Experience- The Bentley Equity Experience Campus Climate Study launched in the fall 2021 semester to create a baseline measure of the community's perceptions of Bentley's culture. Early data from the study is now available, with more data to be released through community engagement and exploration sessions in the Spring and Fall. 

Office of Institutional Equity- Launching in the 2022-23 academic year the Office of Institutional Equity will assume responsibility for coordinating Bentley's response and compliance efforts with respect to state and federal anti-discrimination and anti-harassment laws such as Titles VI, VII, and IX. In addition to expanding the university's ability to coordinate resources, prevention and response procedures, creating an Office of Institutional Equity will strengthen our commitment to ensuring institutional accountability by providing an easily accessible and effective mechanism for responding to incidents as they occur. This new office will reinforce our values by interweaving our commitment to diversity, equity, inclusion and justice within a centralized and resourced office charged with ensuring timely, consistent and equitable responses to reports of bias, discrimination, harassment and sexual misconduct.  

Racial Equity Scorecard- The Inclusive Excellence Council is working to develop a racial equity scorecard, a tool that will help the University identify, regularly monitor and reduce racial equity gaps in strategic areas of access and success, climate and intergroup relations, education and scholarship, and institutional capacity and commitment.  
Racial Justice Task Force Discovery Document
Process of Discovery
The call for Bentley's Racial Justice Task Force was a deliberate attempt to include a diversity of voices with regard to identity, experience, talents, and passion, in order to look inward with a critical lens. Proudly, more than 100 members of the community, including students, faculty, staff, and alumni, bringing with them a variety of backgrounds and experiences, joined the effort. A list of Task Force members can be found in the appendix. 
Our collective change process invited everyone in the community to engage in experiences to facilitate sense-making in the aftermath of national and campus-wide racial trauma. Below we have captured a high-level overview of the events that led and contributed to our final discovery document.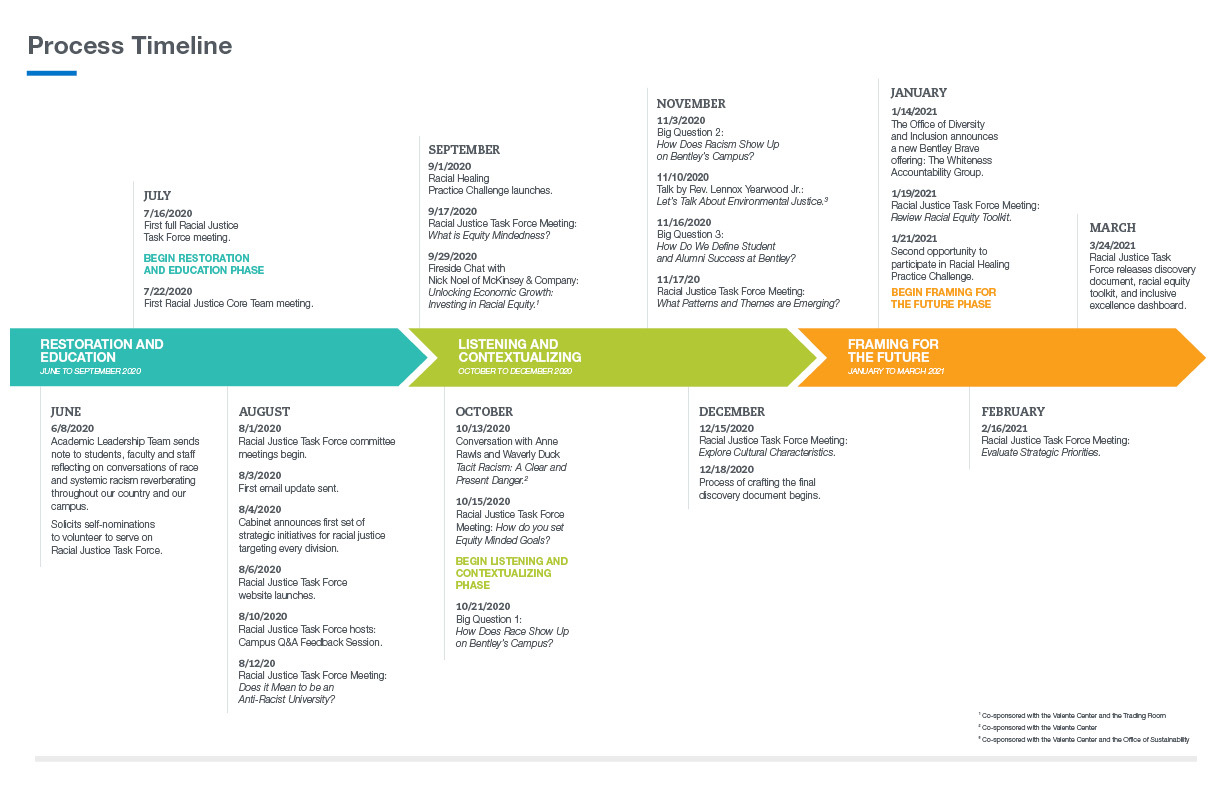 Discovery Resources
Below you will find two important resources that resulted from the work of the Task Force, in tandem with the Discovery Document.
Racial Equity Tool Kit
The Racial Equity Tool Kit (RETK) is an interactive guide intended for the Bentley University community to reflect on their everyday practices that may contribute to or perpetuate systemic racism and racial inequity. It is intended for individuals or groups at any point in exploring and planning racial equity and anti-racism work in their units.
Inclusive Excellence Dashboard
Bentley University is committed to Inclusive Excellence meaning that all members of the community can learn and develop in an environment that supports their sense of belonging without asking them to sacrifice their authenticity.  Through this commitment we strive to create an environment that welcomes diversity in all its forms and supports the development of inclusive, just, and equitable spaces. This interactive dashboard provides both static and longitudinal data that captures both the demographic makeup of the community and other measures that represent other elements of Inclusive Excellence like climate, education, and institutional support. As Bentley works to implement both a strategic plan for Inclusive Excellence and Equity Goals we will continue to add to this dashboard. Review the dashboard below. 
Cultural Barriers to Transformation
The removal of systemic barriers to racial equality and justice are much easier to name than they are to achieve. Acknowledging these cultural patterns of behavior and how they work to prevent the creation of a racially just and equitable environment is difficult but necessary on our journey to meaningful change. Now that everyone, not just those in minoritized communities, is more aware of these cultural characteristics, we can take action towards replacing them with ways of being that favor more equity-minded decision making and more justice-oriented policies and practices.
The following themes describing Bentley's culture emerged from our conversations as a Task Force and as a community.
Status Quo Over Awareness
Bentley is a historically and predominantly white institution(HWI/PWI), and the culture reflects that truth. The lack of representation across all levels of the University creates blind spots that prevent people from questioning assumptions or cultural norms. Consequently, there is little value placed on learning about race and racism because there is little awareness that these phenomena exist in the community. Where awareness exists there is a lack of support to address the root causes. 
Appearance Over Substance
The culture at Bentley rewards those who preserve the appearance of perfection, not those who reveal challenges or concerns. There is a low tolerance for discomfort and difficult conversations are avoided, especially when race or racial injustice is involved. Individuals who raise a concern are often blamed rather than encouraged to question the status quo. This results in defensiveness and a lack of transparency and accountability because issues are not identified or are hidden.
Content Over Process
A sense of urgency drives the culture at Bentley, allowing little room for discovery and long-term thinking. Priority is placed on achieving more, faster, and only outcomes that can be measured are valued. Short-term impact takes precedence, limiting the ability to understand the true, long-term cost of decisions. There is a false confidence in objectivity and meritocracy, with little regard for systemic inequality resulting in policies and practices that favor those in the majority.  
Isolation Over Collaboration
Power and decision-making is concentrated in silos at Bentley. Access to information and data is controlled, limiting the potential for inclusive and informed decision-making. There is no effort made to solicit different viewpoints or perspectives, as those in power assume, they can make the best decision for everyone. Decisions are made for, not with, those most impacted, resulting in unintended consequences.
Take Action In Your Area Of Influence
It is the collective actions and share responsibility we take beyond the work of the Task Force that will truly determine our will to be an organization where racial justice is a reality and not just rhetoric. 
Change cannot happen without a real and continuing commitment from members of our community. We cannot rely on "band aid" solutions that simply gloss over or temporarily hide and fix inequities existing on our campus. We must commit to long-term, institutional change that will embed anti-racism into everything our University does and is. 
Below you will find four suggested action steps you can take now to move our work forward. 
Share It With Your Network
Acknowledge Cultural Barriers
Identify Relevant Areas for Investment
Read the Document
We recognize this document is dense and encourage you to read, re-read, and refer to it often. For many, the discoveries we uncovered over the past year will be familiar. For others, the first step towards breaking system racism is education and our hope is this document will provide a lasting foundation. Learning about and understanding all of the information within the document will allow our community to continue its collective work of moving the path forward and fighting against racism.
Share it with Your Network
In order to break systemic barriers, it is our responsibility to share our reflection with those in our network. Invite conversation. Choose to engage in this work and promote equity.
Acknowledge Cultural Barriers
We can take action towards replacing these barriers with ways of being that favor more equity-minded decision making and more justice-oriented policies and practices. Make efforts to be more conscious of where these barriers exist on campus, and actualize ways to change them.
Identify Relevant Areas for Investment
The document outlines several areas for investment that we believe will make progress towards becoming an anti-racist institution. In order to accomplish our aspirations, we will need the engagement of the community to see our strategic priorities through. Review these areas and identify where you can have influence.
Summarizing the work of the Task Force, and opportunities for the future.
This report would not have been possible without input from our community.
Additional Resources to Support Your Collective Action