Student Health, Counseling and Wellness Staff
Our staff may not be able to respond to message immediately. Emergencies should be directed to University Police at (781) 891-3131. Staff do not check their email when the counseling center is closed.
Please also note: email is not a confidential source.  
If you need an immediate response from the Health Center team, call (781) 891-2222 to speak with a provider during business hours, as providers may not be able to access or respond to email right away.
Anjini Virmani, MD Associate Dean for Health, Counseling and Wellness Director, Health Center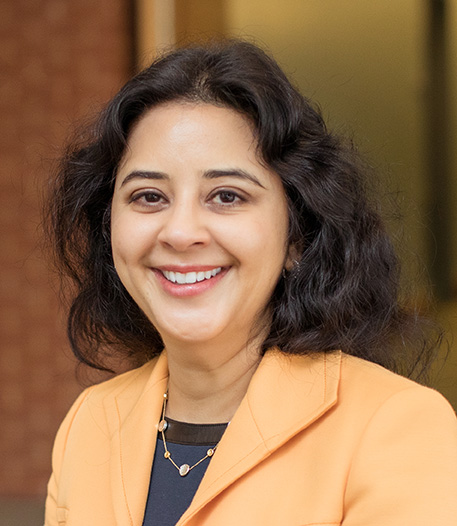 Anjini Virmani, MD is a board-certified physician in Internal Medicine. She previously worked at Harvard Vanguard Medical Associates/Atrius Health for 21 years, serving for the last 7 years as a Medical Director and Associate Chief of College Health at their programs with Massachusetts College of Art, Wentworth Institute of Technology, Massachusetts College of Pharmacy and Berklee College of Music/Boston Conservatory. During that time, she received a Diamond Award for excellence. She graduated from Northwestern University with a degree in biology and then completed medical school, also at Northwestern University. She then did her residency in Internal Medicine at Boston University. She was a faculty member as an Instructor at Harvard Medical School for 20 years before joining Bentley. She has a special interest in preventative health care and the care of international students. She is thrilled to be here at Bentley working with students to improve their health.
Margaret Fitzgerald, MS, FNP-BC, Associate Director
Contact: (781) 891-2222 | mfitzgerald@bentley.edu
Margaret has been at Bentley since 2003 as a board certified family nurse practitioner. She began as assistant director and was promoted to associate director in 2011. Margaret has experience as a director of college health and as a critical care nurse at New England Medical Center. She enjoys working with students and assisting them with their health-related issues to promote academic success and well-being. Her program interests include safer sex, contraception, stress management and nutrition. Margaret is currently a reviewer for the Journal of American College Health and is a past chair of the Advanced Practice Clinician section of the American College Health Association. She enjoys spending time with her family, taking long walks and spending time on Cape Cod.
Nora Basile, MSN, APRN, AGPCNP-BC, WHNP-BC, Nurse Practitioner
Nora joined the Health Center team in summer 2018 as a board-certified women's health and adult/gerontology primary care nurse practitioner. She received her MSN at MGH Institute of Health Professions in 2015. Before becoming a nurse practitioner, Nora was an officer in the U.S. Coast Guard, serving on ships on all coasts of the U.S. and in the Arctic. She is an India-trained yoga therapist, certified by the International Association of Yoga Therapists, and enjoys incorporating those practices into her work with patients. Her clinical interests include LGBTQ health, urgent care, gynecology, contraception, and PrEP. Nora enjoys biking with her family, weightlifting, yoga, and all Marvel movies.
Debbie Forman, MS, ANP-BC, Nurse Practitioner
Contact: (781) 891-2222 | dforman@bentley.edu
Debbie has worked at Bentley since 2000 as a board-certified adult nurse practitioner. She received her MS degree in primary care nursing from Simmons College, her BS in nursing from Boston College, and a diploma in nursing from the Hadassah School of Nursing in Jerusalem, Israel. Debbie volunteered at the Boston Area Rape Crisis Center for several years and was instrumental in introducing bystander education to Bentley. Her specialties are pulmonary medicine and gastrointestinal issues. She enjoys all many outdoor activities, particularly biking, swimming, and skate skiing.
Anne Herzog, MS, ANP-BC, Nurse Practitioner
Contact: (781) 891-2222 | aherzog@bentley.edu
Anne has worked at Bentley since the fall of 2005. She received her Master's degree in adult primary care from Simmons College in Boston, and her Bachelor's degree from the University of Pennsylvania. Anne enjoys providing medical care to students, teaching rape aggression defense (RAD), bringing health programs to students, and being an ally to the LGBTQ community. Prior to Bentley, Anne worked both at the South Boston Community Health Center and in a small primary care office. She worked for seven years as a registered nurse before becoming an NP. Personally, she enjoys spending time with her family and participating in sports.
Kerry Hughes, BSN, RN
Kerry started at Bentley in January 2019 as the Registered Nurse/Immunization Coordinator. She received a bachelor's degree in Nursing from Boston College. Upon graduation, Kerry spent many years working in the Boston area as an ICU nurse, a PACU nurse and an ambulatory surgical nurse and manager. She has also worked in college health and public school health. Kerry is delighted to be at Bentley University. She and her family have many local ties to Bentley University and in Waltham. Having college-age children herself, she is very aware of the needs of the student population. She likes keeping young adults healthy, immunized and educated about vaccinations. Kerry enjoys time with her family, watching the Boston sports scene, and being near the waters of New England—whether it be along the shores of Cape Cod or the lovely lakes of Maine.
Kim Kerrigan MSN, FNP
Kim Kerrigan is a board-certified family nurse practitioner who joined Bentley in 2016. Kim obtained her bachelor's degree from San Diego State University and her master's in Nursing from UCLA . Kim has over 25 years of experience in college health and primary care. Her patients describe her as knowledge, compassionate and dedicated. Outside of work, Kim enjoys travel, yoga and spending time with her family. 
Julia Matthews, MSN, MPH, Nurse Practitioner
Contact: (781) 891-2222 | jmatthews@bentley.edu
Julia joined the health center team as a nurse practitioner (NP) in 2016. She completed her MSN at the Massachusetts General Hospital (MGH) Institute of Health Professions and is board certified in adult and women's health. She comes to Bentley from Boston Medical Center where she provided care to patients in the adult primary care practice and breast health center. Julia started her nursing career at MGH on the gynecology-oncology unit, a highlight of which was training nursing students. Prior to starting her clinical career, Julia advocated for reproductive health for conflict-affected populations at the Women's Refugee Commission (NYC) and supported research into female methods for HIV prevention at Ibis Reproductive Health (Cambridge). Julia earned her master's in public health from Portland State University. Julia enjoys spending time with her family, reading, running, biking and doing yoga.
Jennifer Murphy, MS, RD, LDN, Registered Dietician
Contact: (781) 891-2222 | jmurphy@bentley.edu
Jennifer received her graduate degree from Tufts University and her undergraduate degree from University of Rhode Island. She has extensive experience working with people in both day and residential eating disorder programs. She also has worked and continues to work as a nutritional educator and individual counselor in a fitness and training facility. Her own private practice focused on providing nutritional counseling tailored to the specific needs of the client, weight management and eating disorders and disordered eating.  
Sara Forman, MD, Senior Consulting Physician
Sara Forman is a board-certified physician in adolescent medicine. She has worked at Bentley since 1995 as a senior consulting physician. Sara graduated from Barnard College and Harvard Medical School and completed her residency in pediatrics at Children's Hospital of Philadelphia. After completing a fellowship in Adolescent Medicine at Boston Children's Hospital (BCH), she became an attending physician in that division. Sara's specialties include general adolescent health and eating disorders. She is the clinical director of the adolescent medicine at BCH and received a Community Pediatrician Award.
Jonathan Mansbach, MD, Consulting Physician
Jonathan Mansbach has worked at Bentley since 2000. He is a hospitalist and young adult medicine specialist at Children's Hospital Boston. He graduated from Duke University School of Medicine in 1996 and completed residency and fellowship at Children's Hospital in Boston and Harvard Medical School. He currently takes care of sick patients admitted to the hospital, sees patients in the young adult clinic at Children's Hospital in Boston, and has multiple grants to investigate the infant respiratory disease bronchiolitis.
Tara McCauley, Senior Medical Administrative Assistant/Office Manager
Tara began working at Bentley in 2001. She received her associate degree as a medical assistant. Prior to working at Bentley, she worked as a medical assistant in a private gynecological practice for 12 years. She was promoted in 2012 to the position of senior medical administrative assistant and office coordinator. She keeps the flow of the office moving and keeps it well stocked. Tara lives in Waltham. She helps out on major fundraisers for the American Cancer Society. She enjoys sports and vacationing with her family in New Hampshire and Cape Cod.  
Sharon Donato, Medical Administrative Assistant
Sharon Donato started at Bentley in the fall of 2015 as a medical administrative assistant. She brings with her 15 years of experience as a medical secretary and medical assistant in the Behavioral Health and Adult Medicine departments at Harvard Vanguard where she was a recipient of the Diamond Award and multiple Service Excellent Awards. She enjoys volunteering with the Make a Wish Foundation. With summers off, she loves traveling with her family, especially on road trips from coast to coast. She also enjoys attending sporting events with her family, especially when her son is coaching Girls' Ice Hockey.
Debbie Melchiorri, Medical Administrative Assistant
Contact: (781) 891-2222 | dmelchiorri@bentley.edu
Debbie Melchiorri started at Bentley as our medical administrative assistant in January 2006. She brings with her 17 years of experience from Waltham Hospital, including time in the Emergency Department, Cardiac Rehabilitation and Human Resources. Prior to Bentley, Debbie worked for the Newton-Wellesley Hospital Urgent Care Center. Debbie prides herself on being a lifelong resident of Waltham, where she and her husband raised their three children. Her oldest daughter graduated from Bentley in 2004. There is a very close relationship between the city of Waltham and the Bentley communities and Debbie is proud to be a member of both.
Wellness and Prevention Staff
Jessica Greher Traue, EdM; Director, Wellness and Prevention
Office: Wellness & Health Promotion | Callahan Building 2nd Floor
Contact: (781) 891-2947 | jtraue@bentley.edu
Jessica received her Masters of Education in Counseling from Boston University. She has been at Bentley since 2005 and enjoys providing opportunities for students to make the safest choices for their well-being. Jessica regularly meets with students privately to talk about their choices around alcohol, marijuana, or discuss personal health goals. On campus, Jessica manages several programs including Consent Day, Take a Paws, and fitness classes. Jessica is a certified Strengthsfinder coach and also serves on the LGBTQ+ steering committee, the Student Affairs Diversity and Inclusion steering committee, the Health Thought Leadership Network and several prevention and wellness focussed projects.  Jessica has received national awards from the American College Health Association, NASPA-Student Affairs Professionals in Higher Education, and is a sought after presenter at regional and national conferences. She has served in leadership roles for ACPA- College Student Educators International and the New England College Health Association and also serves on the American College Health Association's Consultant team. Jessica loves to cook and enjoys outdoor activities such as golf, skiing and gardening.
Angela Giordano, MPH; Health Promotion Specialist
Office: Wellness & Health Promotion | Callahan Building 2nd Floor
Contact: (781) 891-2253 | agiordano@bentley.edu 
Angela began working at Bentley in the fall of 2017 after she received her Master's in Public Health with a concentration in community health sciences from Boston University. Her health promotion experience includes time as a graduate intern at Harvard University's Center for Wellness and Health Promotion, working with the Town of Needham's substance use prevention coalition, and as a Prevention Educator and Education Program Manager at a local sexual assault prevention and response center in Southern Maine. Angela is excited to work with the Bentley community to support students as they establish their own practices for health and well-being while they pursue their academic and career goals at Bentley and beyond. During her free time, Angela plays field hockey with her club team in Boston, visits Maine to spend time with family and friends, and enjoys hiking and being by the ocean.
Stephanie Simeon, Graduate Student
24-Hr Emergency Information
Call (781) 891-3131 if you're experiencing a medical or emotional emergency.
Sexual Assault and Relationship Violence
Learn how you can help prevent sexual and interpersonal violence, support survivors and become empowered allies. Find People and Resources at Bentley that can help.