Celebrate LGBTQ+ Pride Month with Books & Films
Bentley Library and the LGBTQ+ Pride Month Planning Committee invite you to celebrate Pride Month with books and films that feature LGBTQ+ voices, experiences, histories, and themes. To help get you started, we have co-curated a pop-up display of books and DVDs that includes novels, memoirs, nonfiction, feature films, and documentaries.
Stop by the library to browse and borrow, or visit our OverDrive site to download an ebook or audiobook from the online Pride Month digital collection. If you don't see something that captures your interest please ask us for another recommendation; there are hundreds of additional titles in our stacks to choose from. The pop-up display will be available throughout the month of June – we hope to see you in the library soon!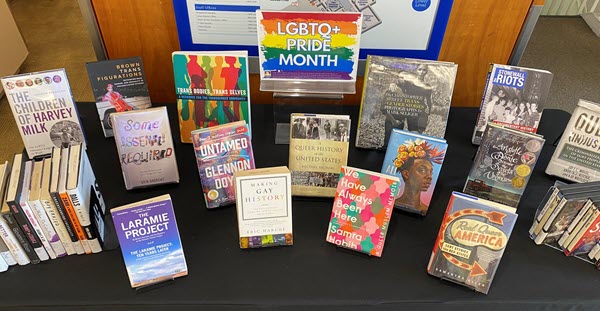 Pride Month 2022 is sponsored by the Office of Diversity & Inclusion, the Cronin Center of International Education, Gender & Sexuality Student Programs, Bentley Library, Marketing and Communications, the Multicultural Center, Bentley P.R.I.D.E., the Pulsifer Career Development Center, the Bentley Service-Learning and Civic Engagement Center, and Student Equity & Inclusion.