Interlibrary Loan (ILL)
Current Bentley faculty, students, and staff may request books, articles, and other materials that are not owned by the Bentley Library through Interlibrary Loan (ILL). All Interlibrary Loan requests must be placed online.
Books requested through Interlibrary Loan typically arrive in 7-10 business days.
Articles and book chapters are typically ready to download in 3-4 business days.
You will receive an email notification from the library when requested items become available.
Before requesting items, please check to make sure that the item you are interested in is not already available at the library. Use the Library Search to find books, DVDs, articles, and more within our collections.
You can also search WorldCat to discover books, articles, and more from libraries around the world.
Scan on Demand
Bentley Library's Scan on Demand is a free, electronic document delivery service that enables members of the Bentley community to request and obtain digital scans of journal articles and book chapters from the Library's print collections. Requests are submitted just like an interlibrary loan request.  
Materials are generally delivered electronically to your ILL account within 2 or 3 days. You will receive an email when your request is ready.
A maximum of five requests per day will be processed.
Staff will process the first five requests in your queue. Volume permitting, staff will process additional requests. Prioritize your requests by submitting the articles you need the most first.
Scan on Demand is for research purposes only. If you need help with obtaining digitized readings for your course, please contact Course Reserves.
Copyright Compliance
The copyright law of the United States (Title 17, United States Code) governs the making of photocopies or other reproductions of copyrighted materials. Under certain conditions specified in the law, libraries and archives are authorized to furnish a photocopy or other reproduction. One of these specified conditions is that the photocopy or reproduction is not to be "used for any purpose other than private study, scholarship, or research." If a user makes a request for, or later uses, a photocopy or reproduction for purposes in excess of "fair use," (as defined by the U.S. Copyright Office) that user may be liable for copyright infringement. Therefore, Bentley University reserves the right to refuse a request if, in its judgment, fulfillment of the request would violate copyright law.
Contact ILL
Visit Library Services Desk, call, email, or chat live.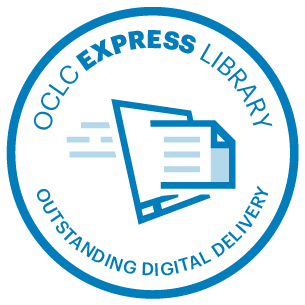 Frequently Asked Questions
What items are available through ILL?
Books, book chapters, and journal articles are the most popular items to request through ILL.
DVDs and other audiovisual materials, conference proceedings, entire issues of journals, dissertations, case studies, microfilm, and microfiche can be requested but may be more difficult to obtain or take longer to fill depending on other libraries' lending policies.
How much does it cost to use ILL?
ILL is a service provided free of charge. However, the patron is responsible for any overdue fines or fines that may be charged for missing/lost items or damaged materials by the lending library.
Are there fines for overdue ILL materials?
Interlibrary Loan is a cooperative service that relies on libraries all around the world. To maintain the good will of the lending libraries, we ask that you return ILL materials on time.
If an ILL item is more than a week overdue, a fine of $1 per day will be charged with a maximum fine of $50. If ILL material is not returned within one month of its due date, additional fines and replacement costs will be charged by the lending library.
May I borrow textbooks through ILL?
No. Interlibrary loan cannot be used to borrow required course textbooks.
How many items can I request?
You may place any number of requests at one time; however the ILL staff will process up to five item requests per patron per day during peak times of the semester.
How long can I keep ILL items?
ILL materials are checked out for 4 weeks, but are subject to recall at any time by the lending library. Renewals are subject to approval by the lending library.
Where do I pick up and return ILL materials?
Books and other physical items may be picked up and check out at the Library Services desk anytime during the library's operating hours after receiving the email notification that your item is ready. These items should be returned on or before their due date to the Library Services Desk. You will receive a reminder email prior to the due date. Items may be returned when the library is closed via the book drop located at the main entrance of the library, facing the Adamian Academic Center. 
Articles, book chapters, and other electronic items will be available for download in your ILL account. You will receive an email notice that the article is ready. These items will only be available for download for 30 days, or 5 link clicks -- whichever comes first. We recommend saving the PDF as soon as possible. These items do not need to be returned.
Can I put an ILL on course reserve?
We cannot order multiple copies of a single title for classroom use, nor can ILL materials be placed on Course Reserve.