Database of the Month: Kanopy
In Spring 2022, Kanopy upgraded its website to a new design aimed at creating a more user-centered platform. Many of these enhancements were derived from user feedback and implemented to create a more intuitive viewing experience. Below are details of some of these improvements.
New Top Navigation
The top navigation bar of your library's Kanopy website has been redesigned for simpler browsing, searching, and account management.

Improved Searching and Browsing
Kanopy's new search is faster and more accurate than before, with easy-to-use filters and sorting. A simplified Browse menu lets you pick from currently featured categories and genres.

New "Continue Watching" Shelf
You'll find titles that you've started watching on your new Continue Watching shelf, located both on the homepage and under My Lists. The My Lists tab also includes your watchlist and any custom playlists you've created.

Prominent Public Performance Rights (PPR) Indicator
A PPR icon appears near the top of the details page for films that can be shown at free public events hosted by your library.

New "Live Transcript" Tool
You can click a new "enable transcripts" icon while playing a title to bring up a live transcript. The live transcript plays alongside the film and allows for easy excerpting.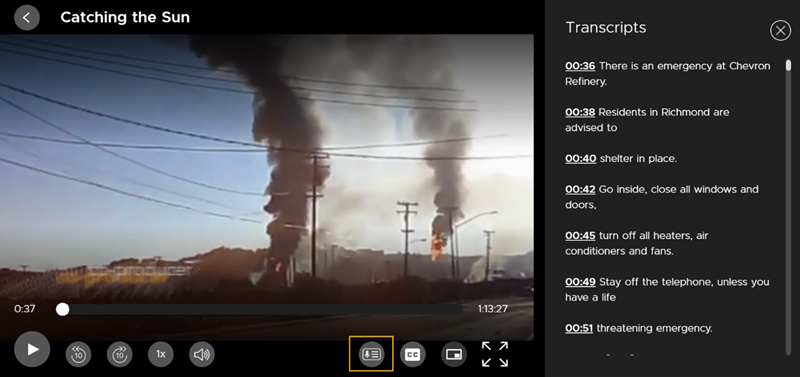 We hope you enjoy these new features from Kanopy. To learn more about Bentley Library's collection of streaming films, please visit our Streaming Films Guide.
---
Database of the Month provides a very brief introduction to useful library databases, highlighting key features you should know about. If you would like more information about this resource (or any of the library's databases), please contact us for research assistance. If you would like a demonstration of these resources for a class, please schedule a research instruction class using the instruction request form.