On Display: Best Books of 2021
We're celebrating the top books and audiobooks of 2021 with our 13th annual Best Books display! This year's display features more than 250 titles that appeared on 19 year-end best books lists.*
Stop by to browse the display, or visit the Best Books of 2021 display website to view all of the books by category (fiction, nonfiction) and format (print, ebook, CD audio, digital audio). From the website you can view a book's current availability, download ebooks and digital audiobooks, and/or place holds on items.
Curious to know about the "best of the best"? There were 12 books that appeared on seven or more of the lists we consulted: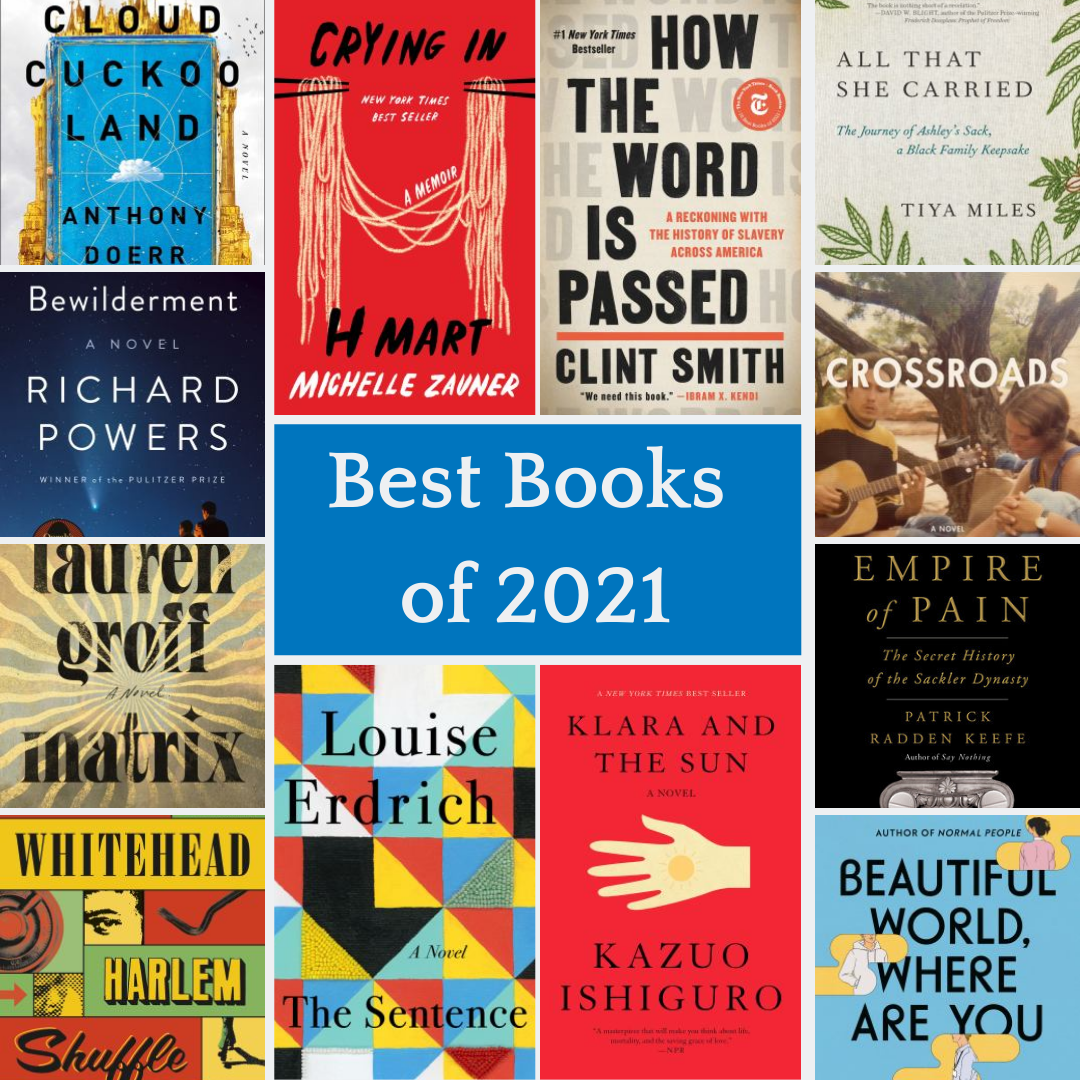 Empire of Pain: The Secret History of the Sackler Dynasty by Patrick Radden Keefe
Harlem Shuffle by Colson Whitehead
Crying in H Mart: A Memoir by Michelle Zauner
How the Word is Passed: A Reckoning with the History of Slavery Across America by Clint Smith
Klara and the Sun by Kazuo Ishiguro
Sentence by Louise Erdrich
Cloud Cuckoo Land by Anthony Doerr
Matrix by Lauren Groff
All That She Carried: The Journey of Ashley's Sack, a Black Family Keepsake by Tiya Miles
Crossroads by Jonathan Franzen
Beautiful World, Where Are You by Sally Rooney
Bewilderment by Richard Powers
With so many books to choose from, this display is guaranteed to have something for every reader and listener to enjoy. Whether you borrow now, or add these to your "to read" list, we hope you take some time to check out the Best Books of 2021 display.
Don't hesitate to contact us if you have any questions about the books that have been selected if you or need help using the ebook and digital audiobook collections.
---
*Sources consulted: Audible, AudioFile, Barnes & Noble, Bloomberg, Booklist, The Boston Globe, The Christian Science Monitor, The Economist, Entertainment Weekly, The Financial Times, The Guardian, Kirkus Reviews, Library Journal, The New York Times, NPR, Publishers Weekly, strategy+business, The Wall Street Journal, and The Washington Post.