On Display: Best Books of 2022
As we move forward into the new year, we are also taking a look back at the best of 2022 - best books, that is! Our 14th annual Best Books display celebrates the top books and audiobooks published in 2022.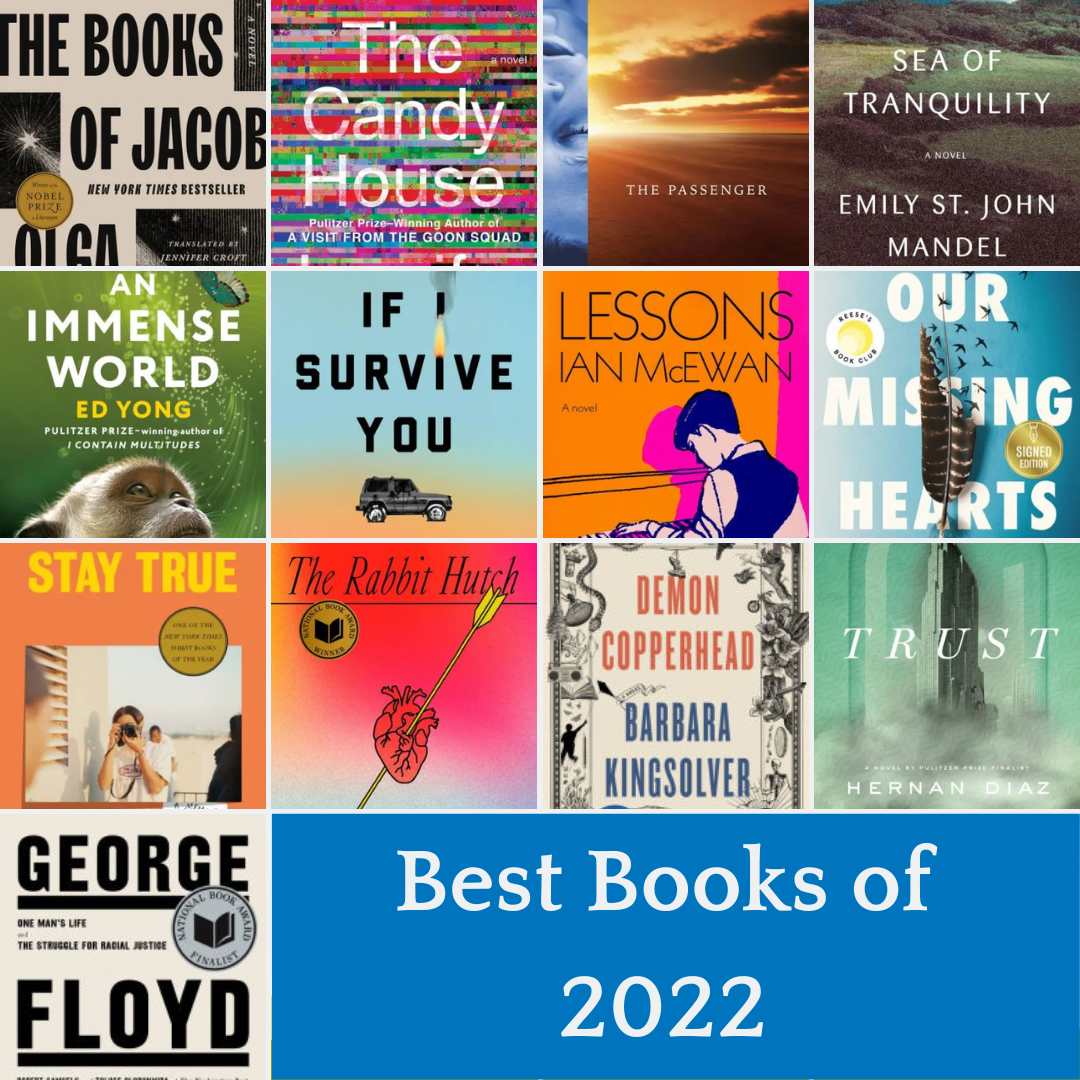 This year's display features more than 250 titles that have appeared on 18 year-end best books lists*, providing wide-ranging coverage of genres and subjects. Whether you've made a resolution to read more in 2023 and need some inspiration, or you're an avid reader who is wondering what you may have missed last year, we are confident you'll find something to enjoy!
Stop by the library to browse the physical display, or visit the companion online display, which includes ebook and digital audiobook options. The online display allows you to browse all of the books by category (fiction, nonfiction) and format (print, ebook, CD audio, digital audio). You will also be able to check a book's current availability, download ebooks and digital audiobooks, and/or place holds on items.
Curious to know about the "best of the best"? There were 13 books that appeared on seven or more of the lists we consulted:
Trust by Hernan Diaz
The Candy House by Jennifer Egan
Demon Copperhead by Barbara Kingsolver
An Immense World by Ed Yong
Stay True by Hua Hsu
His Name is George Floyd by Robert Samuels & Toluse Olorunnipa
if I Survive You by Jonathan Escoffery
Lessons by Ian McEwan
Our Missing Hearts by Celeste Ng
The Passenger by Cormac McCarthy
The Rabbit Hutch by Tess Gunty
Books of Jacob by Olga Tokarczuk
Sea of Tranquility by Emily St. John Mandel
Borrow now, or add these to your "to read" list for the coming year. Don't hesitate to contact us if you have any questions about the books that have been selected if you or need help using the ebook and digital audiobook collections.
Best Books Display Archives
Take a look back at our previous Best Books displays!
---
*Sources consulted: Audible, AudioFile, Barnes & Noble, Bloomberg, Booklist, The Boston Globe, The Christian Science Monitor, The Economist, Entertainment Weekly, The Financial Times, The Guardian, Kirkus Reviews, Library Journal, The New York Times, NPR, Publishers Weekly, The Wall Street Journal, and The Washington Post.