On Display: Indigenous Voices
Indigenous Voices
Highlighting the work of Indigenous writers, poets, and storytellers.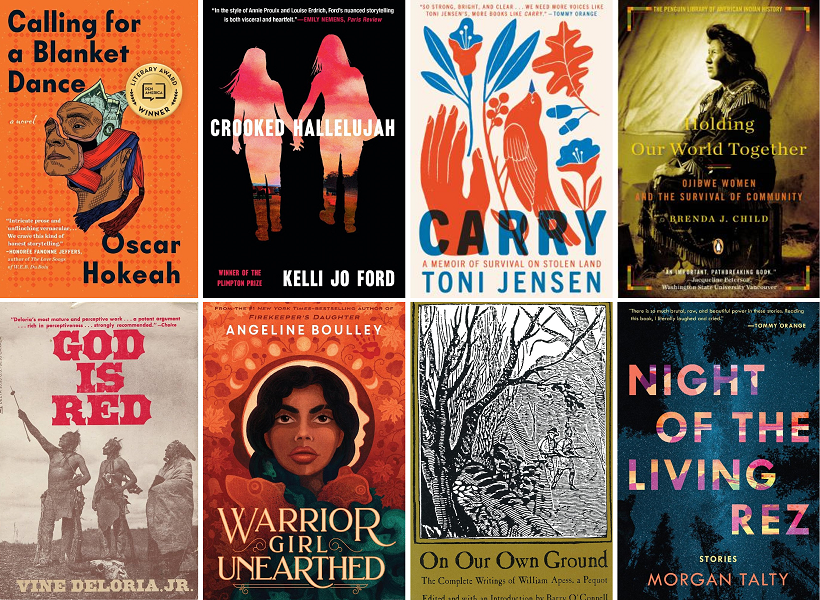 November is Native American Heritage Month, a designation that was set in 1990 by President George H.W. Bush. The National Congress of American Indians (NCAI) says this "month is a time to celebrate rich and diverse cultures, traditions, and histories and to acknowledge the important contributions of Native people." In celebration of the wide variety and cultural heritage of tribal members across North America, we have gathered a collection of books written by Indigenous Peoples and tribal members.
As you browse this collection, you will find philosophical texts, histories, memoirs, and calls to action. The fiction included spans all genres from horror to young adult to romance to family dramas. There are essays, short stories, and plays. Every title included tells a story from a perspective some might have otherwise never engaged with.
Visit the library lobby now through November 30th to view more than 100 books pulled from the stacks or check out the Curated Collection on our website. Login to your library account to place holds and pin items for later. Prefer eBooks or downloadable audiobooks? There is an additional collection available in Overdrive/Libby.
This display does not encompass all that we have available in our collections. If you need help searching for other options, please contact the Reference Desk. If you think we've missed something or have a recommendation, please email refdesk@bentley.edu or use the Suggest a Purchase form.
Statement of Acknowledgment of Indigenous Peoples and their Ancestral Lands
Bentley University was founded and currently resides on the ancestral homelands of the indigenous Pawtucket (puh-TUCK-et) and Massachusett (MASS-ad-CHU-sett) peoples, the latter from whom the name of the Commonwealth of Massachusetts was taken.

Bentley acknowledges the impact of forced removal and violence on the lives and legacies of Indigenous people past and present. Bentley is committed as an institution of higher education to creating an educational environment that recognizes and honors the lived experiences, cultural practices, land resources, and history of Indigenous peoples at the University.