On Exhibit in the RSM Art Gallery: Francis Domec, "'Linear Expressions'
Now showing in the RSM Art Gallery is Linear Expressions, a collection of drawings, drawing/prints and collages by Francis Domec, a French-born Boston-based artist. To learn more about the artist, please read his statement below and visit his website at http://francisdomec.com. Linear Expressions will be on exhibit Thursday, June 23 - Friday, August 12.
Francis Domec
Linear Expressions
June 23 – August 12, 2016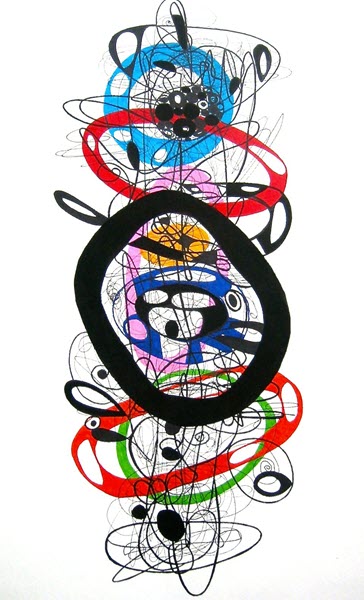 Artist Statement
My artwork "linear expressions" explores elements of transformation. Playing with lines and figures by means of drawings and linocuts are all figments of my imagination. Some pieces are simply drawn using permanent ink markers. Other pieces are enhanced with linocuts, impressions carved on linoleum plates and ink pressed onto the paper, unveiling multiple layers of shapes through the transparency of the original drawing. This simple technique is an early printing method that goes back to the duplication of images by means of stamps or seals and later used for the reproduction of newspapers. It is also a means of artistic expression for children. There is also a chance element to the creative process, because the saturation of pigments and contrasts between the print and the existing drawing always create a unique image. The transformation of two different images through this immersion creates something new and intriguing and in a way for me a spiritual experience.