Now Showing at the Art Gallery: Bentley Community Art Exhibition
Bentley University Community Art Exhibition April 20 – May 28, 2010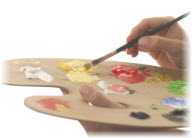 The final exhibit of the Spring 2010 semester at the Caturano and Company Art Gallery showcases works by Bentley University students, faculty and staff.  You won't want to miss this opportunity to appreciate the artistic talent that resides in our community!
All are invited to a celebratory Opening Reception on Thursday, April 22, from 4:30pm to 6:30pm.  Light refreshments will be served.
Located on the main floor of the Bentley Library, the Caturano and Company Art Gallery is free and open to the public. Check the online hours calendar for information about the Library's hours.