Now Showing: Bentley Centennial Exhibit, 'Bentley Leaders'
The Bentley Library is proud to host Bentley Leaders, the first of three Centennial year exhibits profiling the history of Bentley University. The exhibit is on view in the RSM Art Gallery through October 26, 2016. An opening reception with President Gloria Cordes Larson will be held on Wednesday, September 14, at 4:00 p.m.
Bentley University Centennial Exhibit – Bentley Leaders
August 22 – October 26, 2016 October 24, 2016
Opening Reception with President Gloria Cordes Larson
Wednesday, September 14 4:00 p.m. - 5:15 p.m.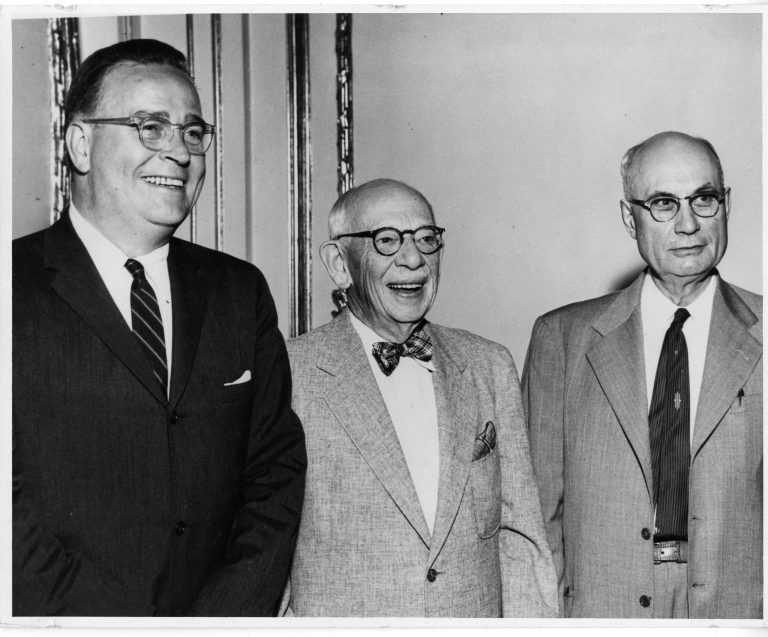 Our 100th anniversary is a momentous occasion, and provides an unprecedented opportunity for our community to join together in celebration. Over this year, we hope that members of the Bentley community will learn about how we have grown as an institution, and use that knowledge to develop our hopes for Bentley's future. Many know that our school began with a single individual – Mr. Harry C. Bentley, who started the Bentley School in a small rented classroom. He was buoyed in his ambitions by a natural entrepreneurial spirit and the enthusiasm of his students, who wanted a modern, comprehensive education in Accounting. While his hard work and vision built our foundations, Mr. Bentley knew that he would need equally dedicated, innovative partners and successors to help his school realize its fullest potential. Over the last 100 years, generations of leaders have devoted themselves to that very cause. For our innovative curriculum, our beautiful campus, and our wealth of educational opportunity, we have so many to thank. This exhibit profiles a selection of those leaders who helped the "Bentley School of Accounting and Finance" become Bentley University. We hope that learning about these individuals will inspire gratitude for their contributions, and ideas for how to help Bentley grow in our next 100 years.
While this exhibit offers an introduction to many important individuals, there are countless more that are worthy of note. An additional group of Bentley Leaders have been profiled in a companion exhibit that is available online through the Bentley Archives website. Please visit the two online exhibits, Bentley Leaders and Bentley Leaders: Firsts.