Now Showing in the RSM Art Gallery: "Ghost Space" by Josephine Burr
Now on view in the art gallery is Ghost Space, a sculptural installation by ceramic artist Josephine Burr. Please join us at the opening reception on Thursday, March 23rd, from 5:00 p.m. - 8:00 p.m.
Burr, a Boston-based artist, creates objects that she calls "markers for the invisibilia that underlie our experience of the world: the shifting terrain of memory, faith, and relationship." Ghost Space presents a series of "still life" tableaux referencing the familiar, evocative language of domestic space – wallpaper and textile patterns, utilitarian vessels – abstracted into quiet meditations on memory and loss. More information about Josephine Burr and her work can be found on her website and in the artist statement below.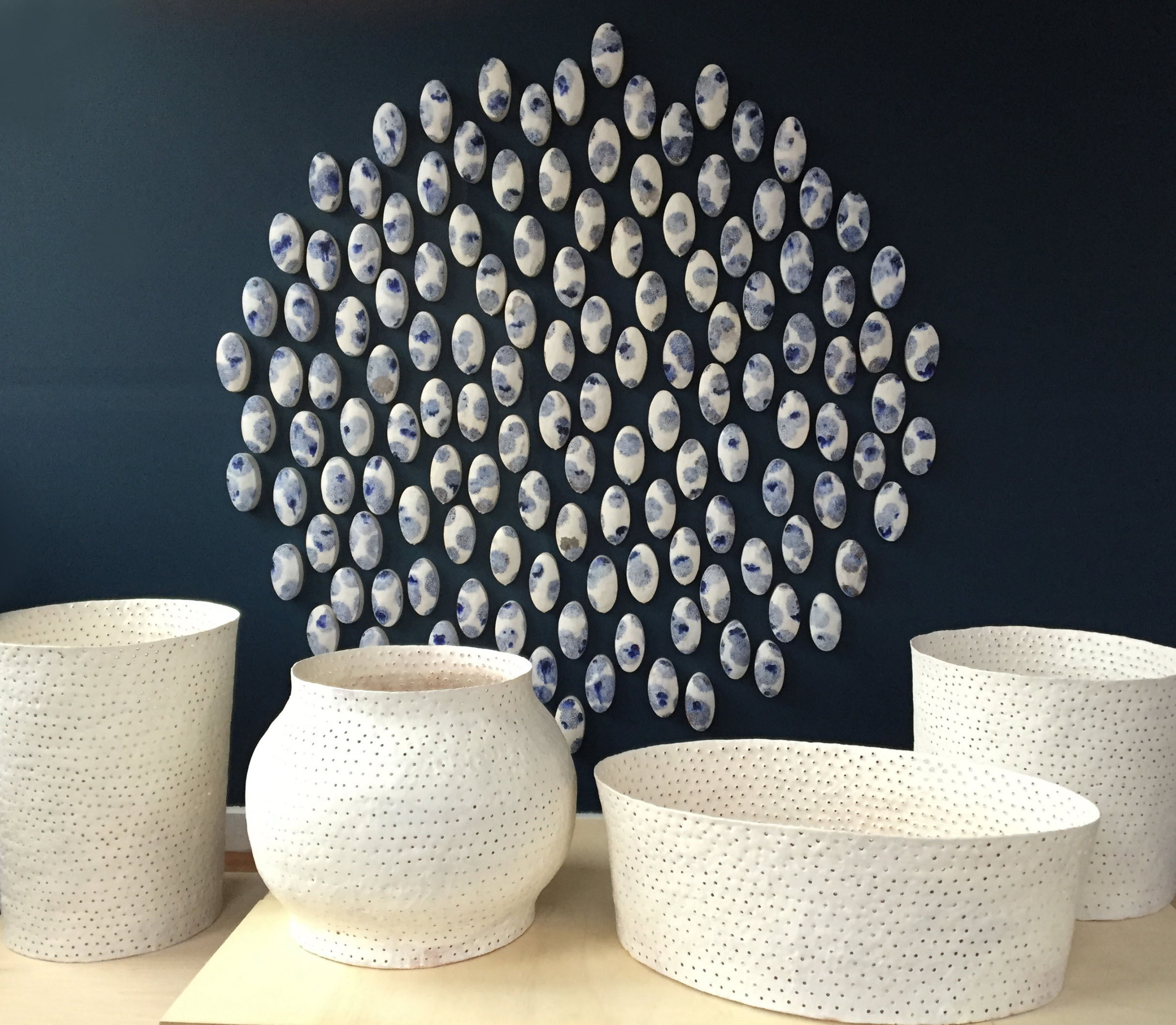 Josephine Burr
Ghost Space
March 12 – April 6, 2017
Opening Reception:
Thursday, March 23 5:00 p.m. – 8:00 p.m.
Artist Statement:
From my perspective, the history of clay is mute and absorbent. It exists as a foundational, constant, and yet invisible presence – as pot, as brick, as toilet and basin, as earth. I respond to its silence and its capacity. It is a holder of time and of the unnoticed, of the underpinnings of consciousness and of daily life. As an artist and a maker, I am interested in probing at this unnoticed space, exploring how the temporality of experience can be distilled into visible, tactile form. The objects and drawings I create are in a sense markers for the invisibilia that underlie our daily experience of being: the shifting terrain of presence, memory, and relationship. The body of work presented in Ghost Space makes reference to familiar and ubiquitous objects – a still life of pots, buckets and basins, wallpaper and textile patterns – while simultaneously carrying a sense of fluidity, fragility and porousness. The empty space between and within these objects is as central to the work as the objects themselves. The ceramic medium is a tool for drawing, much like a pen or a brush. Clay offers both a malleable material for "drawing" form in space, pinching and coaxing it into form; and a surface on which line, color and light can be manipulated. It is my hope that this work carries with it the freshness of the drawn mark, a fleeting moment captured; and offers the viewer a point of entry to linger and contemplate this floating and uncertain space.
Josephine Burr is an artist living and working in Boston. She has exhibited and lectured nationally, and taught at University of Massachusetts, Harvard University, and Babson College as well as numerous craft programs in Boston and New York. She is represented by Lacoste Gallery in Concord, MA and Cynthia Winings Gallery in Blue Hill, ME. Her work can be found at www.josephineburr.com.