Online Research Help for Wintersession Classes
Welcome to wintersession! This will be an intense week of coursework, but don't worry, reference librarians are here to help you with your assignments, papers, and projects. Although the building will be open, all research help is being provided online only from January 18-21.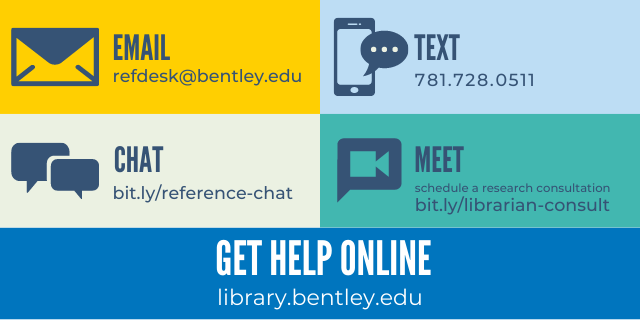 You can get help from a librarian via live chat, email (refdesk@bentley.edu), and text (781.728.0511) at any time during our online Reference Desk hours (see below). If you prefer to meet with a librarian via Zoom you can schedule an appointment for a research consultation. Consultations are available for individuals and small groups.
Wintersession 2022
Online Reference & Research Help Hours:
Tuesday 1/18 & Wednesday 1/19
8:30 a.m. – 9:00 p.m.
Thursday 1/20
8:30 a.m. – 5:30 p.m.
Friday 1/21
8:30 a.m. - 4:30 p.m.
For more information, please visit the Library Status and Services page and the complete library hours calendar. Don't hesitate to contact us with any questions.