Reading Day Relief & Final Exams Stress Relievers
The library is hosting three events on Reading Day to encourage you to take some time off from studying to refresh and recharge your mind and body. Stop by for snacks and drinks starting at 11:00 a.m. and then stick around for some button making and a Street Art Workshop with Percy Fortini Wright in the afternoon! Full details are provided below.
The fun isn't confined to just Reading Day - there are stress relievers for you to enjoy throughout exams period. In conjunction with Community Wellbeing & Health Promotion we invite you to LEGO of Stress for a moment by letting your imagination run wild and build a cool Lego creation. You'll also find a community jigsaw puzzle, chess, and words of encouragement boards on the main floor of the library.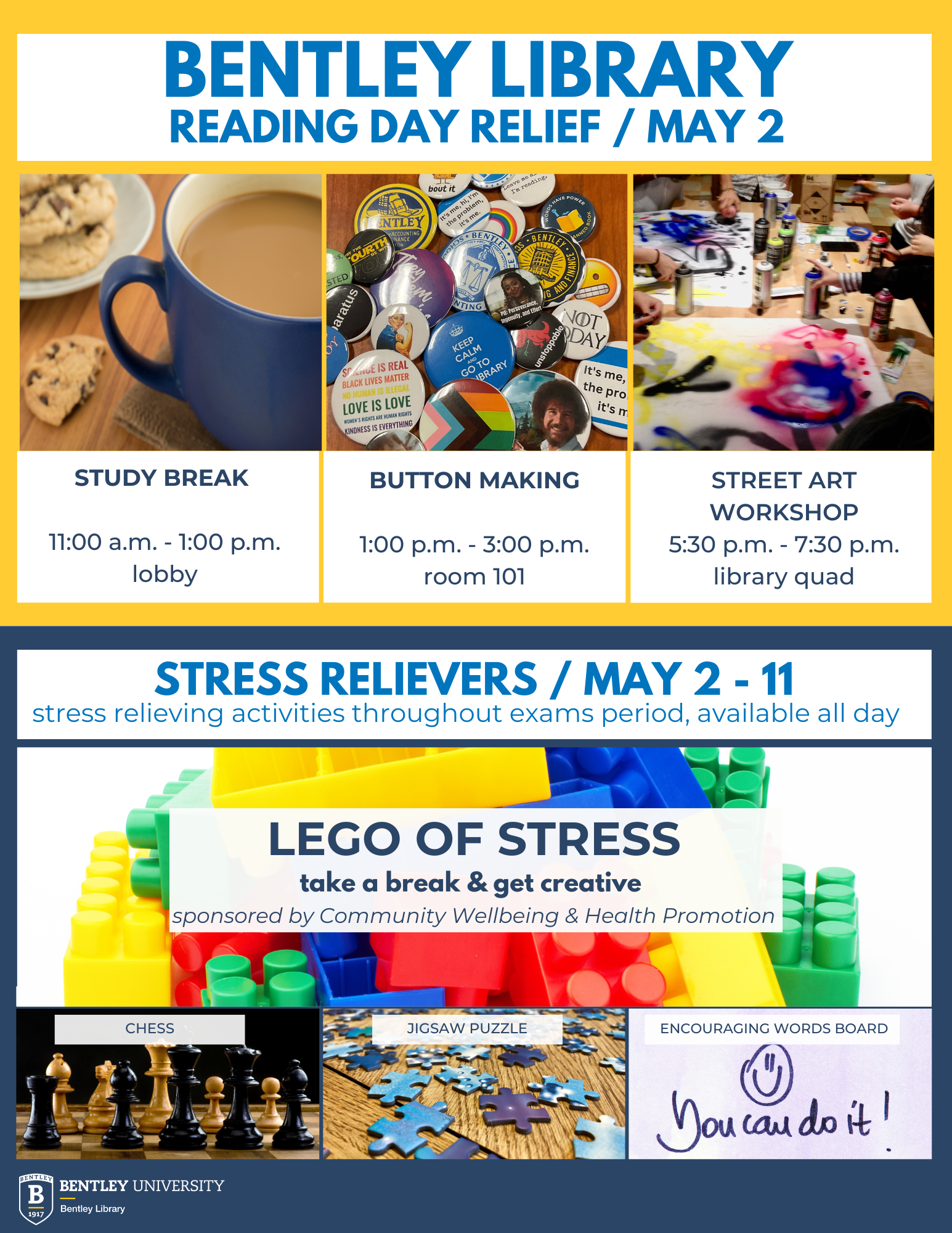 Reading Day Relief / Tuesday, May 2
Study Break Snacks & Beverages
refuel & recharge
11:00 a.m. - until supplies last | library lobby
Coffee, tea, and snacks will be available in the lobby from 11:00 a.m. - 1:00 p.m. (or until supplies last). Bring your own reusable water bottle to refill at one of our three water bottle filling stations.
Make Your Own Buttons
take a brain break & get crafty
1:00 p.m. - 3:00 p.m. | room 101
Take a pause from studying to make-your-own buttons using the library's button makers. We'll provide pre-made designs, magazines, and coloring books for you to use, or you can put markers to paper and create your own design. This hands-on activity is a great stress reliever!
Street Art Workshop with Percy Fortini Wright
get creative & relieve some stress
5:30 p.m. – 7:30 p.m. | library quad Rain Location: LaCava Tent
Learn how to express your creativity with spray paint! Workshop participants will learn a range of techniques and possibilities that are possible with spray paint under the expert guidance of visiting artist Percy Fortini Wright. The workshop is part of the Library's reading day study break and is free for all Bentley University Community members. Masks, gloves, and art materials will be provided. Please let us know if you plan to attend by completing this quick RSVP form. We're at our maximum capacity for this event and registration is now closed.
Stress Relievers / May 2 - 11
Take a break from studying to relieve some stress! These activities are available throughout exams period, all day long.
LEGO of Stress and mindfulness/calming table (sponsored by Community Wellbeing & Health Promotion)
play a round of chess
help us complete a community jigsaw puzzle
add to the encouraging words whiteboards to cheer on your fellow Falcons
Please let us know if there is anything we can do to help you finish the semester strong. You've got this, Falcons!