Reading Day Relief! Study Break Events Tues. 12/7
The library is hosting three events on Reading Day to encourage you to take some time off from studying to refresh and recharge your mind and body. You'll also find a community jigsaw puzzle and words of encouragement board in the atrium throughout finals week. Make some time to stop by!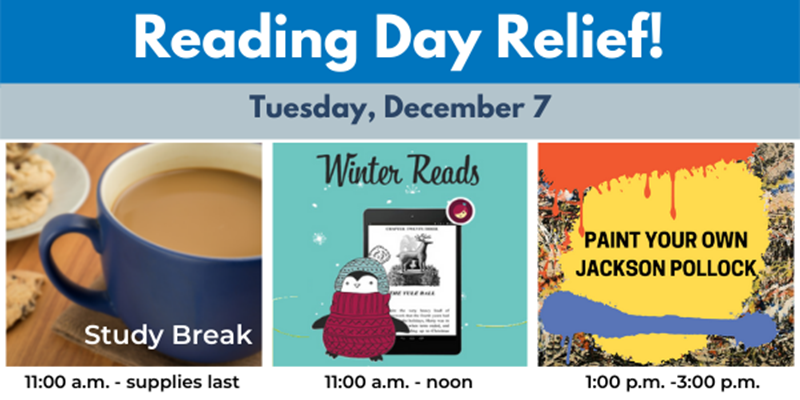 OverDrive Drop-in Clinic
unwind with free ebooks & audiobooks
11:00 a.m. - noon | study room 101
Planning to cozy up with some reading over winter break? Drop in to learn how to get downloadable ebooks and audiobooks from OverDrive. If you bring your laptop, Kindle, iPad, or other mobile device, we can help you get started with the Libby app.
Study Break
refuel & recharge
11:00 a.m. - until supplies last | library lobby
Coffee, tea, hot chocolate and snacks will be available in the lobby from 11:00 a.m. - 1:00 p.m. (or until supplies last). Bring your own reusable water bottle to refill at one of our three water bottle filling stations.
Paint Your Own Jackson Pollock
get creative & relieve some stress
1:00 p.m. - 3:00 p.m. | art gallery
Have you ever looked at a Jackson Pollock Painting and thought "I could do that!" Now you can! RSM Gallery curator, Danielle Krcmar will show you how to make your own drip painting that you can take home with you and you'll learn about a few other abstract artists along the way. Spend part of your Reading Day with us in the RSM Gallery and let your creativity flow! All art materials will be provided. Please RSVP using this short online form.