Research Help for Your Final Papers, Presentations & Projects
The end of the semester is quickly approaching, which means those final research papers and presentations will be due sooner than you think. Don't worry, reference librarians are here to help! Research help is available daily, including weekends and evenings, and we offer several ways for you to work with a librarian.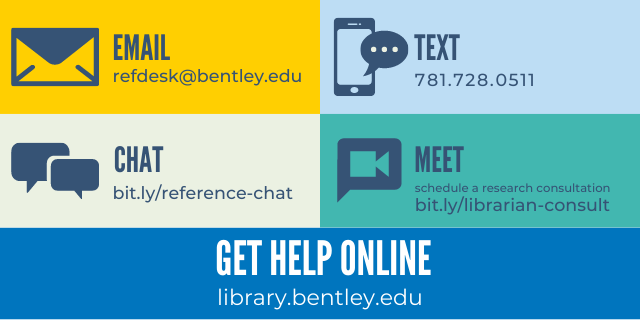 Research assistance is provided via live chat, email (refdesk@bentley.edu), and text (781.728.0511) at any time during our online Reference Desk hours (see below). If you prefer to meet with a librarian via Zoom you can schedule an appointment for a research consultation. Consultations are available for individuals and small groups.
Online Reference & Research Help Hours:
Sunday
1:00 p.m. – 9:00 p.m.
Monday - Thursday
8:30 a.m. – 9:00 p.m.
Friday
8:30 a.m. - 4:00 p.m.
Saturday
10:00 a.m. - 6:00 p.m.
Don't hesitate to contact us with any questions. Finish strong, Falcons!