Resource of the Month: 1950 Census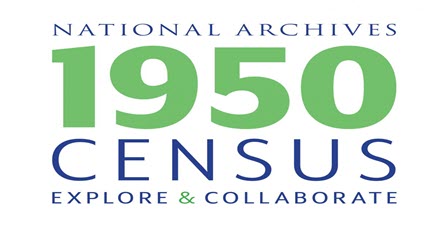 The National Archives just released The 1950 Census and these records are now available and searchable from this dedicated website.
Why is this a big deal? Don't we already have U. S. Census Statistics from the 1950s? Sure we had the aggregated statistics, but before this release, we didn't have access to the original documents. For more information about the significance, please refer to this excellent New York Times article by Michael Wines published last Friday, April 1, 2022.
Taken every 10 years since 1790, the United States Census provides a snapshot of the nation's population. Because of a 72-year restriction on access to the records, the most recent census release, before April 1, 2022, was 1940.
The 1950 Census includes the image files of:
6.57 million population schedule pages, form P1.
9,634 enumeration district maps
33,360 Indian Reservation schedules, form P8.
Of Note: Enumeration Districts (EDs) were the geographic area covered by one census taker. The geographic area covered depended on the population density and you can use the ED number as a research tool to focus your searching. ED Maps are available in the National Archives Catalog. Just search 1950 and the name of a state, county or city, to get started accessing these maps as they are slowly added to the catalog.
Search the 1950 Census Website by:
Location Search (ED, State, County/City)
Name Search (will search for close variations).
The quality of handwriting could pose a barrier to the software that transcribed the data. Website visitors will have the ability to submit corrections for transcribed names. It is not necessary to create an account to submit a transcription corrections, just a valid e-mail address is required.
***These Recorded Webinars, produced by the National Archives & Record Administration staff, are invaluable for providing context and understanding of this released data.***
Researchers and companies can bulk download of the full dataset. This allows genealogical and research companies providing earlier census data on their platforms to incorporate and upgrade their offerings with this new content. Visit our Genealogical Research Guide to see some of the companies/venders we highlight and provide access to.
---
Database of the Month provides a brief introduction to useful library databases, highlighting key features you should know about. If you would like more information about this database or other library resources, please contact us for assistance. If you would like a demonstration of these resources for a class, please schedule a research instruction class using the Instruction Request Form.