RSM Art Gallery Exhibit: Black @ Bentley ~ Shared Stories
The RSM Art Gallery announces an exhibit in words of the experiences of black and brown students at Bentley. In the summer of 2020, Bentley alumni created an Instagram account to share their outrage and grief over the systemic racism that exists on campus – both in and out of the classroom. The Library, with permission from @blackatbentley alumni, is raising the voices of former Bentley students through a display of over 30 posters, each one a story of a student's painful experience enduring racist actions and remarks. It is said that a picture paints a thousand words. In this exhibit, a thousand words paint a picture of pain and isolation for some of our students. We invite all of you to read, reflect, and respond to the stories shared here.
Visitors to the gallery are encouraged to share their reflections in the guest book and to take a brief survey. You may also respond via email to library@bentley.edu or tag @BentleyLibrary on Twitter and Instagram.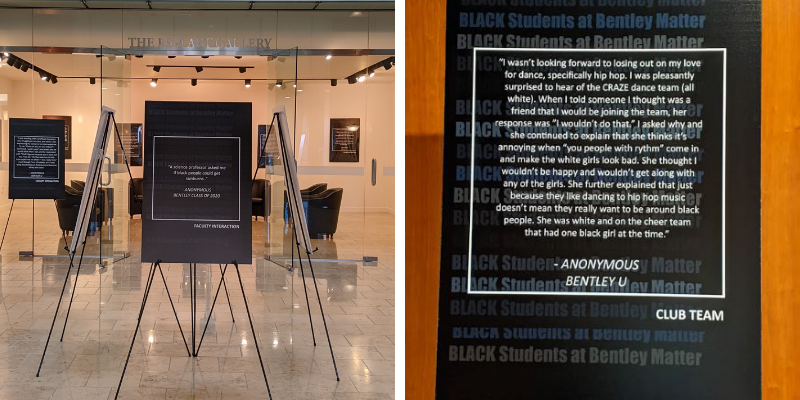 Black @ Bentley Exhibit is open through September 2021.