Now Showing in the RSM Gallery: From Silk to Cement by Ariel Basson Freiberg
From Silk to Cement, a mixed media installation by Ariel Basson Frieberg, opens in the RSM Art Gallery at the Library on Thursday, March 9. To celebrate, the Gallery is hosting an Artist Talk and Opening Reception from 5:00–7:00pm. We hope to see you there!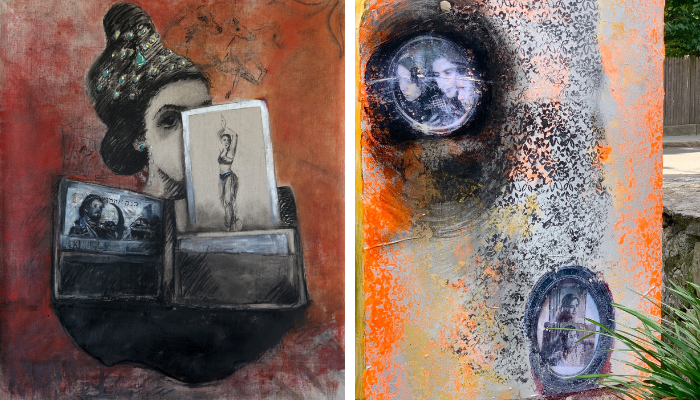 From Silk to Cement
Installation by Ariel Basson Freiberg
March 9–April 28, 2023
Artist Talk & Opening Reception
Thursday March 9, 5:00–7:00 p.m.
Artist Talk at 5:00 p.m., Opening reception to follow
View the Recorded Artist Talk
About the exhibit
The RSM Gallery is pleased to present From Silk to Cement, a mixed media installation by Ariel Basson Frieberg. Cement Paintings, Drawings on Paper, and Fabric all come together in the gallery space to guide the viewer through the artist's family refugee stories. Basson Freiberg has been researching her family's Iraqi Jewish history by looking over old photos and ephemera, talking with relatives, studying Judean Arabic, and visiting museums. The artist's maternal grandfather had a celebrated fabric shop in Baghdad's central market, but due to religious persecution, he was forced to flee to Israel with his family in the 1950's. Like many refugees, relocation required reinvention and he eventually established an apartment building construction business. The fabric elements of the installation allude to the beauty and comfort of the fabric shop while painting on and with concrete was a way for the artist to make a tactile connection to her grandfather and the materials he used as a contractor. Basson-Freiberg's concrete paintings resemble chunks of walls, with irregular shapes and a stucco surface texture that allude to the beauty of piecing together one's stories while understanding of the unknowability of other pieces beyond the edges.