On View in the RSM Art Gallery - John Guthrie: EVOLUTION
The RSM Art Gallery is excited to announce that EVOLUTION, a selection of paintings and drawings by Boston-based artist John Guthrie, opens on Saturday, May 13. To celebrate, the Gallery is hosting an Artist Talk and Opening Reception on May 13 from 5:00–7:00pm. We hope to see you there!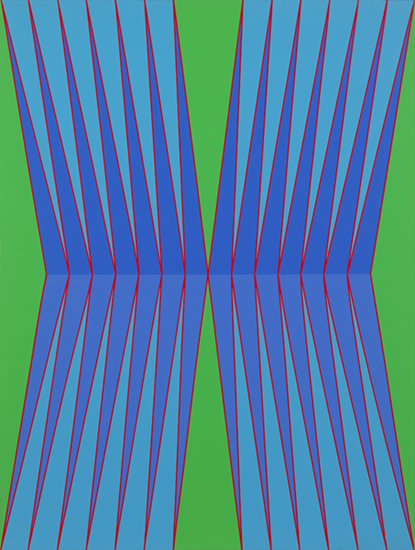 John Guthrie
EVOLUTION
May 13–September 15, 2023
Artist Talk & Opening Reception
Saturday, May 13, 2023
5:00–7:00 p.m.
Artist Talk at 5:00 p.m., Opening reception to follow at 5:30 p.m.
About the exhibit
RSM Gallery is pleased to present EVOLUTION, a selection of paintings and drawings by Boston-based artist John Guthrie. Informed by his background in aerospace engineering, Guthrie has gravitated towards the expansive potential of abstraction within both the visual arts and sciences. Over the past thirty years as an artist, Guthrie has constructed a vocabulary of high key color and crisp geometry through deftly composed abstract paintings. His work has evolved around principles of queerness and abstraction, challenging the viewer to see beyond visual conventions.
As part of the emerging Queer Abstraction movement, Guthrie subverts structures of the color wheel and the grid through his personal color theory, interacting geometries, and immersive compositions. There is a cryptographic quality to Guthrie's work as imagery, color, and spatial relationships flex and shift under one's gaze. A silhouette may open and become a void; an abstract shape transforms into a figure. As the artist states: "The elegance of queerness is that it moves fluidly across binaries. Something queer can be both, neither, or either." Guthrie's work defies total legibility as it explores spaces between dichotomies such as geometric and organic, two and three dimensions, archaic and contemporary. Engaging with Guthrie's images activates new ways of thinking and seeing, pushing viewers to recognize that we need not be confined to pre-existing binaries and structures.
The RSM Art Gallery, located in the Bentley Library, is free and open to the public when the library is open.