Now Showing: 2022 International Education Photo Contest Winners & Finalists
Now showing in the RSM Art Gallery are the 2022 International Education Photo Contest category winners and finalists.
Bentley students, faculty, and staff from any Bentley international experience were invited to submit one photo for each of three categories: Bentley Abroad, Belonging & Beyond, and Landscapes. Awards were made to 1st place category winners, fan favorite, alumni's choice, and a raffle winner. For more information about the contest, visit the International Education Photo Contest webpage.
2022 International Education Photo Contest
December 7, 2022 - January 25, 2023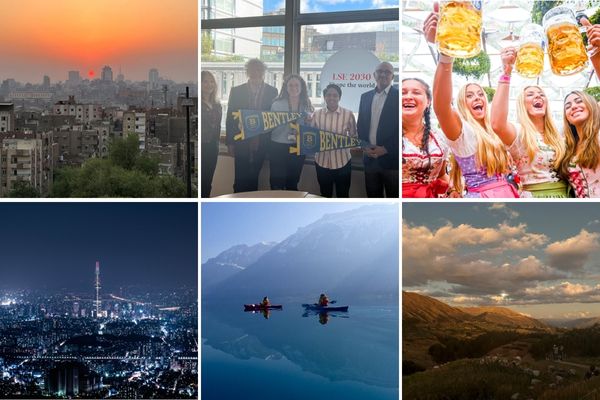 Landscape Winner: Selma Khayal
Location: Cairo, Egypt
Bentley Abroad Winners: Sid Goel & Alex Turco
Location: London, England
Belonging & Beyond Winner: Ashleigh Bolduc
Location: Munich, Germany
Fan Favorite: Jihun Hyun
Location: Seoul, South Korea
Alumni's Choice Winner: Demi Katinas
Location: Interlaken, Switzerland
Raffle Winner: Allison Dapp
Location: Cusco, Peru
Please visit the gallery to view these amazing photographs in person! We hope you'll stop by. Note that the library and art gallery are closed during the University's winter break from December 24 until January 9. Check the online hours calendar before you visit.
Sponsored by the Bentley University Cronin Office of International Education.