Resource of the Month: Libby for OverDrive!
With the warmer weather and summer on the way, why not take your reading with you on the go?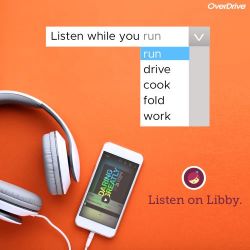 Our OverDrive collection contains popular fiction and nonfiction ebooks and audiobooks with new titles regularly added. Read or listen to recent bestsellers or classics using the Libby for OverDrive app on your smart device!
How do you get started using Libby?
Step One: Download the App
Download Libby on the Apple App Store or the Google Play store. You can also visit Libby in your browser at libbyapp.com!
Step Two: Set Up Your App and Connect to the Bentley Library
Setting up Libby and gaining access to our OverDrive collection only takes a few minutes! Libby will walk you through configuring the app on your device with a series of questions that will connect to Bentley Library's collection and your account. Here are a couple of quick tips that will hopefully make the set up easier:
Select that you want to search for a library when asked if you are a first time Libby user. Start typing in Bentley University and it should come up in the results pretty quickly. However, if you're setting up Libby for a second device you can sync your devices together by selecting "Copy From My Other Device" and following the prompts.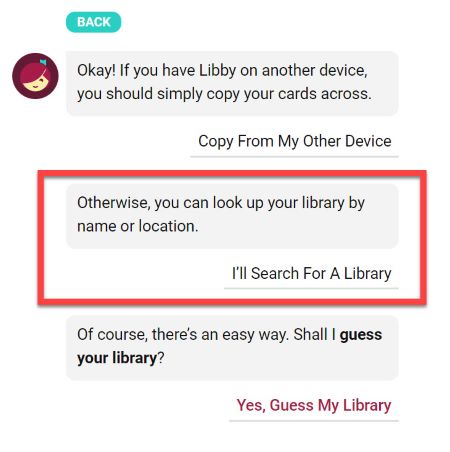 When adding your "library card", you'll be brought to a Bentley University log in screen. Log in just as you would for other Bentley applications using your email address and network password -- and don't forget to have the device you use for DUO two-factor authentication handy! Make sure to click "Remember me for 90 days" on the DUO screen so you will not be asked to verify your credentials as often.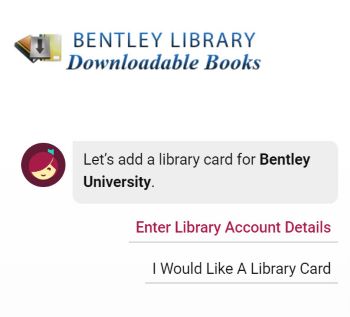 Step Three: Enjoy!
Borrow books and audiobooks from Bentley's OverDrive collection directly through the Libby app for up to 21 days. (And don't worry about remembering to return the book -- Libby will do that for you!). You can also place holds, read samples, and more. Books and audiobooks can be downloaded to the device for offline reading.
Some additional great features that Libby offers:
Add multiple libraries to your Libby app. After initially setting up the app with your Bentley credentials, you can add in additional libraries (for example, your local public library) that you also use that offer OverDrive. No matter which library you borrow from, all of your loans will be visible on your library shelf.
Libby will sync across your devices. Have Libby on both a smartphone and a tablet? Did you select "Copy From My Other Device" when setting up your second device? As long as you are connected to the internet, Libby will automatically sync your shelf so your loans, holds, and reading progress across your devices. You can also manually initiate a library shelf sync.
Navigating Libby:
The menu on the bottom of the app allows you to navigate to the different parts of the app: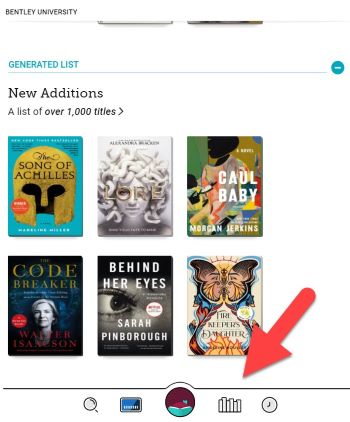 Search opens the search screen where you can search for specific books by title, author, or a series name.

The Library Card brings you to your library's OverDrive page where you can browse books, audiobooks, and lists.

The Libby menu is where you can manage/add libraries, view your library cards, see your notifications, and find Help & Support.

Shelf will show you the items you have currently checked out as well as any holds.

Timeline is where you can see your reading activity/history of items you have borrowed on the app. This timeline is specific to each device. You can disable this feature if you choose so Libby will not remember and also edit/delete the information.
Have more questions about what Libby can do?
Libby offers lots of Help & Support at their website. Topics include getting started, troubleshooting issues, and more.
Not sure if you want to use Libby?
OverDrive still offers their classic app OverDrive which can be downloaded from the Apple App Store or the Google Play Store.
You can also read and listen to books directly in your browser on the Bentley OverDrive website.
---
Database of the Month provides a very brief introduction to useful library databases, highlighting key features you should know about. If you would like more information about this resource (or any of the library's databases), please contact us for research assistance. If you would like a demonstration of these resources for a class, please schedule a research instruction class using the instruction request form.