Database of the Month: Mediamark Reporter - Consumer Survey Data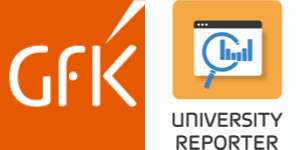 Mediamark University Internet Reporter ("Mediamark Reporter") presents demographic, lifestyle, product, brand, and media data from GfK MRI's Survey of the American Consumer, a national survey of over 25,000 consumers. Through personal in-home interviews, the Survey collects demographic data (age, income, educational level, etc.), media usage information (including print, television, online and social media), and details about the products and services that they buy and use.
Why use Mediamark Reporter?
Use Mediamark Reporter to identify a target market and profile consumers. Data is reported for more than 6,500 products and services in 600 categories, making this database an important resource for students working on GB214, GB320, marketing, and corporate immersion projects.
For example, you can use Mediamark Reporter to find the demographic characteristics of people who:
drink bottled water more than 8 times a week
subscribe to Netflix
spent more than $250 on sports equipment in the past year
pay bills using their mobile device
watch NBA games on TV on a regular basis
have used a dating app in the last 30 days
have purchased Converse sneakers in the past year
"always" vote in national, state and local elections
Beyond basics: Report types and custom targets
Utilize Mediamark Reporter's options to create custom reports:
The default report is "standard" report, which shows data from one survey period. Select "trend" report to view three years of data side-by-side.
Combine targets to customize brand or usage data.

For example, when viewing the Bottled Water reports you may decide you'd like to combine data for multiple brands. Select the brands you are interested in (e.g. Smartwater and Fiji), then choose either Any of These Items (to OR your selections) or All of These Items (to AND your selections) to create a custom target.
Create custom demographic targets under the "Reporter Options" settings.

For example, you can create a custom Household Income (HHI) category by combining the HHI $50,000-59,000 category with the HHI $60,000-74,999 category to create a new user-defined category of HHI $50,000-74,999.
You can find more information about these customization options in the help documentation listed below.
Register for a Mediamark account
To use Mediamark Reporter you must create an account using your Bentley email address. Mediamark accounts automatically expire two times per calendar year — on June 30 and December 31. Users will need to re-register after January 1 and July 1 each year for access to the Mediamark database.
Account registration instructions are available at libguides.bentley.edu/consumers/mediamark.
Help guides, search tips, and more
Mediamark's interface and navigation are unlike other databases, and the reports are a bit tricky to read without help. The most important thing to have in front of you while using Mediamark is the the 1-page How to Read a Mediamark Report, which describes how to interpret Mediamark data. The 15-page Mediamark Tutorial explains how to customize your reports.
You can find additional Mediamark Reporter search tips, help guides and tutorials on the Consumer and Market Research Guide. Visit or contact the Reference Desk for personal assistance using Mediamark Reporter.
---
Database of the Month provides a very brief introduction to a useful website or Library database, highlighting key features you should know about. If you would like more information about this resource (or any of the library's databases), please contact us for research assistance. If you would like a demonstration of this resource for a class, please schedule a research instruction class using the instruction request form.