Database of the Month: Simmons Connect Plus on MRI-Simmons Insights
If you're a fan of the MRI-Simmons Insights database we have some great news for you! The library has recently renewed our subscription to MRI-Simmons Insights and added a new module to the platform—Simmons Connect Plus—that will provide detailed insights into the digital behaviors of consumers.
About Simmons Connect Plus
The Simmons Connect Plus add-on provides data on consumers' use of eleven traditional and digital media platforms, including reach, time spent, and activity measures. App and website usage at the category and title level for smartphones, tablets, and PCs is also measured. All of this media device usage data is integrated with demographic, psychographic, brand usage, and shopping and spending data from the Simmons National Consumer Survey (NCS/NHCS), providing more detailed consumer insights.
Simmons Connect Plus data can be displayed visually through 11 new Quick Report options now available on the platform:
Time Spent Composition
Digital Activity Profile
Reach
Incremental Reach Builder
Media Activity Across Platforms
Media Platform Across Activities
Simultaneous Usage While Watching TV
Day In the Life
Social Media Activity Profile
Channel Category
Website Visitation
Additionally, you can include data from Simmons Connect Plus when building crosstabs to analyze relationships between thousands of variables.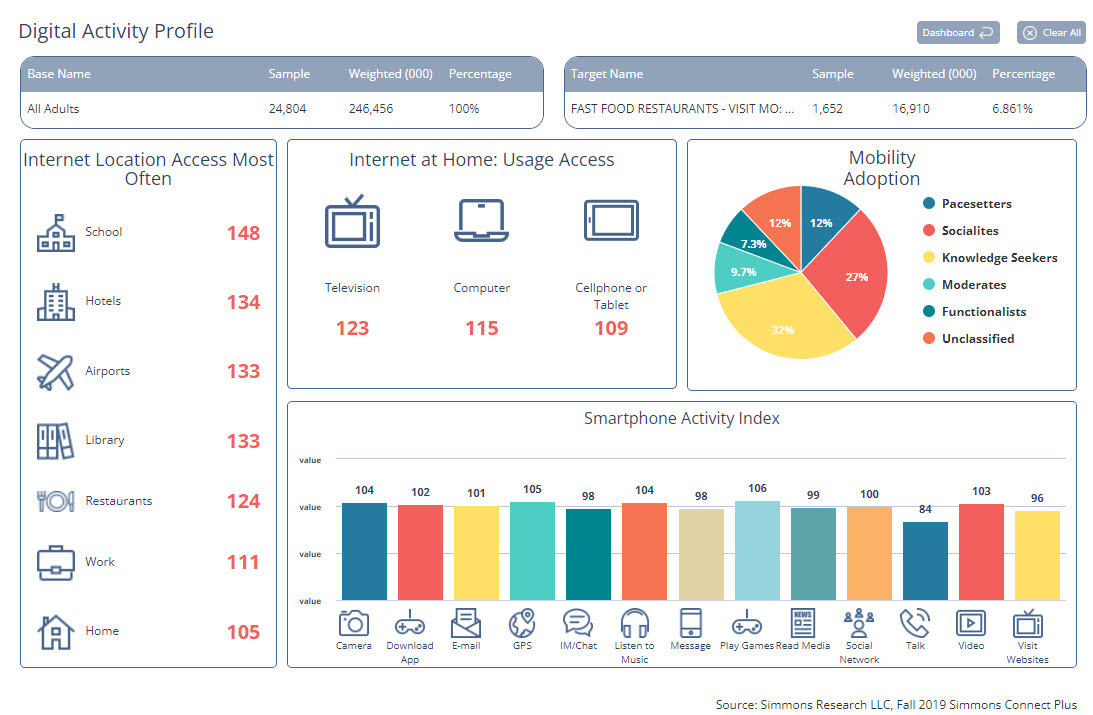 Getting Started: MRI-Simmons How-To Guide
MRI-Simmons Insights is a powerful tool that functions differently than most library databases. To help you get up-to-speed quickly, we have created a MRI-Simmons How-To Guide that provides:
step-by-step instructions for creating and interpreting Quick Reports and Crosstabs
key terms, data definitions, and icons
database user guides and tutorials
Access MRI-Simmons Insights & Simmons Connect Plus
Go to the library's Databases A-Z page and select MRI-Simmons Insights. After logging in to the MRI-Simmons Insights database, choose Simmons Connect Plus Study from the drop-down list of available studies. The library's subscription has a 2-year embargo from the study release date; the most recent study currently available is Fall 2019 Simmons Connect Plus.
MRI-Simmons Insights allows a maximum of 20 simultaneous users. Please LOG OUT when you are finished using the database to free up space for others. During times of high usage the database may reach capacity and you will be prompted to try again later.
---
Database of the Month provides a very brief introduction to useful library databases, highlighting key features you should know about. If you would like more information about this resource (or any of the library's databases), please contact us for research assistance. If you would like a demonstration of these resources for a class, please schedule a research instruction class using the instruction request form.