New Database: MRI-Simmons Insights
The library is very pleased to announce the addition of MRI-Simmons Insights to our collection of marketing and consumer research databases. MRI-Simmons Insights is replacing Mediamark University Reporter, which will be deactivated at the end of June.

What is MRI-Simmons Insights?
MRI-Simmons Insights provides access to consumer demographic, psychographic, brand preference, and media data from the Simmons National Consumer Survey (NCS/NHCS), a continuously fielded annual survey of approximately 25,000 U.S. adults. The survey provides over 60,000 data elements:
detailed consumer demographic data
products and services usage for over 8,000 brands in more than 500 categories
over 600 consumer attitudes, opinions, and segmentations
shopping and spending behavior
media and technology usage information
lifestyle segmentations
Who Should Use MRI-Simmons Insights?
Anyone looking for consumer demographic and psychographic insights should add MRI-Simmons Insights to their list of resources! This includes students in GB214 and GB320, as well as Marketing classes that involve consumer product and services marketing projects. The print, broadcast, and online media usage data in MRI-Simmons Insights is also a valuable resource for advertising strategy and media planning research.
Why Use MRI-Simmons Insights?
Use the MRI-Simmons Insights platform to create Quick Reports (Demographic, Segmentation, and Index Map) and design custom Crosstabs to:
Generate a demographic profile of your target consumer
Identify the target market for a product
Find out which consumers are more likely to use a specific brand, have a specific interest, or engage in a specific activity
Identify the best media channels to reach your target audience
Understand the psychographics (interests, opinions, attitudes, behaviors) associated with your target customer
How Do I Use MRI-Simmons Insights?
MRI-Simmons Insights is a powerful tool that functions differently than most library databases. To help you get up-to-speed quickly, we have created a MRI-Simmons How-To Guide that provides:
step-by-step instructions for creating and interpreting Quick Reports and Crosstabs
key terms, data definitions, and icons
database user guides and tutorials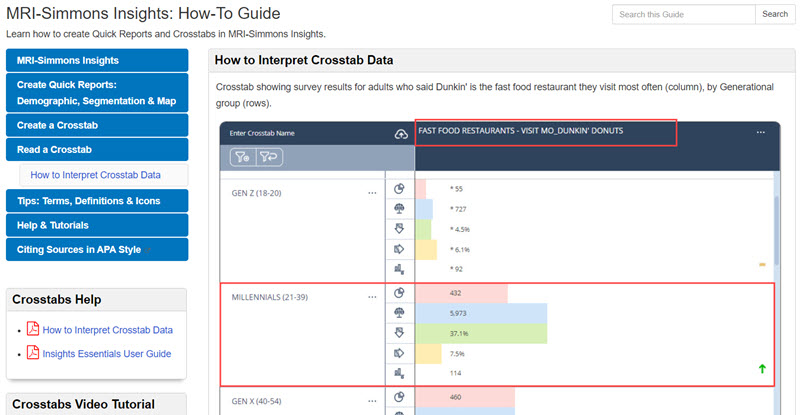 How Do I Access MRI-Simmons Insights?
Go to the library's Databases A-Z page and select MRI-Simmons Insights. MRI-Simmons Insights allows a maximum of 20 simultaneous users. Please LOG OUT when you are finished using the database to free up space for others. During times of high usage the database may reach capacity and you will be prompted to try again later.
---
Database of the Month provides a very brief introduction to useful library databases, highlighting key features you should know about. If you would like more information about this resource (or any of the library's databases), please contact us for research assistance. If you would like a demonstration of these resources for a class, please schedule a research instruction class using the instruction request form.