Now Showing in the Art Gallery: Malakhai Pearson | "My Brother's Black Body"
My Brother's Black Body
Exposition of Photographs by Malakhai Pearson
April 10 – April 21, 2017
Opening Reception
Monday, April 10, 4:00 p.m. - 6:00 p.m.
Now on view in the RSM Art Gallery is an exposition of photographs by Bentley University student Malakhai Pearson titled My Brother's Black Body. An opening reception for the exhibit will be held on Monday, April 10 at 4:00 p.m. in the gallery. Guests will have the opportunity to hear Malakhai speak about his photographs. Rev. Emmett Price and Professor Kiana Pierre-Louis will offer additional remarks reflecting on the artist's work.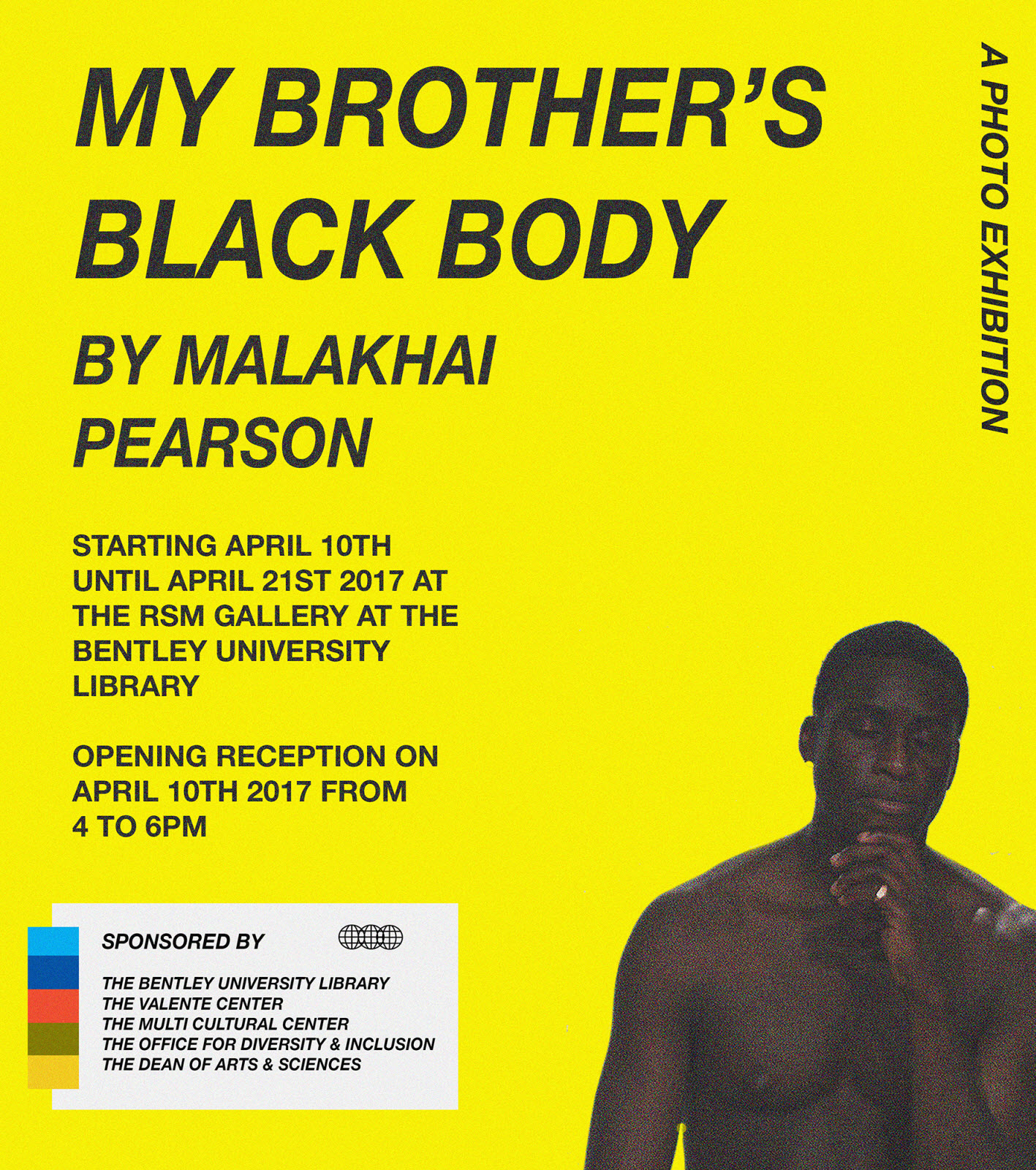 Artist's Statement
My Brother's Black Body "The greatest reward of this constant interrogation, of confrontation with the brutality of my country, is that it has freed me from ghosts and girded me against the sheer terror of disembodiment." -- Ta Nehisi Coates, Between the World and Me The images in this exhibition are a celebration of the life and body of the young black male in America today and serve as a meditation on the public depiction of the black body. For me, these images are also a reflection of how I view my own blackness, touching on issues of masculinity and self-love. My Brother's Black Body was originally funded by and curated for the Boston College Libraries in collaboration with the Boston College Women's Center as a part of Love Your Body Week in the fall of 2016. Peace & blessings, Malakhai Pearson, Bentley University '17
The library is very pleased to host this exhibit, which is co-sponsored by the Valente Center, the Office for Diversity & Inclusion, the Multicultural Center, and the Dean of Arts & Sciences. The exhibit will be on view until Friday, April 21.