Welcome Back! Updates & Tips for Fall 2021.
We are excited to welcome you back to the Bentley Library! Here are a few things we'd like you to know to help you have a successful start to the fall semester.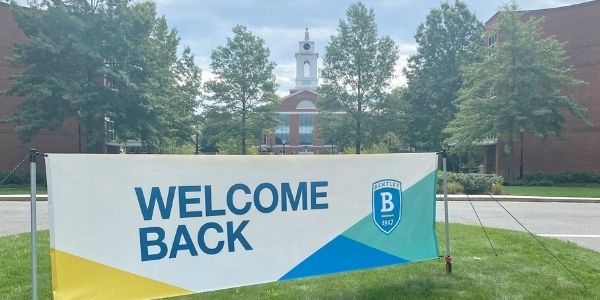 Visiting the Library - Health & Safety
The Bentley Library will be operating in accordance with state and university COVID-19 public health guidelines. Students, faculty, staff, and visitors are required to wear a face covering while inside the library. Please perform your daily health self-check and stay home if you have any symptoms of COVID-19. Visit the Library Status and Services page for more information about visiting and using the library in person. We will be keeping that page updated throughout the semester.
Hours
You can view the complete library hours calendar, including our online Reference Help hours, for the entire semester online. Hours are subject to change on holidays or due to unforeseen circumstances.
Group Study Rooms - New Reservation System & App!
Borrowing Library Materials and Using Course Reserves
Online Resources - Free News Subscriptions, EBooks and More!
Research Help
Computers & Printers
The library provides computers and printers (color and B&W) for you to use if you need one. To install the Bentley print drivers on your laptop, visit the Falcon Printing website. You will also find information about printing funds and costs on that site.
Stay Updated
Keep an eye on your inbox for our regular monthly In the Know email, and don't forget to follow @BentleyLibrary on Twitter, Instagram, and Facebook for updates, news, events, and photos.
If you have any questions please contact us. Have a great semester!