Family Matters: Growing Potential
Like three previous generations, Jim Wilson '76 grew up plowing, planting and weeding his family's 32 acres in Lexington, Mass. As he puts it: "There's not a job here I haven't done."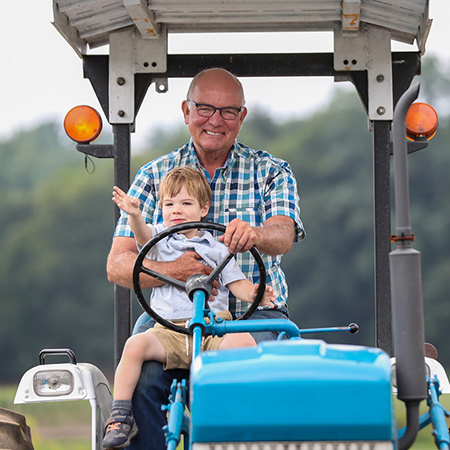 That experience seeded his decision to study at Bentley.
"I learned agriculture from my dad, but I saw how he struggled as the business got bigger. So I knew a business education would be valuable," says Jim, who would be the first in his immediate family to earn a bachelor's degree.
Today, the former Management major is vice president and treasurer of Wilson Farm. He and his cousin, who serves as president, have grown the 137-year-old business from one producing mostly vegetables and some berries into a local institution. During peak season, some 350 employees staff the farm's 67-year-old retail store and business operations, along with tending its Lexington fields and 500 acres of New Hampshire farmland.
The family also runs an import division and wholesale operations, distributing produce from Canada, Holland, Israel, Mexico and Spain as well as from other U.S. growers.
"Bentley gave me a bigger perspective on what was possible," says Jim, who stays in touch with former roommates, golfs with fellow grads, cheers on Falcon hockey, and gives back as a True Blue donor and member of the President's Club. He adds with a smile: "I never had weekends off until I went to college."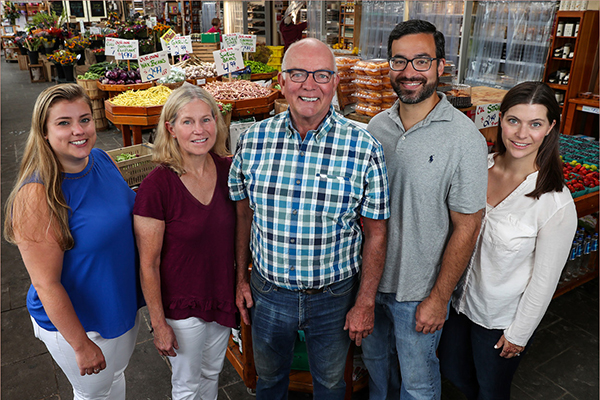 Studying business "makes the most sense" for careers of all kinds, says Cindy (Murray) Wilson '83. She met Jim while working at the farm; they married in 1982, just months before she graduated.
"My courses in economics, accounting and computer science — all of that — have been really helpful," says the former Management major, who's built her own career at Wilson Farm. She serves as insurance administrator but has held various positions through the years.
The versatility of a business degree drew two of Jim and Cindy's three daughters to Bentley; both were Management majors, too.
"I felt extremely prepared for the corporate world," says Jenn (Wilson) Viglotti '09. "I have an invaluable network of Bentley alums to connect with and who I come across in professional life."
The bonus? Making lifelong friends through classes and her sorority, Gamma Phi Beta, and meeting her now-husband, Nick '09, MSA '10. The two exchanged vows in September 2014, amid rows of poinsettias in a Wilson Farm greenhouse.
'Everything is a Business'
Emily Wilson joined the ranks of Falcon alumnae in 2016. "Growing up, I saw that everything is actually a business," she says of life and work in a family enterprise. "I had the best four years of my life at Bentley."
Jim and Cindy endorsed their daughters' college choice, which gave them eight years of opportunities to visit campus and track the school's growth.
Today, Jenn is senior manager of global talent acquisition at Sonos Inc. Emily is an HR project manager at Reebok. Both say they think about returning to Wilson Farm but are happy pursuing their own paths for now.
Nick, meanwhile, is the fifth generation of family helping to lead the business. The former Accountancy major and Kappa Pi Alpha member joined Wilson Farm in 2017, after working as a CPA at a New York accounting firm. As is family custom, he has rotated through positions — first in the outdoor yards, tending plants and helping with produce, then in imports, wholesale and retail. He's now revamping the cut flowers department, leaning on his accounting experience to help move the business forward.
"I'm excited to see where Wilson Farm can go in the future," says Nick, who joins Jenn in parenting a sixth generation of family: sons Luca and Nico.
Want to read more from this issue?