Schooled to Make An Impact
Alumni improve lives in Albania and Africa
Cleaner water. Healthier lives. Stronger leaders.
Communities the world over can change for good when professional expertise meets personal calling. Such was the case for Michael Black '10 and Kaitlyn Swist '12. Born and raised in Massachusetts, Black took his entrepreneurial mindset to the Balkans, while New York native Swist followed her business acumen to Africa.
CHANGING SCENERY. CHANGING COMMUNITIES.
A young boy, making his way through a community park in eastern Albania, stops in his tracks. He bends over, picks up an empty potato chip bag and places it in a nearby trash can. The unprompted, eco-friendly act catches the eye of Michael Black '10 and a realization hits home: He has made a difference.
In March 2017, the former Management major had landed in Librazhd, Albania, for a 27-month assignment with the Peace Corps. His work as an organizational development volunteer included creating an environmental education program in the town of 11,000.
The idea was born over coffee — a drink the alumnus appreciated only after trying the Turkish brew served in cafés sprinkled across his host town. Black's companion that day was Arlis Alikaj, an environmental activist who cared deeply about the pollution plaguing the river valley community.
"It's an incredibly beautiful natural area, but you see people burning trash or dumping it in the river," says Black. "These are deep-seated attitudes. But if you can educate people while they're young, you can change minds."
Black and his in-country contact received a USAID grant of $300 — enough to buy pencils and supplies and to fund a special field trip. They developed a lesson plan and, every Friday for 12 weeks, led 20 young environmentalists through outdoor activities. The program ended with a visit to Shebenik-Jabllanicë National Park, home to diverse wildlife including the Balkan lynx and geological features such as glacial lakes.
Turning problems into possibility ... that is entrepreneurship. It's not just about starting a company and making money.
Black credits Bentley for instilling the entrepreneurial mindset that fueled his work in the Peace Corps. As he puts it: "Turning problems into possibility … that is entrepreneurship. It's not just about starting a company and making money."
As he built relationships in the Librazhd business, municipal and education communities, and assessed neighborhood needs, Black developed and partnered in a range of impactful projects. One was an entrepreneurship education program for women that gained national recognition in Albania. Over 12 weeks, about 25 women gathered to learn finance, including the local Egyptian and Roma communities.
The crowning achievement of Black's time in Librazhd was planning, constructing and opening a public recreation facility — another idea born over coffee. His collaborator this time was Albano Roci, the Librazhd mayor's chief of staff.
This venture, too, called for an entrepreneurial mindset. Black had to ask questions like, Do we have land? What are our resources? Where are we going to get the money? The project received a $4,000 grant as well as the necessary permits and approvals, and moved ahead despite weather delays and bureaucratic hiccups. Hundreds of residents attended the grand-opening celebration.
"One child asked me during construction, 'What will it cost to use this?' A community park was unheard of where we were," says Black, who would stop by regularly during his remaining time in Albania.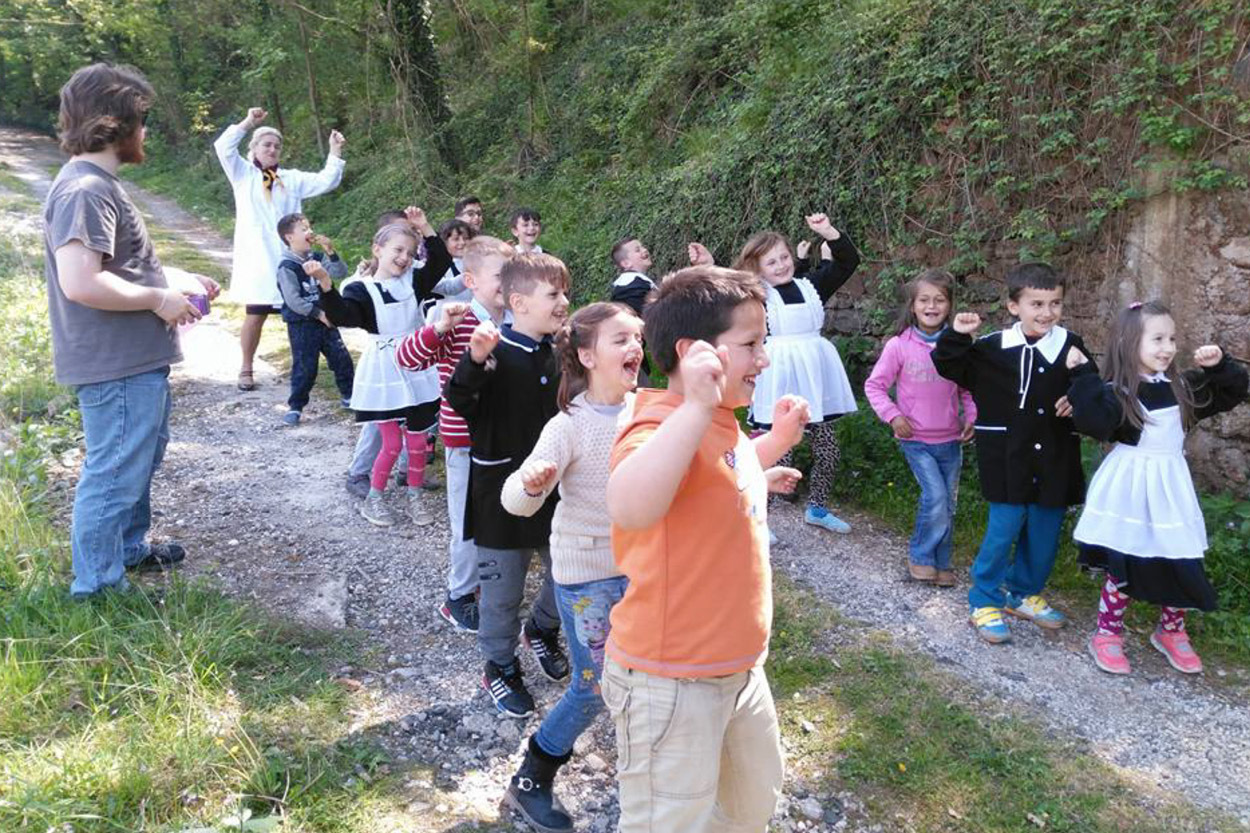 Peace Corps volunteer Michael Black '10 trained young environmentalists in Librazhd, Albania
Recruit Turns Recruiter
Returning to the States in May 2019 and planning his next career move, Black found serendipity: The Peace Corps was looking for a recruiter in Boston. Three months into his new role, COVID-19 disrupted life around the world.
"It's the first time in our 59-year history that we've evacuated all of our volunteers," he says of the thousands who serve in 60 countries. "The Iran hostage situation, the fall of the Berlin Wall, 9/11 … none of those required global evacuation."
Black continues to recruit during the pandemic.
"We're hoping that in 2021, host countries will be accepting volunteers again," he says, explaining that Peace Corps volunteers typically have six to 12 months between applying and embarking on their assignment.
Without avenues such as in-person career fairs, information tables in student centers and one-on-one appointments, Black meets students where they are: online. There is still plenty of interest, he reports.
"This whole situation highlights their desire to do something positive," he says of life during COVID-19. Young professionals who are furloughed or working remotely may be rethinking their future — much as he did in leaving the corporate world for the Peace Corps. "The need to do something that directly benefits other people is there now more than ever."
NATURAL RESOURCES. NATURAL LEADER.  
The sun has long since set in New York, but Kaitlyn Swist '12 is still at it. Across the ocean, in the communities she serves, dawn approaches — and families, schools and businesses will start the day without access to a vital resource. This is why Swist burns the midnight oil.   
"I knew if I spent one more minute or one more hour working, that meant we were going to raise more money, which meant we're going to provide more people with clean water. That equation was always clear to me."   
Although not on the ground in Ethiopia, Swist understood the impact of her work for charity: water — a New York City-based organization that delivers safe drinking water to developing nations.  
"We help people by bringing them clean water. But how do you bring clean water to people?" she asks.   
By making smart business decisions.   
I realized, 'There's a way I can do business — what I'm good at — but also something that fills my heart.'
Director of Membership Strategy and Operations, The Room
Swist had discovered charity: water through her minor in Nonprofit Organizations, then a new option at Bentley.
"The CEO was breaking the mold of what was known in the nonprofit world," she says of the organization's business-minded approach to operations. "I realized, 'There's a way I can do business — what I'm good at — but also something that fills my heart.'"
Swist pursued an internship at charity: water and went on to join its staff full time as a development assistant. Over six years, as she advanced into senior roles, the relationship between revenue and survival for an NGO became even clearer.
She was especially impressed by its goal to promote long-term sustainability through community empowerment. For example, while charity: water funded clean water efforts, local experts — such as Ethiopian geologists and hydrologists — managed projects on the ground.
As she puts it: "Talent is everywhere. Opportunity isn't."
Room for Growth
Talent and opportunity are central in Swist's new role at a different organization. In January 2020, she became director of membership strategy and operations for The Room, a leadership and talent development program based in Nairobi, Kenya. It joins several ventures underway across Africa spearheaded by Ghanian entrepreneur Fred Swaniker. All aim to develop skilled and ethical leaders at every career stage, recognizing that, by 2060, Africa will have the world's largest workforce.
Launched in early 2020, The Room is an online extension of these programs. Its more than 2,000 members, from 50 countries and 30 industries, seek and give guidance and share opportunities. These connections matter, Swist notes, because about 80% of jobs are secured through word-of-mouth.
"The better someone knows you, the more personal the recommendations become," she says, adding that participants learn of under-the-radar opportunities like speaking engagements, access to venture capital or an open spot on an NGO's board.
There are resources such as Pathfinder, a program inspired by Hollywood agencies like William Morris. Athletes and celebrities rely on agents to land additional opportunities (and income), so CEO Swaniker brought the concept to The Room.
Each member, says Swist, has a dedicated pathfinder — an adviser, an ambassador, a connector — whose goal is "to map out their ambitions, to transform the way they look at their careers."
Always Iterating
Designed to operate virtually, The Room already offered a robust online experience when COVID-19 struck. But Swist, who had relocated to Nairobi in January, found herself on a plane back to New York in March. From there, she worked remotely to build a member base and launch the platform. Colleagues joined her from their own shelter-in-place locations in South Africa, Ghana, Zimbabwe, Kenya and the United States.
Swist is excited to return to Nairobi when there's a green light. Those two months on the ground let her get acquainted with her team and the city.
"I was able to ask my colleagues better questions. Sure, I could have gained some context remotely, but it wouldn't be the same," she explains. "There's value in being present in this particular instance."
Swist says she "drew some lucky cards" in having worked with such ambitious, visionary leaders. First, Scott Harrison of charity: water and, now, Swaniker, named among TIME magazine's 100 most influential people for 2019.
Witnessing his flexible approach to making things happen, Swist learned success isn't about being 100% ready or perfect.
"I've always put excellence first," she says. "Now I see you can commit to something and forge forward, knowing you're going to iterate."
Through her own iterations, Swist has discovered a path she intends to follow for a long time. "What my job is, what drives me, is providing something life-altering to others."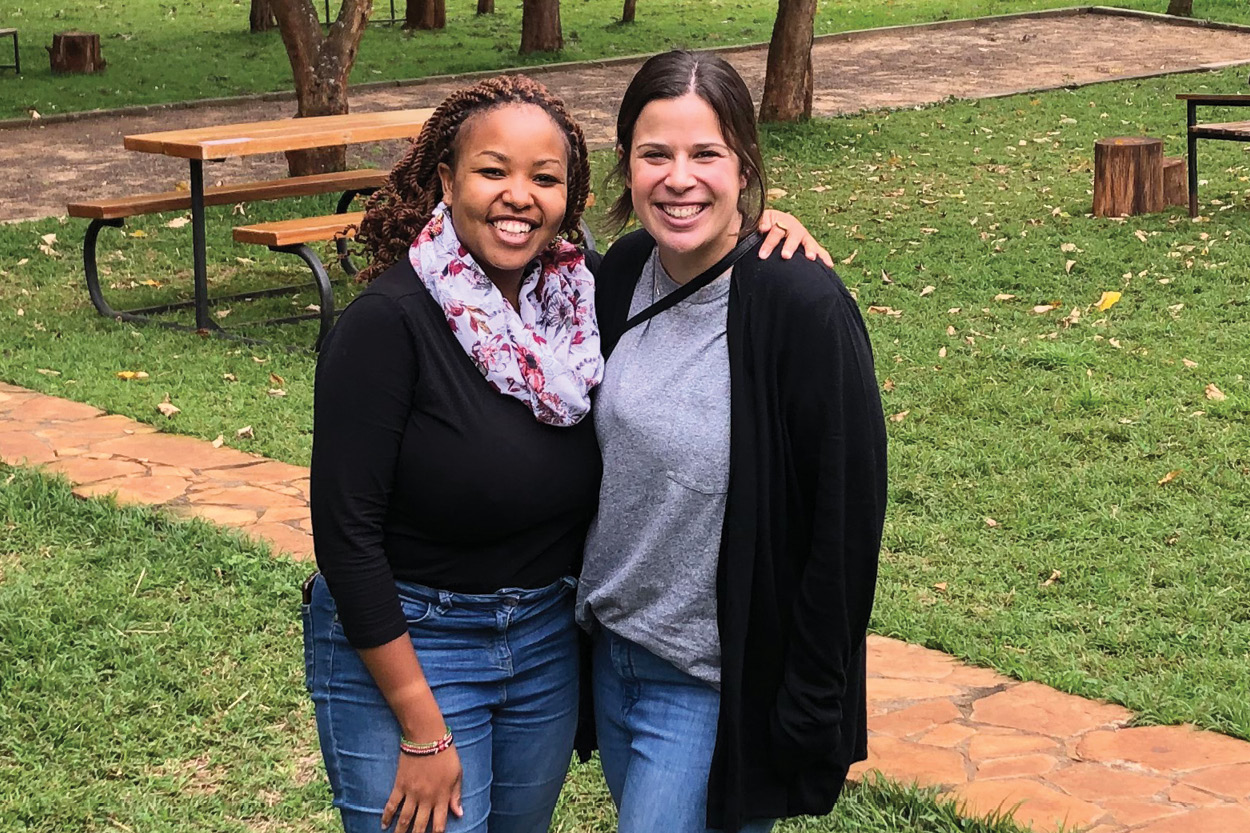 During a brief stay in Nairobi before the pandemic ramped up, Kaitlyn Swist '12 (right) reconnected with a friend from her MBA program at Oxford University 
Want to read more from this issue?