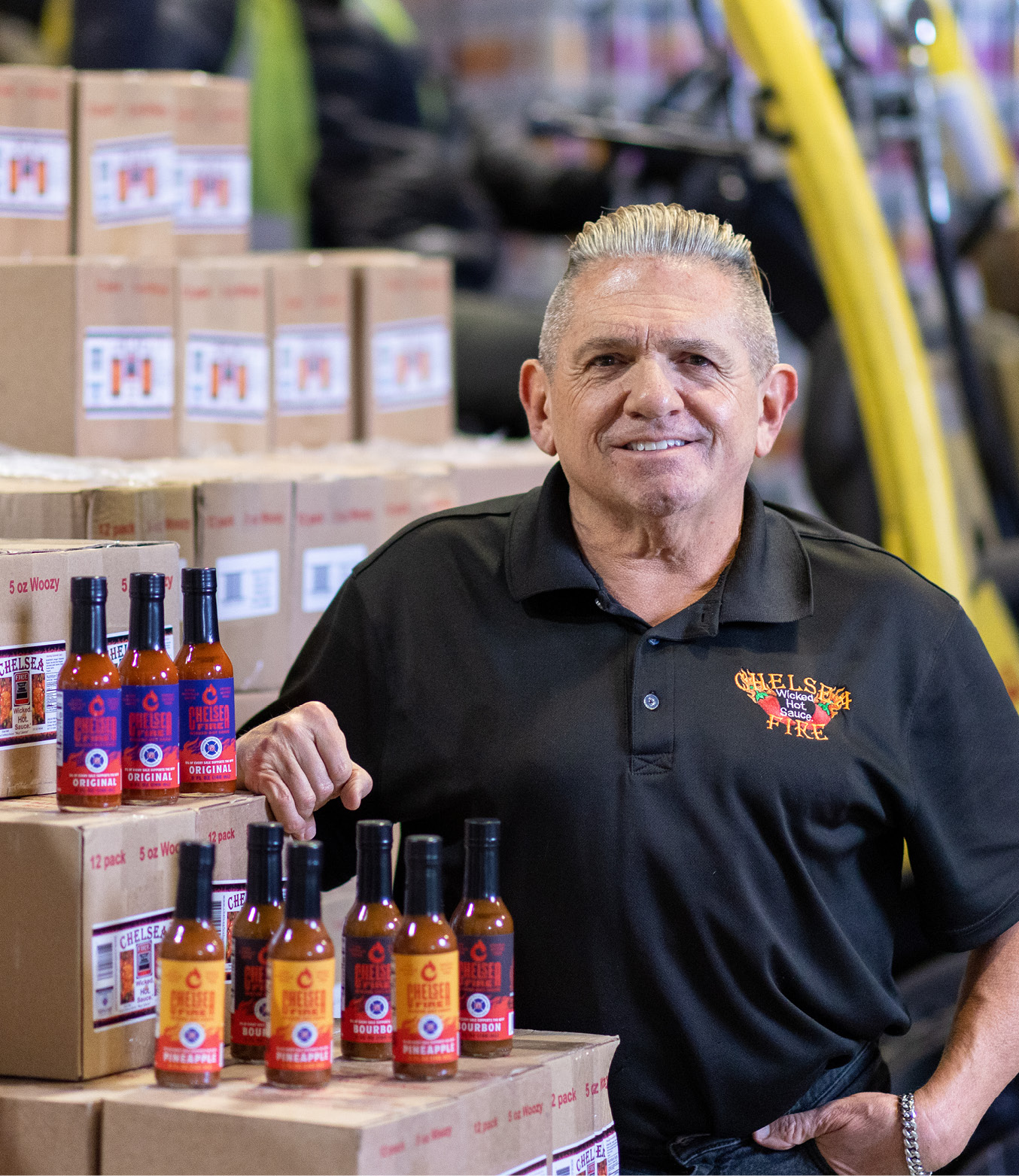 Listen to This Article



One of the first things John Brown '88 did after moving to Chelsea, Mass., was put in a garden full of peppers. It included the legendarily hot ghost pepper variety.  
His kitchen became a lab for perfecting a recipe that, based on his research, would balance a spicy punch with a mellow finish. In 2009: a red-hot winner.  
"The reaction from my friends was, 'This is really good! You should sell it,'" says Brown, who began devoting nights to cooking and bottling the sauce. He named the company to honor his home city and its resilience after devastating fires in 1908 and 1973.  
On weekend breaks from his job as director of administration and finance for a Massachusetts state agency, Brown headed to farmers markets. His Chelsea Fire Wicked Hot Sauce routinely sold out. Buyers from grocery chains took note, and put the product on shelves at Market Basket, Big Y, Whole Foods and Stop & Shop, among others. 
Today, Brown is focused full time on growing the company. Two new varieties — one pineapple, one bourbon — joined the lineup in early 2023. (The original is the hottest of the three.) His collaborators include Endorphin Farms, which oversees manufacturing, and a food broker working to expand the number of stores and locations that carry his creation.  
Brown's deep respect for those who battle blazes everywhere inspired an early partnership with the National Fallen Firefighters Foundation. Every year he commits 5% of company revenue to the organization.  
"I figured that if the Great Chelsea Fires gave me the name for the hot sauce, I needed to give back, too." 
Did you know?
We can thank Connecticut-born pharmacist Wilbur L. Scoville for the scale that ranks chili peppers according to their heat. For each variety, he extracted capsaicin, the chemical compound that imparts pungency, and mixed it with increasing amounts of sugar water. When taste testers could no longer detect the heat, Scoville scored the mixture based on its sugar water content. These "Scoville heat units" range from 0 (bell pepper) to 3.18 million (Pepper X).  
3,760 Scoville Units
Features a yellow habanero mash, smoked ghost pepper powder, pineapple and pineapple juice
4,140 Scoville Units
Features a green habanero mash, smoked ghost pepper powder and 80% ABV southern bourbon
8,790 Scoville Units
Features a red habanero mash and smoked ghost pepper powder
Dialing up the flavor
Elevate your hot sauce game with these
suggestions from John Brown
Mix with
Ketchup
Barbecue sauce
Hot dog relish
Cocktail sauce for shrimp, oysters and Bloody Marys
Add to
A jar of your favorite pickles
Scrambled egg mixture before cooking
Boiling water when making rice
Drawn butter for boiled lobsters and steamed clams
Use on
Mashed potatoes
Fried rice
John's all-time favorite: New England clam chowder
Read more from this issue