Early Investment
Teaching Finance Skills to Kids and Teens
Banking was the family business for Dina Shoman '01, MBA '06 (above) but growing up, she was "bored to tears" by finance. Brandon Samba '20 (below) comes from a San Diego neighborhood where, he says, "financial literacy was scarce." Their different experiences inspired a common mission: teach young people about money and finance.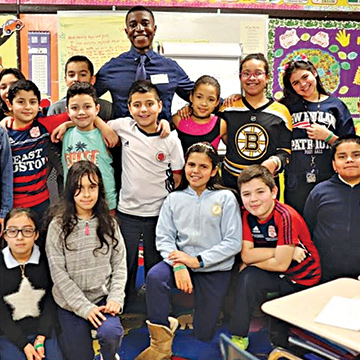 The lack of basic financial knowledge and skills among American high school students is cause for national concern, according to a report in 2018 by the Brookings Institution. Researchers had found that levels of financial literacy are especially low among Blacks and Hispanics from low-income families and among women. Shoman and Samba argue for early intervention.
"When it comes to learning important financial skills, research shows that girls receive less encouragement, are less confident and feel less smart than boys in regard to math," says Shoman. "Women still face barriers and limitations in career advancement, long-term earning potential and salary gaps while growing and caring for their family."
Shoman took aim at the problem in 2015, founding inherQuests to introduce girls as young as 5 years old to financial concepts in a fun way. While there were a handful of siloed products on the market — toy cash registers, for example, and board games like Monopoly — she felt that a series of related games spanning age groups would be more impactful.  
"We used educational curriculum as a road map to develop our first six Financial Fun Boxes with learning goals," explains Shoman. Among the lessons: needs versus wants, setting and achieving goals, how to recognize and count coins and bills, why saving matters and the importance of giving to others. "The best part is that it's fun, with different games and activities like card games, books, creative projects and physical activities."
Her personal favorite? From the Intro to Money box: a coin game called Battle of the Coins, which mimics the card game War.
Calling all Captains 
Samba made a move toward his passion in spring 2017. He founded Captains of Capital to help kids in underserved communities learn financial literacy through business and money management education. His research, gathered over many hours in the Bentley Library, became a business plan that he recruited six fellow students to put into action.
"Our captains introduce essential financial concepts such as saving, credit management and investing to students in Greater Boston," explains Samba. The organization reaches its audience through local schools and a network of organizations such as Junior Achievement.
"A key element of the organization's mission is to attract captains with diverse experiences — overcoming financial burdens, gang violence and lack of resources, for example — who can truly resonate with the students we educate."
Knowledge is Power 
Samba's own story starts in the Democratic Republic of Congo, where the family led a comfortable life until the start of the Great African War in 1998. Civil war and genocide forced him and his mother to leave the country in 2000; they (and eventually his father) settled in an urban San Diego community. Financial literacy education wasn't readily available, but Samba took every opportunity he could find. For example: a Junior Achievement program during elementary school and a chance meeting with an NFL player at a fundraiser for his middle school. 
"I had big dreams of becoming a pro football player, but he explained to me that it's better to own a team than play on a team," Samba recalls. "He taught me about the business behind the NFL and introduced me to the idea of investing money."
The experience got his wheels turning. He started a dog-walking company called Perfect Paws to fund his youth football fees and equipment, then took things a step further in high school.
"I stopped playing sports to focus on business, especially finance," says Samba, who eventually started an investment club to teach other students about the financial markets.
For Shoman, the world of finance was hers from day one: Her great-grandfather founded the Arab Bank in 1930 and it was managed by the family throughout the years. She recalls the financial lessons her grandfather and father delivered to a disinterested 8-year-old.
"My father always talked about the importance of saving, whether it was money, water or electricity. My grandfather would have us sit with bank branch managers to learn about credit and debit, and how the treasury at banks worked. I was always thinking, 'Get me out of here,' so I could go play detective or go roller blading."
It was a high school economics class that changed her thinking. The concepts of supply and demand intrigued Shoman, who enrolled at Bentley and earned a BS in Finance and, later, an MBA.
Now, she and Samba want to empower youth through knowledge. "Many low-income children haven't been taught basic financial principles," Samba says. "A lack of access to resources — including financial literacy education — is a contributing factor to the cycle of poverty. I want to change that."
My mother always told me to invest in an education because it is the only thing that no one can ever take away from you.
Walking the Walk
When you're starting a company focused on teaching girls the importance of financial literacy, it pays to be a good role model yourself. Shoman, who is from Jordan, became the youngest and only female executive vice president at Arab Bank in her 20s (and had to work hard for that title). Since then, she has sat on the boards of many banks and nongovernmental organizations such as the Jordan River Foundation and Injaz. In 2012, she was on the cover of Forbes Middle East magazine and ranked No. 3 among the 100 most powerful Arab women in publicly traded companies.
Looking back, Shoman notes the "unwavering support" of her grandfather, father and mother, who endorsed her decision to attend college in the United States and pursue a career.
"My mother always told me to invest in an education because it is the only thing that no one can ever take away from you," Shoman says. "It's that message of empowerment I want to share with girls when it comes to their financial savviness."
When it came time to develop products for inherQuests, she launched a Kickstarter campaign that reached more than 75% of its funding goal ($20,000) in the first week — a perfect example of the financial savvy the company aims to teach.
"Some girls may need a little extra help to get interested in learning finance, but having a strong financial foundation can help them achieve their most precious dreams," Shoman says. "When we are able to live up to our full potential and achieve our dreams, we can make our greatest impact on the world."
Like Shoman, Samba is a role model in his own right. He came to Bentley to study finance, thanks to parents who worked hard to rebuild their lives after losing almost everything. He joined the student-run Bentley Investment Group, which manages $1.1 million of the university's endowment; this spring he became the group's president. As a Junior Achievement alumnus, Samba was a guest on NECN (New England Cable News) CEO Corner, alongside the Junior Achievement CEO. He continues to volunteer for the organization.
Captains of Capital has grown over its two years, with 25 captains and the number of young students taught at 600 and counting. Samba plans to develop online educational resources and a customized business empowerment curriculum for women and girls. His longer-term goal: become a catalyst for economic innovation back in the Democratic Republic of Congo.       
"Every individual has the power to do wondrous things, regardless of their external circumstances," he says. "I genuinely envision a future where individuals from all walks of life, uninhibited by superficial barriers, will come together to achieve great things. However, it all starts with us and it starts today."
Advice You Can Bank On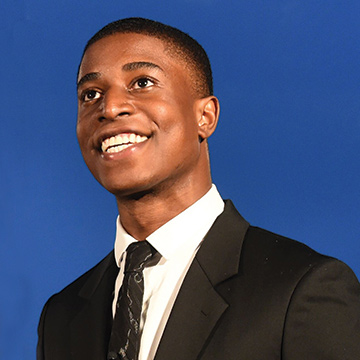 Shoman and Samba offer these kid-friendly lessons in finance. 
Keep it real: Young people should see and touch money — bills and coins. Watching coins fill a piggy bank and handling real money is more powerful than seeing numbers on a screen. Buy a piggy bank or set up a bank account: Keeping money designated for a particular purchase in a special place helps teach the concept of budgeting. 
Distinguish between wants and needs: Cut out pictures of items like houses, clothing and toys, and help children categorize them under "want" or "need," explaining why. Also discuss that a want for one person can be a need for someone else. For example, when one child needs shoes but another doesn't because hers still fit.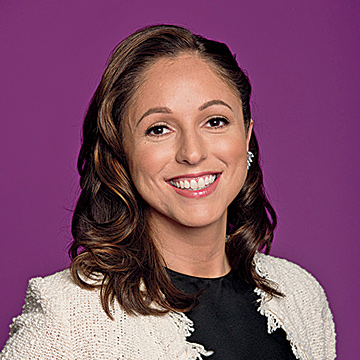 Teach about investment: Investments grow money. Offer to add an extra coin to a transparent piggy bank at the end of each week the youngster has contributed a coin, or help older children pretend to invest in a stock then track its progress.
Think outside the (cash) box: Not everyone has extra cash to invest. Devise ways to invest in knowledge — something that never depreciates. A few examples are mentors, school clubs and free online education resources such as Khan Academy.