David-Jaya Piot's office measures 1,100 acres and his work companions can weigh upward of three tons.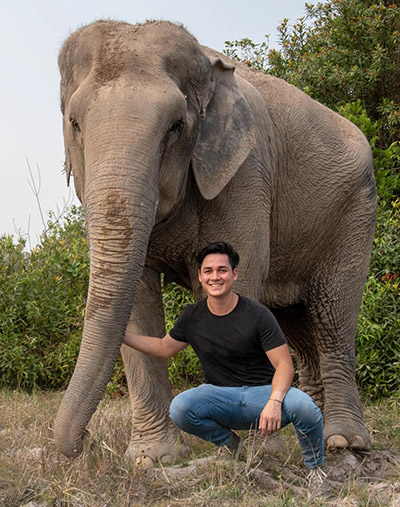 The Class of 2017 alumnus is co-founder and managing director of Kulen Elephant Forest, a 2-year-old sanctuary in Cambodia that's home to 13 formerly captive Asian elephants. 
"Elephants are by far the most intelligent animals I've ever seen," says Piot. "Their social structures, communication and distinct personalities make them a pleasure to work with." That work includes supplementing their diet of bamboo and other vegetation with sugarcane, king grass and whole banana trees — shredded for older ones who have lost their teeth.
"And I walk around to give them a quick pat hello," he adds, noting that regular interaction is essential for keeping his charges safe and well. Thorng Kham and Kham Song were an early success story.   
"Only a year ago, they displayed overwhelming aggression as a result of frustration and lack of stimulation. Today they roam the countryside, able to socialize and be themselves again."
Piot's education for the venture started in childhood: His parents owned an inn in Siem Reap, a town near the archeological ruins of Angkor. The elephants in his care once lived at a nearby camp, and carried tourists to temples that are part of the UNESCO World Heritage site.  
"Elephant rides were the main way tourists interacted with captive elephants," Piot says of the times. "Very few people would pay to see elephants roam free."
In fact, his family had tried, without success, to open a sanctuary in 2003.
Poised for a Rebound 
Piot left Cambodia at age 12 to attend secondary school in Switzerland and went on to earn his Bentley degree in Economics-Finance. In 2017, he returned home for a break before starting a master's program, but stayed to help run his father's hospitality business. The inn had grown to become the Angkor Village Group resort. 
"My father and I agreed that the elephant camp had no place in the future — and that we should try the sanctuary project," says Piot.
Fluent in English, French and Khmer, he stepped up to learn about conservation-based ecotourism and negotiated an agreement with the government to manage the preserve as a sanctuary. Within months of opening in December 2019, Kulen Elephant Forest had earned a No. 1 rank on TripAdvisor.
As tourism rebounds from COVID-19, Piot is hopeful. The return of guests will mean revenue for an elephant clinic; upgrades to the nearby Bos Thom village school; and new toys for Thorng Kham, Kham Song and the rest of the herd.
Want to read more from the issue?