The Falcon Files
Resilience on Repeat
The stock market crash of 1929, and the resulting Great Depression, began to show their effects on Bentley in the early 1930s.
Enrollment dipped nearly 30% from its all-time high. But founder Harry C. Bentley remained optimistic; his strategy of networking and advertising kept the school in business. Bentley's enrollment numbers would hit their lowest point two to four years after the economy's low point [see chart]. This insight, gleaned after Word War I, gave the school time to prepare for lean years and help prospective students understand that investing in their education would "pay dividends" after economic recovery.
Students of the 1930s graduated into a business world in dire financial straits. But they showed a sense of purpose and good humor in cartoons for yearbooks of the time.
The Placement Department, pictured in 1937 and 1961, played a leading role in periods of low enrollment.
Advertisements and informational letters emphasized the number of alumni who remained employed despite the national circumstances. Mr. Bentley himself wrote to alumni asking about their jobs and urging them to reach out for help making connections for a new position.
Amid recovery from the Great Depression, and just before the onset of WWII, Bentley faced some smaller-scale challenges.
On New Year's Day of 1938 a fire broke out at the 921 Boylston Street building. There were no injuries, but a large amount of records, equipment and supplies were destroyed, as were several items from Mr. Bentley's much-beloved art collection.
Later that same year, treasurer J. Earle Bradley and three student assistants were robbed at gunpoint in a school office. Thieves made off with $1,800 – a significant sum considering that yearly tuition for one student was $260.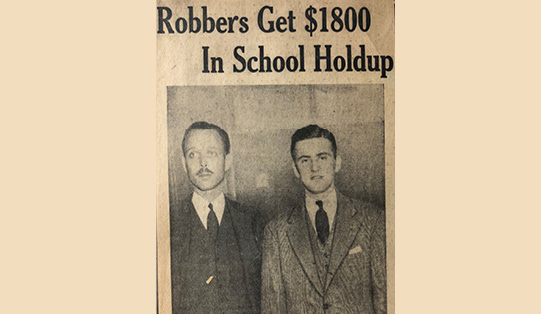 World War II tested enrollment and finances yet again. 
The school's decision to admit women came as they moved into the working world — and welcomed professional training. Coeducation continued after the war, with Mr. Bentley crediting female enrollment as a significant factor in preserving the school.  
The prospect of being drafted was strong concern for college students of the 1950s. Selective Service officials indicated that a business school, like Bentley, might not meet the standard for students to receive an education-based deferral from military service. With this in mind, Bentley negotiated an agreement with Suffolk University, which guaranteed a full transfer of credits for our students. The arrangement helped ensure that full-time Bentley students would not have to worry about being drafted in the midst of their education.
The Women's Caucus, established in 1973, led discussion and change around the issues of women's rights that were being heavily debated in the United States. 
On campus, the caucus campaigned to create a Women's Center, developed and promoted programs about gender equality, and raised awareness about similar initiatives in the Boston area.
The energy crisis of the 1970s prompted Bentley to install a large solar energy system.
In his remarks at the unveiling, President Adamian discussed the unprecedented effects of the energy crisis on a growing campus — and called dependence on fossil fuels the "greatest danger and challenge before us; and particularly in New England where we import 70% of our energy from outside the region." He expressed hope that others would see Bentley as an example of how solar energy could work in both a practical and financial sense. Sustainability remains a priority at the university, on many fronts. In 2018, the Bentley Arena became the first stand-alone ice arena in the nation to earn LEED Platinum certification.
Want to read more from this issue?