Family Matters: Making Opportunity
TJ Pavone '23 is wasting no time building his résumé.
By the end of his first semester, fall 2019, the Finance major had compiled a solid list of experiences, from leading campus tours for prospective students to serving as a strategy and operations intern at Dell EMC.
"We always tell our kids that if you put your head down and work hard, then opportunities arise," says TJ's entrepreneur mother, Dena (Arruda) Pavone '92, who is pictured with (from left) sons Dante and TJ, husband Todd and son Luca.
She and husband Todd '92 also believe in the power of a good education. Both entered Bentley in September 1988, drawn in large part by its reputation. Todd liked the school's leading-edge business technology program. Dena was sold on its high job-placement rate for graduates.
"I wanted a definite job," she says, speaking from the family's Hopkinton, Mass., home, which they share with two other sons, Dante, 16, and Luca, 11; and an English lab named Bentley.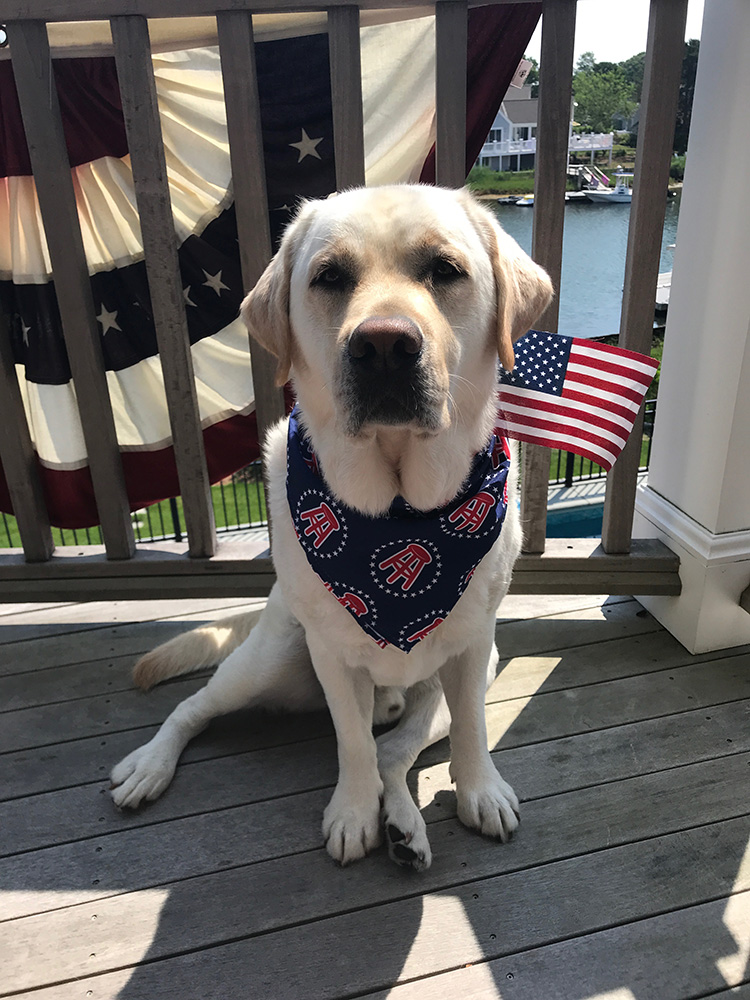 Introduction by Paintball
The couple met as sophomores, during a paintball outing organized by their fraternity (Kappa Pi Alpha) and sorority (Delta Phi Epsilon). Greek life, they say, was a particularly important part of their Bentley experience, providing plenty of friends, fun and activities.
Todd majored in Computer Information Systems and went on to positions at Accenture and EMC Corporation; he is currently president and CEO of Virtustream, a Dell Technologies Business. Dena, a Management major, started her career in sales. She then followed her passion for fashion design, which led to launching her own company. At Dena Pavone Collection, she works with clients to custom design sandals and accessories from Italy.
Amid the demands of career and family, the Pavones have made time for their alma mater. Todd has lent expertise to groups such as the Business Advisory Council and recruited fellow alumni for his employers. The couple would often drive through campus when in the area, telling the kids stories of their college days.
TJ credits a "strong alumni network and great finance program" for sparking his interest in Bentley. To help gain experience for his chosen career field — private equity — he joined two student-run organizations: the Wall Street Banking Club and Bentley Investment Group.
We always tell our kids that if you put your head down and work hard, then opportunities arise.
A Year for the History Books
The familial sense of determination has seen TJ through a first year of college like no other. In late March, Bentley courses and exams moved online as the COVID-19 pandemic ramped up in the United States
"My teachers were very creative to make sure it was the best experience possible," says TJ, noting that his schedule also allowed for connecting with friends, groups including the Investment Club, and the larger university community. Still, he adds: "I appreciate the on-campus experience so much more now."
The university's new trimester schedule, which adds flexibility for students and families, gets high marks from Todd.
"During this very challenging time, schools or businesses can either sit back and wait for the pandemic to end or they can be creative and innovative. Bentley has followed its long history of innovating by continuing to be a thought leader among its peers."
This summer, TJ has a paid internship at an investment management company — which complimented him on being much more prepared for the work than a typical first-year college student. For that, he offers "a huge thanks to Bentley. I know that, like my parents, I made the right choice."
Want to read more from this issue?