Fan Favorites
Student-athletes — past and present — on their top lessons from the field, court and ice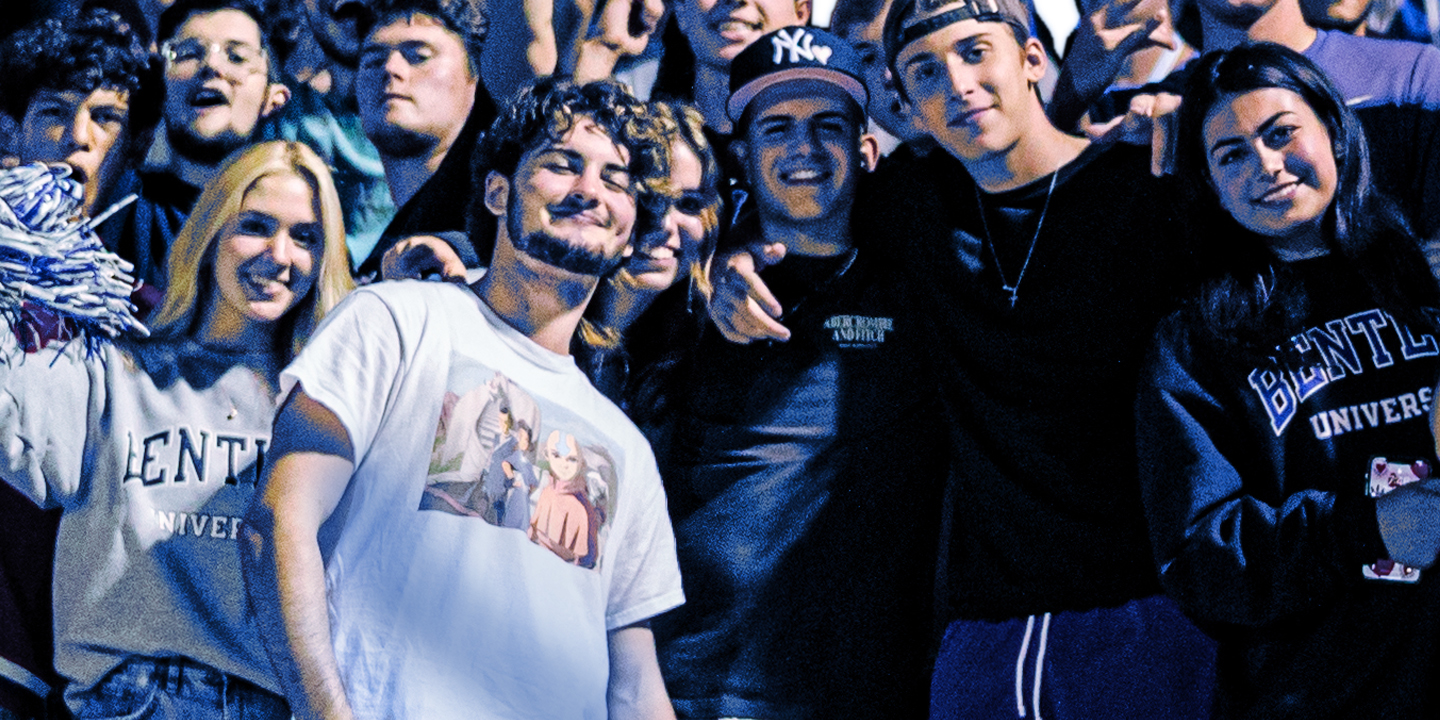 Tanya Hvizdak '00, MBA '01
Women's Basketball (1999 to 2001)
Tanya Hvizdak '00, MBA '01 was pivoting to catch a fast-break pass on the basketball court when she tore her ACL. It was during a summer training session with the Bentley women's basketball team. Hvizdak had just transferred to the program and was excited to prove her skills.
"It was a curveball," she says of the injury. "But sitting on the bench was a little bit of a blessing. I was able to take in the system that Coach [Barbara] Stevens had instituted from a program perspective."
The cultural aspect of the program is what stuck with Hvizdak. "Coach Stevens' big thing was painting the vision we wanted to accomplish together and then placing the building blocks to get us there. It was about seeing the larger picture."
Hvizdak would prove herself on the court as a senior and graduate student, building a career she is "unbelievably proud of."
Off the court, she was quick to recognize the platform she gained as a student-athlete.
"I've taken what I learned during my time at Bentley and transferred it into my career," says Hvizdak, who is vice president of Global Women's Sports Marketing at Nike and a loyal True Blue donor to Bentley. "I'm fortunate to work with some of the world's greatest athletes and help amplify their voices. I've seen how that can impact different areas of the world ­— including political aspects such as women's rights and equality. Athletes have the ability to change the conversation."
So does Hvizdak. In May 2022, she was featured in the Footwear News "Women in Power" issue as one of six leading female executives at Nike in the sports industry. The honor caught her off guard.
"I typically like to shine the spotlight on athletes. But with stories like the one in Footwear News, I'm excited to show women there are career opportunities in sports outside of playing in leagues or on teams."
Jailen Branch '21, MBA '23
Football (2018 to present)
If the New England Patriots are playing, Jailen Branch '21, MBA '23 and his family are not hard to find.
"We're watching it on TV or at the game together," says Branch, whose mother is a devoted Pats fan and father played semi-pro football. "If they lose, we're all upset. If they win, we're all happy."
He fosters a similar camaraderie in his Falcon family, particularly as a two-time captain.
"I focus on the betterment of the team and what I can provide to players to make sure we're clicking on all cylinders to achieve a win."
Branch carries the same goal off the gridiron. In 2021, the defensive back co-founded Bentley Black Student Athletes to elevate Black voices within the university's athletics community.
"When you don't have a lot of people who look like you, it's important to find those who do to create a support network and family bond," Branch says. "The more people we have together, the more voices will be heard — and the better the chance to make the experience of a Black student-athlete equivalent to that of a white student-athlete."
That work got him noticed beyond his career stats: 97 tackles, 22 pass break-ups and three interceptions. In September 2022, Branch was named to the 31st Allstate AFCA Good Works Team, which recognizes football student-athletes for outstanding contributions outside the sport.
"I want to leave more than just a mark and a legacy on the field," says Branch, who is a two-time All Northeast-10 honoree. "I want to ensure that those who come after me are welcomed, supported and taken care of. Most importantly, I want to ensure that Bentley continues to grow and move forward — especially for students like me."
Women's Competitive Club Ice Hockey (2021 to present)
A handmade "Let's Go Audrey" poster illustrates what Audrey McMillan '24 loves about playing hockey: the community.
"My family watches hockey together, we talk about hockey together," she says. "My grandfather coached hockey and my father played in college."
The Connecticut native was "just a baby" when she donned her first pair of skates — double blade — to be pulled around the ice by her father. Home ice today is the Bentley Arena.
"When I look out at fans and see my sorority sisters, other athletes, classmates and even professors, I get a true sense of togetherness," says McMillan, now president of the Falcon women's competitive club ice hockey team.
She brings the same energy to the broader campus community, as an orientation leader and vice president of training for Bentley student ambassadors. One recent example: speaking to the entire first-year class about dealing with homesickness and adjusting to campus life.
"I had many students approach me afterward and in the following weeks about how my advice helped them," McMillan says. "It's important to be a resource for the people around you."
This fall, players are counting on each other more than ever, as the team moves up to a more competitive conference: the Independent Women's Club Hockey League. Their schedule has twice as many games as last year.
"It's challenging, but the new league is something we all really want," says McMillan, a Marketing major with minors in Management and Sports Management. "It's rewarding to know we're coming together as a team to impact the program and future Falcons."
David Falkowski '90, MBA '95
David Falkowski '90, MBA '95 believes that "sports is a microcosm of life." The former Bentley baseball pitcher still carries lessons he learned on the mound and in the dugout alongside then-coach Bob DeFelice.
"Playing a sport requires commitment and dedication, and above all, coming together toward a common goal," he says.
He recalls a particularly grueling game against Boston College. "I pitched into the 10th inning. When the relief pitcher came in, he threw one pitch and we won. But we both had an important role to play in the victory. That's what it's like to work as a team and celebrate everyone's role in rallying for the win."
Today's wins and losses are off the diamond. But commitment, preparation and teamwork figure into Falkowski's role as executive vice president and chief compliance officer at CVS Health.
"My job is to protect the reputation of the company, but also to protect the safety of our employees and ensure we're prepared for any crisis.
"Leading a team is about setting a strategy, and empowering people to achieve those goals."
Falkowski also empowers today's students toward their goals by giving back: He is a member of the President's Club of leadership donors.
99%
Graduation rate of Bentley student-athletes, highest of any NCAA Division II school in the country for five years running
2021-2022
407
Student-athletes named to the Northeast-10 Academic Honor Roll in spring 2022
2021-2022
169
Student-athletes earned academic achievement awards from the D2 Athletics Association, highest in the NE-10 Conference
2021-2022
Women's Track and Field (2021 to present)
Lucy Ambroult '24 can nail a 19-foot long jump and sprint 100 meters in 12.65 seconds, but her record-breaking accomplishments on the women's track and field team don't ease race-day jitters. What does help: a teammate who can ground your nerves.
"Chase Davies would sit down with me before a race or jump," Ambroult says of the former team captain who graduated in spring 2022. "She'd say, 'You're fine, you're seeded first.' Then I would do the same thing for her."
Sometimes, though, strength has to come from within.
She remembers a meet in April 2022 at the University of California San Diego. The Golden State native had just tied the Falcon record for the 100 meters.
"Everyone was hyping me up that I would break the record in front of my parents," recalls Ambroult, who would need to shave her time by a hundredth of a second. "I came in 15th and felt humiliated."
After the race she took a short walk to gather her composure. "I knew I didn't want to feel like this again and that I would take steps to change that."
The commitment to "buckle down" in the face of difficulty helps her juggle sports and academics. Last spring, she was studying macroeconomics while training for both the New England Outdoor Track and Field Championships and the Northeast-10 Track Conference Championships.
"The class required a lot of work and focus," says the International Affairs major. "Plus, the final was the same week as the New Englands."
Ambroult earned All-New England honors at that competition by placing sixth in New England across divisions. The other victory, she says: balancing two stressful workloads.
Men's Basketball (1992 to 1996)
Brad Walker '96 arrived at Bentley more wary of the cultural shift from an all-boys high school in the Midwest than his performance on the men's basketball team.
Consequently, he says, "I leaned into getting to know the Bentley community and academics. Socially, it was a great year."
Athletically, not so much: The Falcon recruit spent most of his time on the bench.
"Coach [Jay Lawson] and I had a conversation about whether Division II athletics is where I should be. I knew a big issue was a lack of commitment on my part; but I also knew that's not who I am."
Walker trained hard that summer, returned in his best shape ever and earned a spot on the court. He rose from "most improved player" that season to captain during senior year.
"I'm a hustle-type player who knows how to be in the right place at the right time," says the former Marketing major.
That same hustle took Walker from college sports information intern to head of basketball operations for the NBA G League. In 2021, he became the fifth commissioner of the America East Conference.
"There's rarely a moment where I feel like, if things aren't going right, it won't turn around," he says. "When I had my worst year as a student-athlete, Coach Lawson gave me another chance. As a leader, I deliver that same kind of compassion and support. If we put in the commitment and effort, we will get where we want to go."
Men's Ice Hockey (2019 to present)
Canada-born Lucas Vanroboys '23 thrives on the energy of playing DI hockey in the Bentley Arena. His first faceoff, against the University of New Hampshire, ended with an overtime win in a packed house.
"I hadn't played in a building that was so loud and energetic before, so that was really cool," he says. "Especially for the game to end in such a dramatic fashion."
The fanfare for athletics doesn't end in the arena. Professors often congratulate Vanroboys after a Falcons win. One ended a Tuesday "night bomb" class at an early 8:30 p.m. — as long as students headed out with him to watch a field hockey game.
"I like that faculty members are in tune with student-athletes," says Vanroboys, an Economics-Finance major and one of three All-American Scholars at Bentley in 2021-2022.  "It's that kind of school spirit that joins people together and gives us all a common thing to root for."
His work ethic on the ice carries over to other parts of Bentley life. Vanroboys has founded EndorseMate LLC to level the playing field for endorsement deals, which typically go to large corporations and celebrities. Whatever the future holds, he'll apply the formula that has taken him this far — "giving 110% and having a positive, tenacious attitude."
Allyson (Bunce) Baroni '02
Field Hockey (1998 to 2001)
A field hockey game with Saint Michael's College inspired a lasting memory for Allyson (Bunce) Baroni '02. Upon arriving at the northern Vermont school during a snowstorm, Falcon teammates traded hockey sticks for snow shovels to clear six inches of the white stuff off their playing field.
"Everyone pitched in; we had to rely on each other," says Baroni, a former co-captain who was inducted into the Northeast-10 Conference Hall of Fame in October 2022.
Other highlights of her athlete days were earning an NCAA Division II championship in 2001 and playing alongside her sister (and fellow Hall of Famer) Jennifer (Bunce) Hogencamp '00.
"An individual award is a bonus, but it just doesn't tell the whole story," says Baroni. "The important thing is winning as a team. There are so many other people who contribute to that success."
The mindset is an asset in her role as a wealth management client associate with the Fernon/Arabadzhiev Group at Merrill Lynch.
"My favorite part of the job is working with my team to help our clients reach their financial goals, and building strong personal relationships along the way. It's not much different from being part of a successful team on the field. Our individual efforts are always in the best interest of clients and the team."
Behind the Scenes
Creative Marketing Intern and Arena Events Production and AV Staff (2021 to present)
The men's swimming and diving team isn't the only place that Edward Monigan IV '24 has made a splash at Bentley. He's found opportunities to pursue another talent: photographing and filming fellow student-athletes.
"Connecting with athletes and capturing their energy and excitement for the game they love drives my passion for this," says Monigan, whose interest in photography started in high school.
At Bentley, he continued swimming competitively, while also serving as a creative marketing intern for Falcon Athletics. Sophomore year presented a choice, he says, "continue the sport I love or pursue a developing career that I love."
Monigan chose the latter and changed his major from Marketing to Creative Industries. Working on campus has opened other doors, including to the Worcester Red Sox and his first-ever gig as a videographer.
"I dove headfirst into the organization," he says, "arriving early and staying late to perfect my craft."
A member of the audio-visual staff at the Bentley Arena, Monigan operates broadcast cameras, communicates with a team of directors at different sporting events, creates graphics and informational media for in-house video boards, and manages lighting and media. In August 2022, he landed a freelance assignment as a creative camera operator at Harvard University.
"My work at Bentley has led me down a path to many new opportunities that I once thought were not possible."
Read more from this issue