Art and activism blend perfectly for Maria Rivero '09. The Venezuela-born alumna couples her expertise in marketing with a keen social conscience. The work is twofold: managing a private collection dedicated to contemporary art and helping emerging artists promote their work based on topics such as racism and human rights. In April, she was on campus to discuss making art in the age of technology.
VALUING ART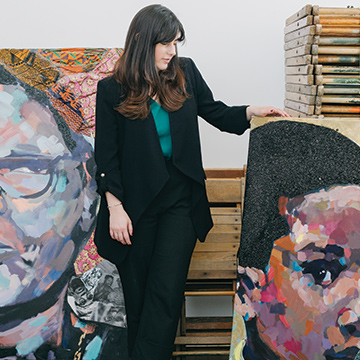 Day to day, I manage a contemporary art collection for a Brazilian collector in New York and Miami. I deal with a database of more than 200 works of art, keep track of her travels and collecting, and arrange for shipping and installation. I am also certified to give a fair market value of each artwork. That involves researching provenance and exhibition history, to determine how that value is changing for insurance.
PRIZED POSSESSION 
In addition to paintings, sculpture and drawings, my client collects installation and video art. Recently, she fell in love with a 20-minute film by Bárbara Wagner and Benjamin de Burca called RISE (Reaching Intelligent Souls Everywhere), which talks about different forms of racism. It won many prizes, including one at the Berlin International Film Festival, and luckily she was able to acquire it. That video is always on at her residence, in a very intimate room. And it is a highlight when she hosts dinners with artists and collectors. 
NEW MEDIA  
Art is powerful and intimate; it's the way we recall the memory of how our civilization has grown throughout the past centuries. But nowadays marketing is shifting to become more creative, personal and aesthetic. I value what professionals in the field do with film and video for Instagram, for example. Artists are always engaging new technology in their practice. The question is how to take advantage of these possibilities to rise and stand out, so galleries and art fairs will show their work. 
OPENING UP  
When I see an artist whose work I like, I reach out and ask to do a studio visit. I give them advice on writing an artist's statement, and check their portfolio and social media. Then I invite them to go to openings with me and introduce them to people. Some artists are very introverted, and I try to help them overcome that. They are the ones raising questions and reflecting on issues in society that other people are not. 
SUCCESS STORY  
Gerald Sheffield is an African-American veteran of the U.S. Army. He draws on that experience to examine the dynamism of human existence, connecting with audiences through photography, sculpture, video and painting. I helped him revise his portfolio and tour the art scene in New York, introducing him to a Colombian artist and a Brazilian gallery director. He received a Fulbright Scholarship to work in Uzbekistan doing research and making art. I can't help artists find a gallery because I am not a dealer, but I can help them navigate the networking, management and marketing — and I have empathy that makes them trust me. We need more empathy and openness in this world.