Instrumental
Business skills and an entrepreneurial spirit amp up alumni careers
Tessie Lammle '15 | United Talent Agency

Tessie Lammle '15 was raised by a "concert mom." One who routinely stood in long lines and acted as a human barricade so Lammle and her friends could catch a glimpse of performers like singer and rapper Aaron Carter.
"I was a pop music junkie," says the alumna, who attended her first live show at age 6, by late rock icon Tom Petty. Her ticket stub collection went on to reach epic proportions.
Lammle chose Bentley to focus on another part of her identity: numbers person. And then a course about the music industry introduced a possible career path.
"A music agent is a liaison between an artist and different buyers, negotiating deals and contracts on their behalf," she explains. "The course really opened my mind to this whole industry that had not been on my radar."
Lammle confirmed her interest and built skills during internships at Universal Music Group and talent agency ICM Partners. Shortly after graduation, she landed a job at United Talent Agency in Beverly Hills — in the mail room.
"I was literally sorting mail," Lammle says of the position where most new hires start. "I was delivering Mariah Carey's shoes to her, driving different celebrity clients and executives around. It's kind of like a graduate project for the industry; you're constantly learning how the business runs."
She was an apt pupil and, in 2020, became a talent music agent for clients that include Iggy Azalea, Lil Wayne, TLC, Pussycat Dolls and a multitude of up-and-coming artists. Most of the deals she manages involve live shows with promoters like Live Nation and AEG who produce the popular Coachella Music Festival. Her day typically starts with a staff meeting, followed by client lunches and studio sessions. By night, she often scouts talent at local clubs.
"Honestly, the business is a lot of networking. I love artist-facing dialogue and working with creative people, because I am naturally more business-minded," says Lammle, who majored in Marketing with minors in Law and Finance.
She credits Bentley for developing skills and perspectives that "helped set me apart in this industry." Among them: a talent for number crunching, early lessons about how to be a professional, and an appreciation for other countries and cultures.
Ben Aslinger, associate professor, English and Media Studies, taught the course that set Lammle on her career path.
"Tessie was invested in learning from the exclusionary past and present of the music industry, gaining useful lessons from current disruptors and innovators, and working toward a future that would be more inclusive for everyone."
Indeed, Lammle says one of the favorite parts of her job is watching the development of new talent, such as SAINt JHN, a Guyanese-American singer, songwriter and record producer, and Tierra Whack, a rapper, singer and songwriter from Philadelphia.
"It's so rewarding to see a client grow from playing a 200-person room to headlining a festival — and to be a part of that journey."
Chukwudi Anagbogu '16 | Independent Artist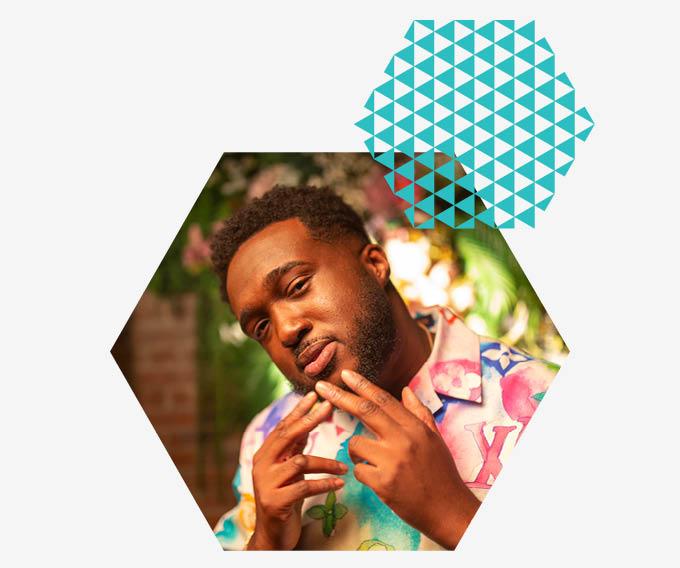 Chukwudi Anagbogu '16 was working at a financial risk management firm in New Jersey when he went from singing in the shower to performing as an independent artist.
"My cousin is a producer, and I was in his recording studio while he was working on instrumentals," recalls Anagbogu. "I said, 'Hey, let me just try something.' I started humming and I was shocked by the different melodies that came out of my mouth. I was already starting to think about which artists would sound good on what I was doing."
The Nigeria-raised alumnus jumped on Twitter and sent a direct message to Ayo Jay, one of the first artists from his home country to chart on Billboard.
"Music is something I had always wanted to do, but more from a business perspective," says Anagbogu. "Ayo Jay recognized my drive and passion, and gave me an opportunity to work with him. We recorded a song ["Killing Me"]. I was nervous, but I haven't looked back."
Under the stage name chuXchu (pronounced choo-choo), Anagbogu has been featured on the Apple Music Africa Now radio station as the Africa Rising Track of the Week and recognized as Africa Rising Artist of the Week on "The Nadeska Show." Apple Music named him among the top rising Afrobeats artists to watch, alongside Tems, Omah Lay and Oxlade.
"My music fuses elements of the Afrobeats sound coming out of Africa with different genres like pop, R&B and hip hop," Anagbogu explains. "The goal is to find that intersection and get people all over the world to see and embrace African culture."
His own contribution to the cause includes introducing Bentley classmates to the latest African music, by sharing monthly playlists and partnering with other songwriters around the world who are interested in Afrobeats.
Anagbogu's finance background and Managerial Economics major are assets in building out his career.
"Music is very much a creative process," he says. "But as an independent artist, you also have to be involved in the business side of things."
By analyzing back-end data, for example, Anagbogu can see which countries his streams are coming from. An Excel dashboard helps him determine revenue received per stream. Bentley courses in negotiation and general business taught him the art of negotiating a contract and reviewing its legalities with care.
The alumnus calls his late nights in the recording studio "therapeutic," as he balances his music career with full-time work as a mergers and acquisitions professional in New York. This intersection of business and music figures into his long-term plans: setting up an investment fund to finance artists in Africa.
"Afrobeats has transcended across the world and influences music today by artists such as Beyoncé, Justin Bieber and Ed Sheeran. But there are still gaps in access and investment from global music operations," says Anagbogu. "There is so much talent on the continent and my dream is to provide African artists with the opportunities to reach their full potential."
Chukwudi is on YouTube and Spotify 
Hannah Gerry '13 | Independent Artist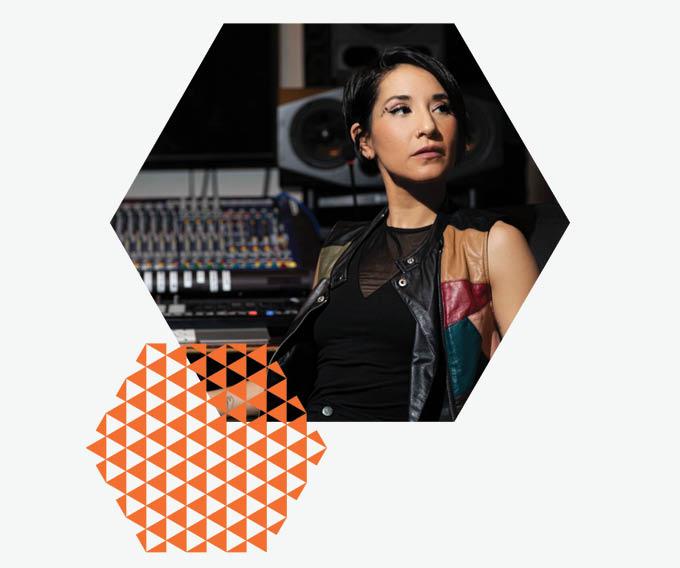 Hannah Gerry '13 has a playlist for every occasion.
"Even studying in the Bentley Library, I had specific songs and playlists that kept me inspired," she says, citing Portishead, Phantogram and Massive Attack as go-to bands of the time.
It's not surprising, given that by age 7, Gerry had professed her dream of becoming a singer. She was active in local arts programs — singing, dancing and acting — in her hometown of Sudbury, Massachusetts.
Things took a different turn in high school, Gerry recalls. "At that pivotal time in life, there was a lot of pressure to conform. So I started to identify more with my athleticism."
She brought her field hockey skills to Bentley, and spent three seasons as a Falcon midfielder and forward. Meanwhile, marketing and writing courses "reinvigorated" her thinking about music.
"The skills I was learning made me confident that I could harness my passion for music, even if it was on the business side," says the former Marketing major.
Gerry started blogging for a college music publication, and continued to do so after graduating and taking a full-time analyst role at TJX Companies. As her blogging grew from album reviews to artist interviews and festival reviews, so did her confidence.
"I remember thinking, 'I can sing; I want to learn how to produce; I want to learn how to create and distribute my own songs,'" she says.
Opportunity came when the blogging platform was acquired by Verge Campus Media. The college media company was recruiting a first-ever director of community relations and strategic planning who could work with college students, and Gerry jumped into the role. Her work involved creating campus chapters, doing strategic and operational planning for direct student/brand engagement, and increasing advertising sales and sponsorship.
"I was excited to build something from the ground up," says Gerry, who went on to serve as music licensing manager for Endemic Sound and as director of business development at Signature Tracks. "I credit Bentley with helping me realize that with marketing, you can marry your creativity with a skill set that could drive a business forward."
Last year, that "business" would become her own. She was dealing with a health issue that made it difficult to sit at a desk for hours at a time.
"I seriously reevaluated my priorities and leaned into my creative pursuits in a way I hadn't been able to do before," Gerry says.
She turned to creating floral arrangements for weddings and ramped up songwriting. Her EP, released in 2021 as Hannah Noelle, is influenced by soul, R&B, alt rock, '90s aesthetics, pop and folk. Finally, there is Neon Owl: an online community founded by a friend, which aims to help independent artists, producers and musicians succeed while also generating support for philanthropic causes.
"There's so much opportunity for music to be licensed to movies, commercials, ads and games," she explains. "My goal is to create viable streams of income for them and provide education and resources to help them see that potential."
Hear Hannah on Soundcloud
Jenna McPhail '15 | Universal Music Group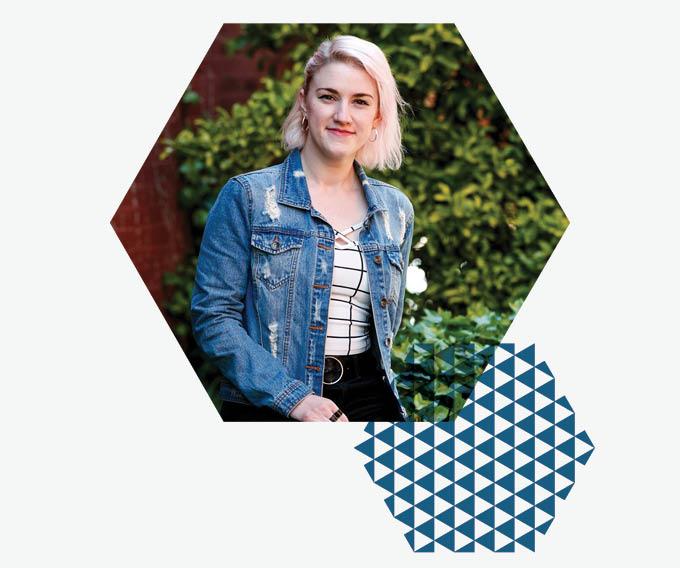 Jenna McPhail '15 says the behind-the-scenes work to clear a song or album for release is "careful and delicate." As manager of business and legal affairs for East Coast labels (Island Records and Republic Records) at Universal Music Group, she handles the clearance process of side artists, samples and other business affairs.
"People don't realize how many elements of a song get nitpicked and analyzed before going out the door," McPhail says. "Every single lyric is reviewed for copyright concerns. Each version of a song and album artwork have to be reviewed by a legal team for potential copyright issues."
Though quick to say she has no interest in being in the spotlight, McPhail does like to be in the know.
"I get to see and touch everything before the general population, and oftentimes this is for artists who are just starting out," says the alumna, who had subscriptions to Rolling Stone and SPIN as a middle schooler. "I always thought, there has to be a way to make this my life."
At Bentley, she seized every opportunity to keep music center stage. For example, helping start a program that recruited local musicians to perform at student events, DJ'ing for the campus radio station and interning at the Echo Nest — newly acquired by Spotify and an early player in collecting data to personalize music to listeners' taste.
When it came time for a full-time gig, McPhail says she dug herself into the music industry. "I somehow got myself an interview at The Artists Den, a PBS-run concert series, doing brand partnerships. I convinced them — because I believed it — that I could do whatever they needed me to do: the ultimate industry mentality."
McPhail developed the company's first sponsorship contacts database and supervised VIP guest services at concerts. After a brief stint at TuneCore, she joined Universal Music Group in 2018.
"I have a fantastic sense of what I'm messaging to other people, labels and teams — and how it makes our artists look," says the former Corporate Communications major. "It allows me to play the role of 'gatekeeper' in many senses, using that PR mindset to think of things from all angles."
McPhail is happy to see her own appreciation for new talent on the rise with others.
"People are really connecting on a personal level with artists who show their true selves," she says, citing IDLES, a post-punk group from England, among her current favorites. "The lead singer speaks very openly about being bisexual and very liberal, and about his sufferings with addiction and the loss of a child. You would never have seen that kind of openness 10 years ago.
"Authenticity is what really excites me about going forward. I think we could all use that."
Want to read more from this issue?