The Little Pie that Could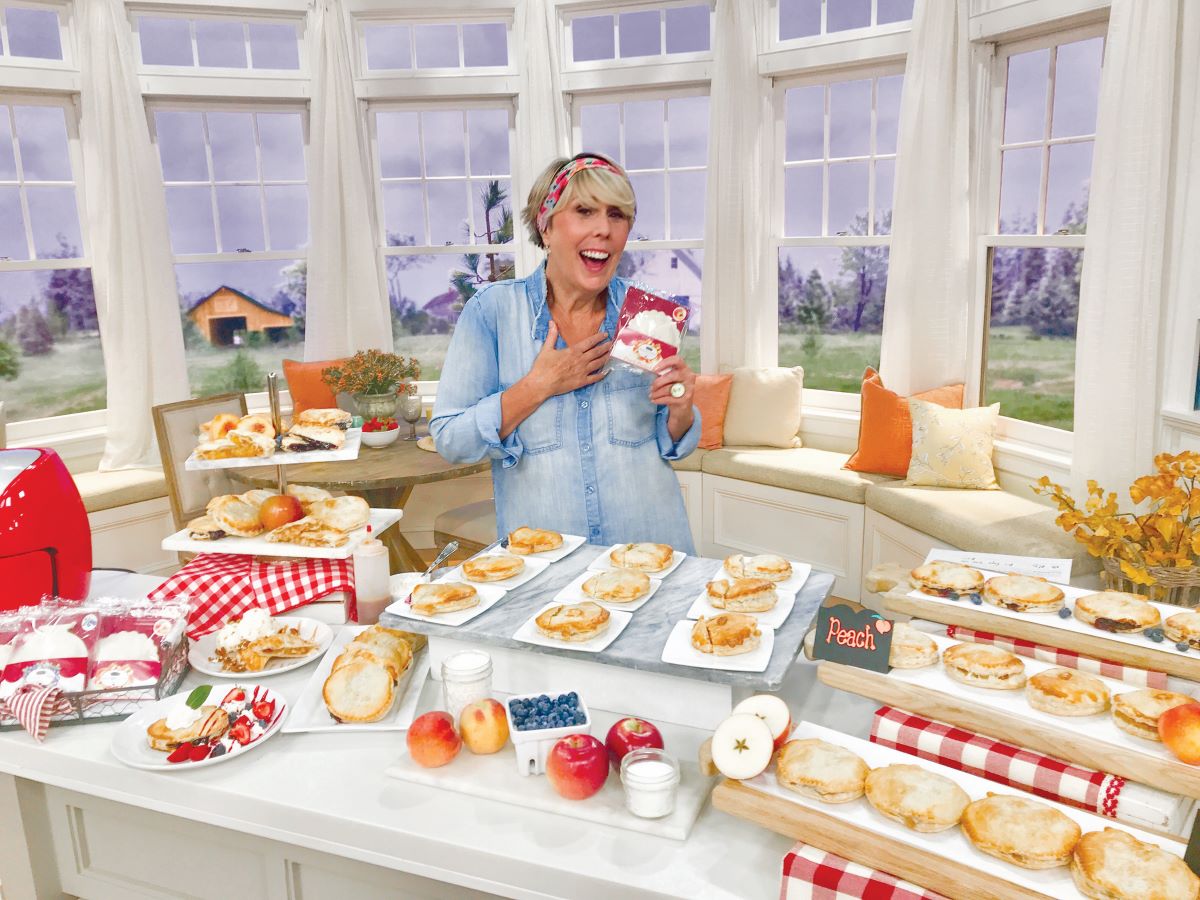 Bright lights, big cameras and an expectant host on a silent soundstage, all waiting for our baker. She's been hand-picked to pitch her product, crafted and cultivated for years to get to this moment: a seven-minute spot on QVC that could put Mamie's Pies into 110 million homes. But halfway into the dry run, her mouth runs dry, too. Her neck goes red. Her talent for easy conversation bolts. 
"Can we start again?"
"Keep going," the producer says.
She slogs on to the next step: a frame-by-frame review. She can barely look at herself in Technicolor miniature, but dutifully takes notes until she's ready for round two. She takes the stage. She passes. 
Time to go live.
  
Second Act  
As a girl in New Hampshire, Kara (Wetzler) Romanik '85 loved shadowing her mom, Mamie, in the kitchen. And whenever Mamie made her pies — the stuff of family-party legend — Romanik was at her side, brushing butter and sprinkling cinnamon and sugar onto leftover scraps of the paper-thin crust, and baking them until golden and crispy. 
On non-pie days, neighbors could look forward to seeing little Kara on their doorstep with a wagon of her father's fruit and vegetables for sale. A pint-sized entrepreneur about town — one who would grow up, major in Economics and Finance at Bentley, and start a career at Merrill Lynch.
But without a creative outlet at work, she says, "I always felt like a square peg in a round hole."
When her husband changed jobs and the family moved to San Francisco, Romanik quit finance to raise the kids (Kiki, Cameron and Griffin) full time, even after the two divorced. She dedicated herself to every PTA meeting, soccer practice and bake sale on the docket. As her children grew, she wondered: What will I do for my second act?
All-Natural Ingredients
Mamie's didn't launch with a fully baked business plan and cache of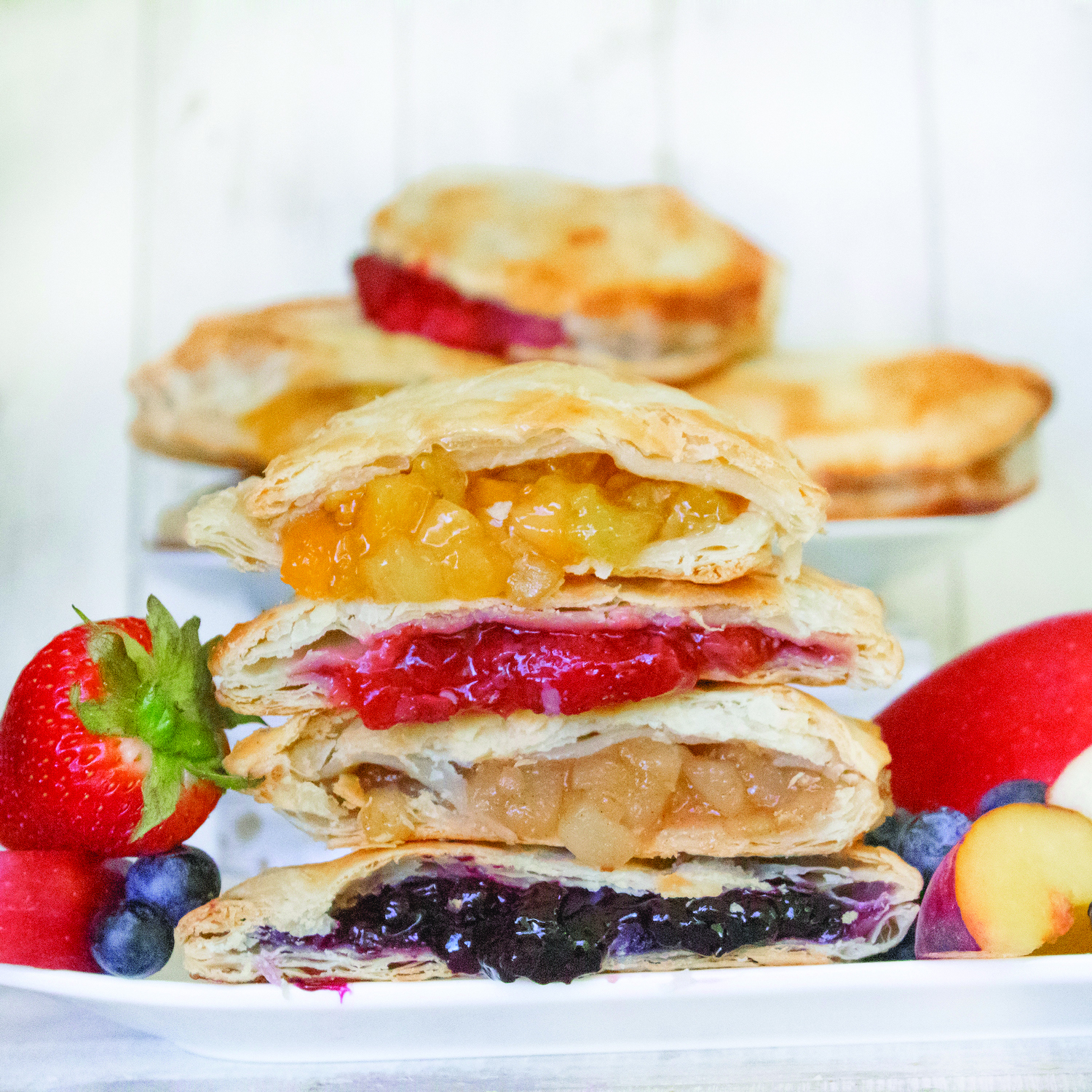 investors. It sprang from a scenario familiar to most families: a case of teen panic. Specifically:  Kiki's despair that her high school couldn't afford a DJ for the winter formal.
"When Kiki said 'we need money' and it was around the holidays," she says, "I thought, 'I'll just bake Mamie's pies.'" 
She made 120. The fundraiser was a hit; the formal a success. Romanik began envisioning her family recipe on supermarket shelves; she saw families who forgot their Thanksgiving pie heading to the store to "grab a Mamie's."
Eight months later, Kiki got her driver's license. Now that Romanik had help with school drop-offs and practice pick-ups, she trusted her gut — "it has never failed me" — and jumped in with both feet.
She scraped together money to rent a commercial kitchen for eight hours a week, where friends would help her make pies well into the night. She researched permits, designed packaging and started a store from the back of her SUV. 
Weekends were a lineup of tasting demos. Romanik set up a table at home and tutored her kids on the layout and pitch: "preservative-free," "freezer-to-oven," "just eight ingredients!" She texted them from whichever store she was manning to make sure they were set to sell at the next store over. When the pies ran out, Romanik raced to the kitchen to get more.  
 
Then, a customer posed the question that would be Mamie's crucial inflection point. "She said to me, 'When my family was in town for the holiday, we bought your pies and they were absolutely delicious, but now everyone is gone,'" remembers Romanik. "'Can you make something smaller?'" 
Betting on the Little Guy  
Romanik had been so focused on scaling her seasonal business up, she never considered the key to success might be scaling down. 
She Googled "pie shapes" and came across fruit-shaped molds — blueberry, apple, pumpkin — that showcased the flavors of her pies and were about five inches across. "They were on sale, so I bought them all and every single one I could find on eBay and Amazon."
Mamie's was now pocket-sized.
Romanik invested thousands on a small table at the national Fancy Food Show, where she caught the attention of Oprah, QVC and Safeway supermarkets. They all wanted in on the one-of-a-kind hand pie that was flash-frozen and perfect right out of the oven or air fryer — a staple in QVC-customer households. But Mamie's was not available online, and even if 1,000 Oprah readers found her pies in a store, Romanik didn't have the capacity to fill their orders. 
"At that point, I could only make a few hundred at a time," Romanik says. "I went with my gut again."
She sold her house, moved her kids to an apartment and cleaned out her retirement accounts. She quit making pies for retail and spent the next year hunting for a large-scale co-packer, setting up an e-commerce platform, and partnering with fulfillment centers in California, North Carolina and Tennessee. She found a co-packer in Maine and was able to source New England fruit farms to keep the heart of her four-ingredient fillings intact.  
The payoff: Oprah named Mamie's Pies to her "O List" of favorite things in July 2017. QVC called. To date, Romanik has appeared on the channel 26 times ("I was terrified until about the 24th appearance and I've never watched myself"). Safeway started stocking Mamie's in West Coast stores as did Big Y in the East. Romanik has met with grocers from coast to coast to get Mamie's into their freezers, too. She's also in talks with airlines, cruise lines and ballparks to bring her little pie to the big leagues. 
All In
The rise of Mamie's Pies may seem meteoric, but for Romanik, the pace has been slow and steady. 
"You have to remember, Mamie's is technically still a startup," says the alumna, whose leadership team is a COO and Kiki, who as creative lead manages marketing and social media. Investors are an intimate group of family and friends, including her best friend from Bentley. 
The company's global potential will never outshine Romanik's gratitude and the knowledge that she's already living the dream touched off by Kiki's high school dance.
That is: A year or so into the business, after a long day of tasting demos, the Romaniks bundled into the car to head home. Thanksgiving was close. Kiki said, "I can't wait to finally eat one of our pies!" when Romanik realized . . .  she hadn't set any aside. She turned the car around and sped to a store. Kiki tore off her apron, took some cash and ran in.
"She grabbed a Mamie's," Romanik says with a laugh, "and I have the receipt to this day."
Life of Pie
1969  ♦  Bakes first pie with Mamie
2013  ♦  Bakes 120 pies for Kiki's school dance fundraiser 
2014  ♦  Sells first pie out of her black Kia SUV 
2016  ♦  Mamie's goes mini: hello, pocket pie!
2017  ♦  Mamie's is available online
2017  ♦  Mamie's is named one of Oprah's "favorite things"
2018  ♦  First spot on QVC sells 20,000 pocket pies in seven minutes 
2019  ♦  40,000 pocket pies sell in 10 minutes on QVC, making the total more than a million sold to date
2020  ♦  Mamie's will be available in more than 4,000 grocery stores nationwide