Creative Financing
Ken Foo '99, MSF '01 on Being 'A Blessing to Others'
"No mountain is too high. No water is too deep."
If you don't know Ken Foo '99, MSF '01, you might think his mantra comes straight off an inspirational coffee mug. But in fact, the alumnus has dived into every opportunity that's come his way — or, as he puts it, "rolling with whatever comes along and having fun."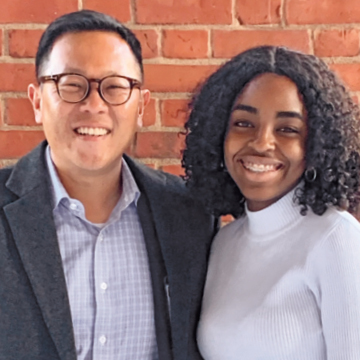 Foo was born in Taiwan and, by age 18, had also lived in Hong Kong, Singapore, Malaysia, Brunei, LA and San Diego. He headed to Boston for Bentley and paid for his master's degree by credit card, deftly moving the balance to zero-interest cards to avoid fees. Knowing this wasn't a "sound financial plan," he says he had no choice. Thankfully, within a year of starting his first job, in investment banking, Foo had paid off every balance. 
He later joined a venture capital firm  downtown and, in addition to investing in technology startups, jumped in to serve as acting CFO for a few software startups. 
"But really I was 'VP of Everything Else': HR, IT, accounting, sales operations, facilities, legal," he says of his role until the startups became more mature companies. One example is IBRIX, which grew to nearly 200 staff before its sale to HP. 
Ever the entrepreneur, he even created a data center for a client in a suburban office building. "This was before the concept of a data center became popular," he says. "I thought it was smart and cost-effective, housing all of these servers we'd gotten from Dell for free."  
What he didn't know at the time, and the building manager informed him, was that the servers would require hundreds of thousands of dollars in added costs: their weight was a strain on the building and they needed an electrical boost. Plus, they were hot. 
"We ended up using industrial-grade fans that blew the heat into the office area. It saved a lot on heat in the winter. Summertime was hell!" 
By 2007, Foo was working 80-hour-plus weeks. His new wife urged him to take a break. Never one to do anything by halves, he quit — and golfed for almost seven months before his wife urged him to get back to his career. He applied to jobs in the Bay Area and took on a role at Autodesk; the family relocated to the West Coast, with a few years in Shanghai and Singapore. Since then, Foo has lived up to his mantra, and more.
This fall, he joined the Global Alumni Board. He also created a scholarship fund for international students, like Pearl Opara '23 (above), to help them avoid taking the financial risks he did as a student. Lifting others up, Foo says, is a privilege.
"I've been very blessed all my life," he adds. "Now I want to be a blessing to someone else."