Inside Job: X Marks the Spot
In March 2020, Ryan Collins '10, MBA '11 put a $100 bill in a plastic box and posted clues to its north-of-Boston location on his Facebook page. 
The forensic accountant's solution to pandemic fatigue and isolation found hundreds of takers. Today, the venture he named "Happy Hunting" lets people chase their Treasure Island fantasies on a monthly basis.
Inspiration Found
I've always been into stories of people discovering sunken ships or using a metal detector to find a box of treasure. During quarantine, I watched a show on the Discovery Channel called The Secret, where a guy in the 1980s buried 12 boxes containing keys that could be traded in for actual jewels. It was so cool! I decided to do something similar.
Uncovering Demand
Immediately after the first one ended, everyone was like, "When's the next one?" I ended up doing five hunts, giving away my own money, before my wife said, "We're not putting our dollars in the ground anymore." Now, it's $20 for teams to get in, and winners get 100% of the entry fees. We have 1,300 people on the Facebook page and prizes up to $2,000.
Body and Brain 
Some of the puzzles are physical, for instance, you've got to hike in the woods for two miles to get to a clue; others are riddles to solve. One recent hunt had five stages. You had to go into all these stores in Rockport and find letters in signs that spelled out the next place to go — which was Dogtown, an abandoned town in the woods of Gloucester.
I ended up doing five hunts, giving away my own money, before my wife said, 'We're not putting our dollars in the ground anymore.'
Ryan Collins '10, MBA '11
Strategic Misdirection 
I enjoy watching teams jockey with each other and trade information. During that five-stage hunt, the team that was first to reach stage four put a guy there for like, six hours, directing other teams away from the clue. I just put the puzzle together. People are allowed to do whatever they want — beg, borrow, steal and lie — to win.
Show Me the Money
I got my degree in accounting and learned about an opportunity with Ernst & Young to do forensic accounting. You basically go to a company where the financials aren't adding up, or where they're missing $5 million, and you investigate to understand what happened. It's a good challenge because every day you don't know what you're going to be doing.
Growing Fortune
Bentley taught me a lot about marketing, figuring out how to reach the masses and get people involved and excited. It's all about relationships and building your network. Right now, my goal for Happy Hunting is growth, and it's great to have a career that pays the bills while I explore this. I'd love for it to turn into a profit-making business and become my full-time job.
Thrill of the Hunt
For more than half the people, it's not really about the money. It's about the experience of getting to places they've never been before and trying to solve some puzzles. Some parents say, "I couldn't pay my kids $100 to get them away from their laptop, but the idea of going out to look for treasure is so awesome and intriguing, they'll do it." For $20, you get a full weekend of entertainment.
Clue for Hunt #1, which started and ended in Saugus, Massachusetts.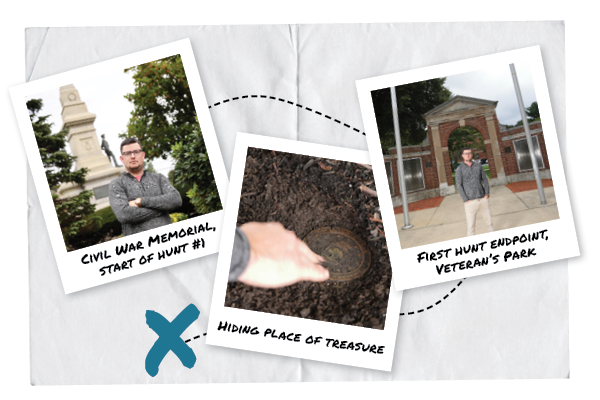 The hunt is on — it has begun 
In a place divided by one 
Start your search where land and sea 
Are opposite and split by she 
Follow her gaze toward the scarlet rest 
Then pass one hundred along your quest 
Two rows two columns lead to a key 
Your entryway to liberty 
And here is where your treasure lay 
Just below the USA.
Want to read more from this issue?