45 Years of Bentley Athletics by the Numbers
Meet Dick Lipe
Since he first arrived at Bentley as an undergraduate student in 1973, Dick Lipe has seen his fair share of games on and off campus. As a student, he worked closely with the Athletics Office for all four years compiling statistics for Bentley's football, basketball and baseball teams to help them evaluate past performance and gain an edge for upcoming games. In this role, he quickly found the intersection for his love of sports and numbers.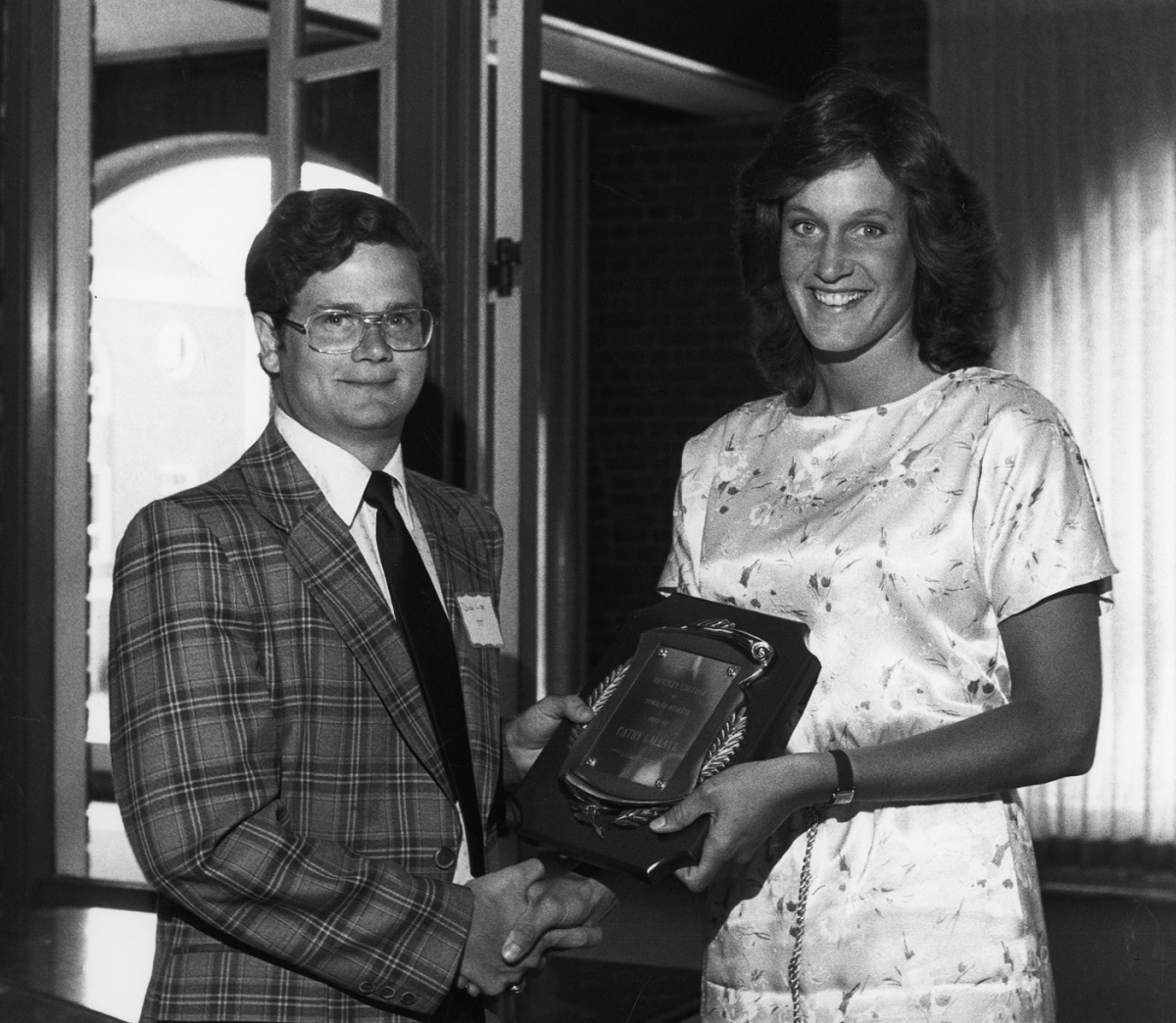 When he graduated in 1977 with his BS in Accountancy, Dick joked that he was already prepared to retire from his career in accounting. Just a few short months after graduating, Dick was hired as Bentley's first full-time sports information director. Now in his 45th year in the role, he's continuing to dig through the statistics and data to help promote Bentley's athletic teams, coaches and student-athletes.

Over the course of his long Bentley career, Dick has seen the athletics program grow and evolve since his early days as a student worker. "The program's changed a lot over the years," said Dick. "We used to dictate box scores to newspapers by phone and use manual typewriters to draft press releases." In addition to tracking statistics, Dick is also responsible for Bentley's athletic communications efforts, which include working with the media, webcasts of home athletic events, creating graphics and generating thousands of words each month in post-game stories and athletic updates.

While his contributions to Bentley Athletics can't be overstated, Dick's impact on regional collegiate sports spreads far and wide. From 1980-1998, Dick led the communications efforts of the Northeast-7 conference, joining the organization at its start and seeing it through its evolution and expansion to the Northeast-10. He also served as president of the Eastern College Athletic Conference's Sports Information Directors Association. For over 40 years, he has served as a member of the College Sports Information Directors of America's (CoSIDA) Academic All-America and Academic All-America Hall of Fame Committee, which recognizes academic and athletic achievements of student-athletes across the country. While serving as the chair of the committee, he was proud to induct classmate and Bentley trustee Terry Carleton to the hall of fame for his collegiate soccer career and lifetime achievements.
It's been exciting to tell the story of the players and coaches of my alma mater.
Sports Information Director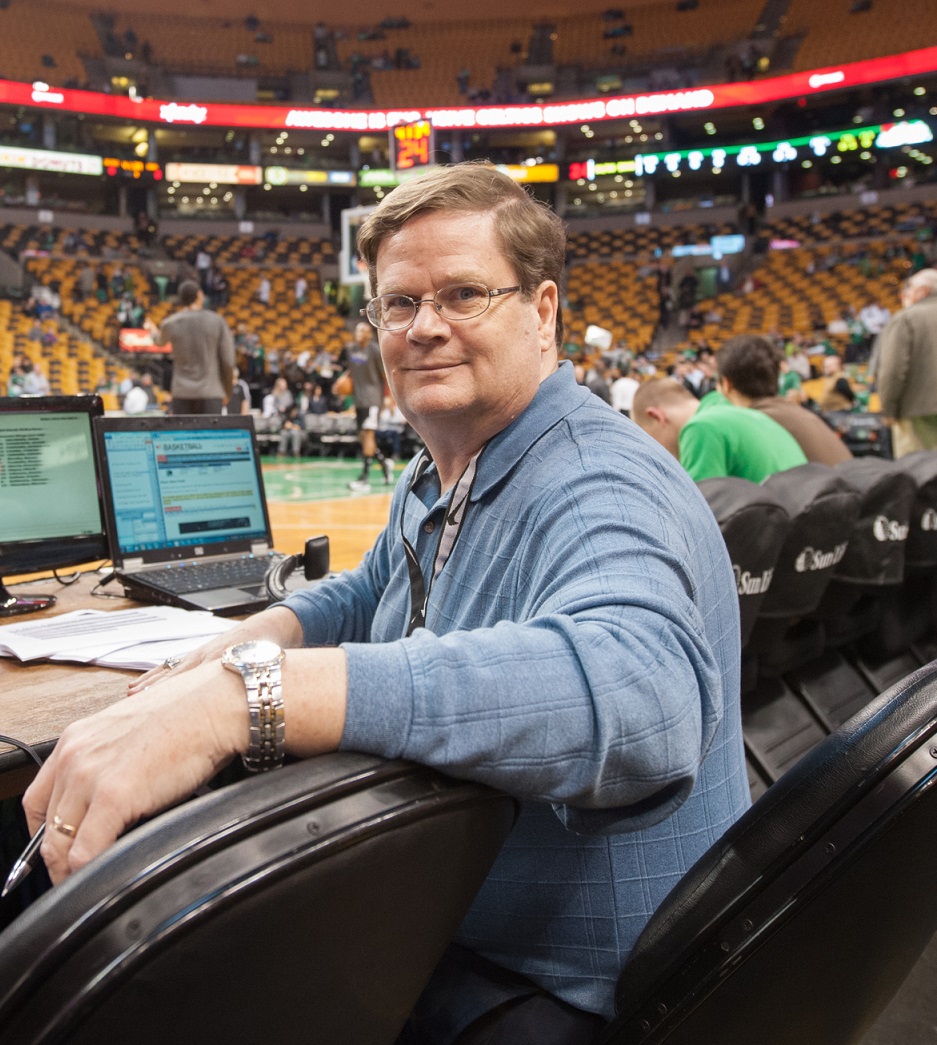 In addition to the impact Dick has had on college athletics over the years, he's also played an important role in the success of Boston Celtics television broadcasts for more than 40 years. "In 1980, they weren't broadcasting Celtics home games that often," said Dick. "I got word they were going to start broadcasting regularly and that they needed a statistician, so I contacted channel 4 and ended up getting the job."

Anyone who's watched the television broadcast of a Celtics game is likely to have heard longtime play-by-play commentator Mike Gorman credit Dick with preparing him for the call of the game or for handing him in-game statistics or notes. "He's the best there is, hands down," noted Gorman in a 2015 interview. "All my years at CBS, ESPN, no one comes close."

Even the late color commentator (and legendary Celtic player and coach) Tommy Heinsohn, who was known for his love of the organization and lively commentary, found ways to include Dick's stats into his call of the game. "Tommy was a legend. You never knew what he was going to come out with," said Dick of working with the 10-time NBA champion. "He used the stats only if they supported his point." 

Last month, Mike Gorman was inducted into the Naismith Memorial Basketball Hall of Fame as the recipient of the 2021 Curt Gowdy Award. During his induction ceremony, Gorman made sure to mention in his remarks the impact that Dick—who was in attendance—has had on his broadcasting career, noting that some 80 percent of what he says during a game comes from stats that Dick has provided.
From the Larry Bird years and the team's three championships in the 1980s to the Paul Pierce era and the 2008 championship run, Dick has been onboard for some memorable Celtic teams. "There have been some amazing moments and I've been fortunate to see quite a few of them," said Dick.
Interested in Bentley Athletics?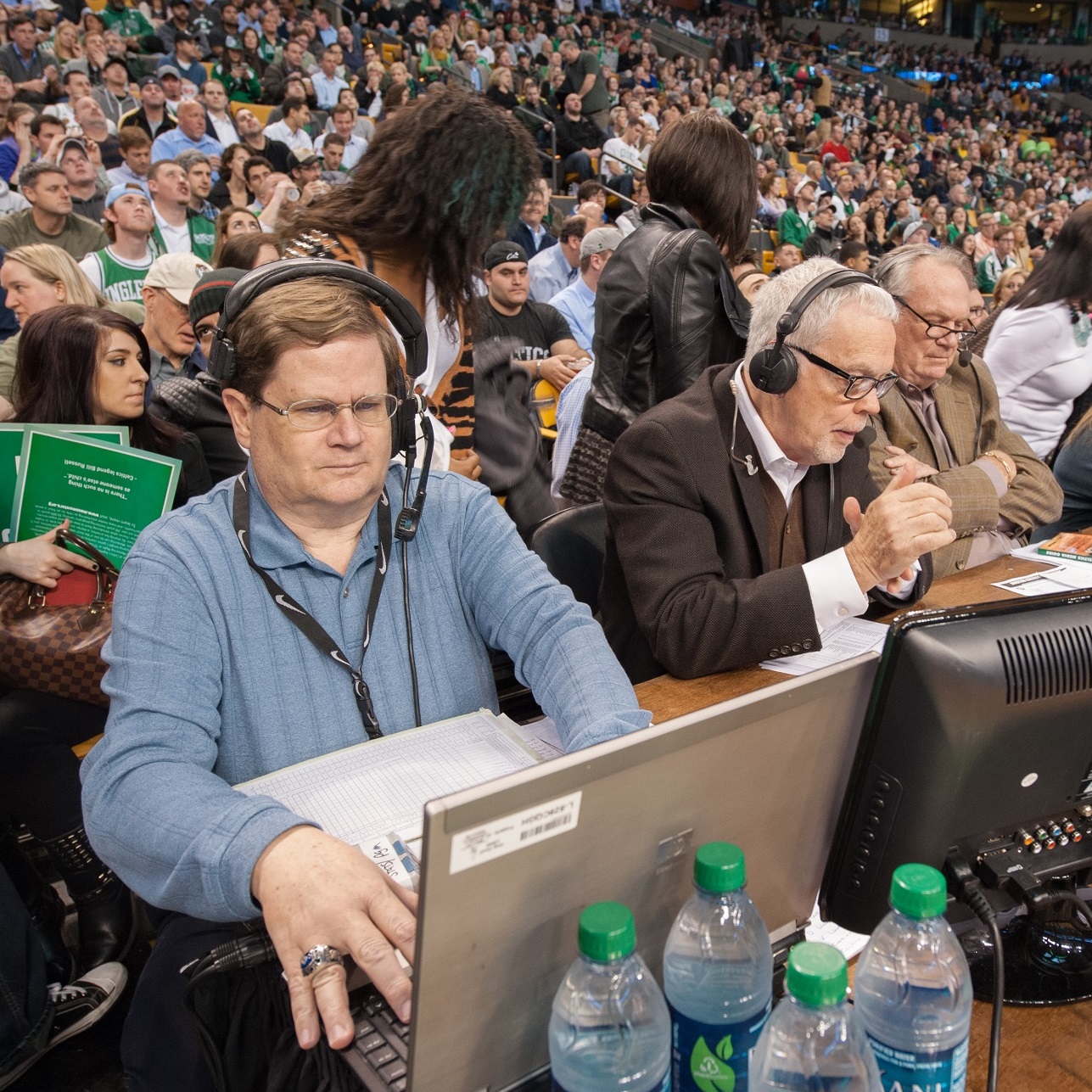 Even as the COVID-19 pandemic prevented fans from attending games for most of the 2020-2021 season, Dick swapped his mid-court seat next to Gorman for one in the upper level of the TD Garden. This season, Dick looks forward to getting back to work ensuring that the broadcasters have the home and visiting team stats at the ready. "To say he's a stats guy really doesn't do him justice," said Gorman. "If there was a hall of fame for statisticians, Dick should be the first guy inducted."

And Dick is no stranger to hall of fames. He was inducted into Bentley's athletic hall of fame in 1993 and CoSIDA's hall of fame in 2002 and was a member of the inaugural NE-10 hall of fame class in 2006. In 2002, the NE-10 conference awarded him with the first ever recognition of his own namesake—the inaugural Dick Lipe Media Award.

With fall sports underway, Dick is looking forward to continuing what he does best and supporting Bentley's student-athletes and coaches with statistical research and media publicity. On his long and rewarding  Bentley career, Dick said, "It's been exciting to tell the story of the players and coaches of my alma mater."
Learn more about Dick Lipe