50 Years Since Title IX: A Look Back at Bentley Women's Athletics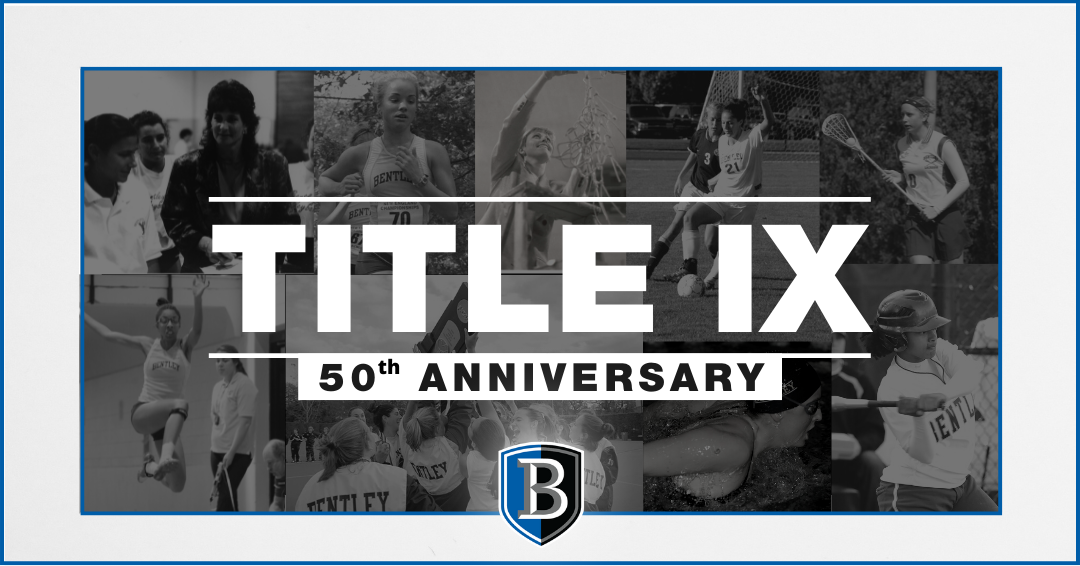 50 years ago, when Title IX became law, there were no athletics for women at Bentley University. A year later, field hockey, basketball and softball debuted as club sports. The following year, all three were elevated to varsity level, with Daryl Leonard the head coach of each.
Today, Bentley boasts a women's athletics program that includes 11 sports and close to 200 student-athletes.
This half-century of growth has seen the only two NCAA Division II national championships in university history – women's basketball in 2014 and field hockey in 2001 – as well as 90 Northeast-10 championships (48 regular season, 42 tournament), 72 NCAA tournament berths, 30 Academic All-America honorees, 99 All-America awards and countless other awards, both academic and athletic.
Following the initial three sports, women's tennis became Bentley's fourth sport for women in 1977. Volleyball followed in 1981, cross country was added in 1983 and the women's athletics program continued to grow with track (1984), soccer (1991), swimming (1994) and lacrosse (1999).
Women's basketball reached the pinnacle of Division II in 2014 when the Falcons flew past West Texas A&M for the program's first-ever national championship and a perfect 35-0 season. No Division II program has competed in more NCAA tournaments than the Falcons (36), and Bentley is number two all-time amongst Division II institutions in both total wins and winning percentage.
Until her retirement in 2020, Bentley women's basketball featured the legendary Barbara Stevens, one of the winningest coaches in NCAA history. She was inducted into the Naismith Basketball Hall of Fame in 2020 and the Women's Basketball Hall of Fame 14 years earlier.
Field hockey, which played in the national championship game five times from 1999-2006, earned the ultimate prize in 2001 when the Falcons downed East Stroudsburg in the title game.  Bentley made its 14th NCAA tournament appearance last fall.
Volleyball is another Bentley team that has a proud history of NCAA appearances (14) and Northeast-10 championships (13 regular season, 10 tournament). From 1982 to 2013, the Falcons were led by Sandy Hoffman, the ninth winningest coach in Division II history and a member of the American Volleyball Coaches Association Hall of Fame.
Women's lacrosse had a special season in 2021 as the Falcons captured the Northeast-10 regular season championship, earned the NE10 tournament crown with a nail-biting 9-8 win over Adelphi and made its first-ever NCAA regional appearance. Bentley was also the NE10 regular season co-champions in 2000.
Women's soccer made its first-ever appearance in the NCAA Division II East Regional in 2019. That came 21 years after the Falcons captured the 1998 Northeast-10 championship.
Women's cross country has qualified as a team for the NCAA Championships twice. Amy Varsell '14 was a seven-time All-America in cross country and track.
Women's swimming, which has produced three All-Americas, has finished in the top three in the Northeast-10 championships 11 straight years.             
Women's tennis owns a pair of Northeast-10 regular season titles, which came in 2001 and 2006.
Softball is coming off the winningest season in program history and will be playing on a new turf field in 2023.
The success has also been seen in the classroom. Bentley women student-athletes had a 3.47 grade point average during the 2021-22 academic year and have a cumulative GPA of 3.46.