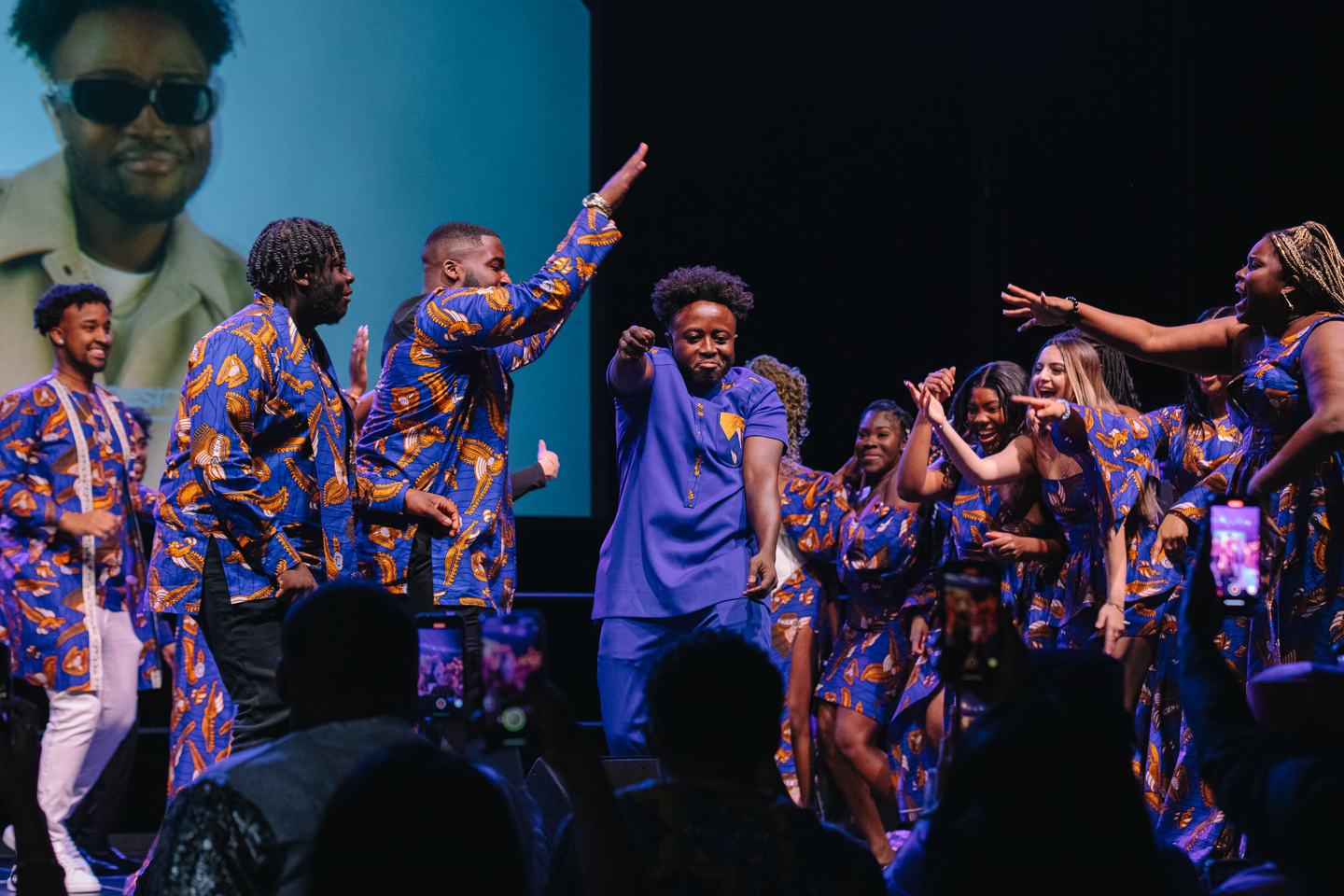 Photos by Emmanuel Boakye-Appiah, Kwame Blue LLC
African Student Association Gala Sells Out for the Second Year in a Row
Event celebrates African cultures and Africa's rise in the global economy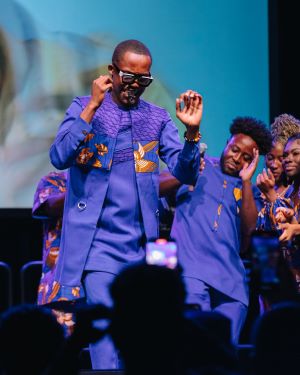 For the second year in a row, the African Student Association (ASA) gala sold out and proved to be a night to remember. A dynamic, upbeat energy filled the Bentley Arena as live fashion, musical and dance performances took center stage to the cheers of more than 1,000 attendees — many dressed in formal African attire. This year's gala theme, The New Africa: Karibu Nyumbani (which is Kiswahili for 'welcome home'), celebrated cultures of Africa and Africa's rise in the global economy.  
"There is often a focus on what Africa was in the past, but we wanted to bring into the limelight what Africa is now: the new developments, the thriving culture, the growing economies — especially in the Diaspora," ASA President Kweku Ashiagbor '23 says of The New Africa theme. 
The impressive event was managed by students, including Ashiagbor and ASA co-vice presidents Brenda Dishani '23 and Augustine Peprah '24. Among the logistics: contacting booking agencies, stage design and lighting, marketing, media coverage and menu planning. 
People arriving at the gala on February 18 made their way down a royal blue carpet and stopped to pose for a photograph against a white floral background.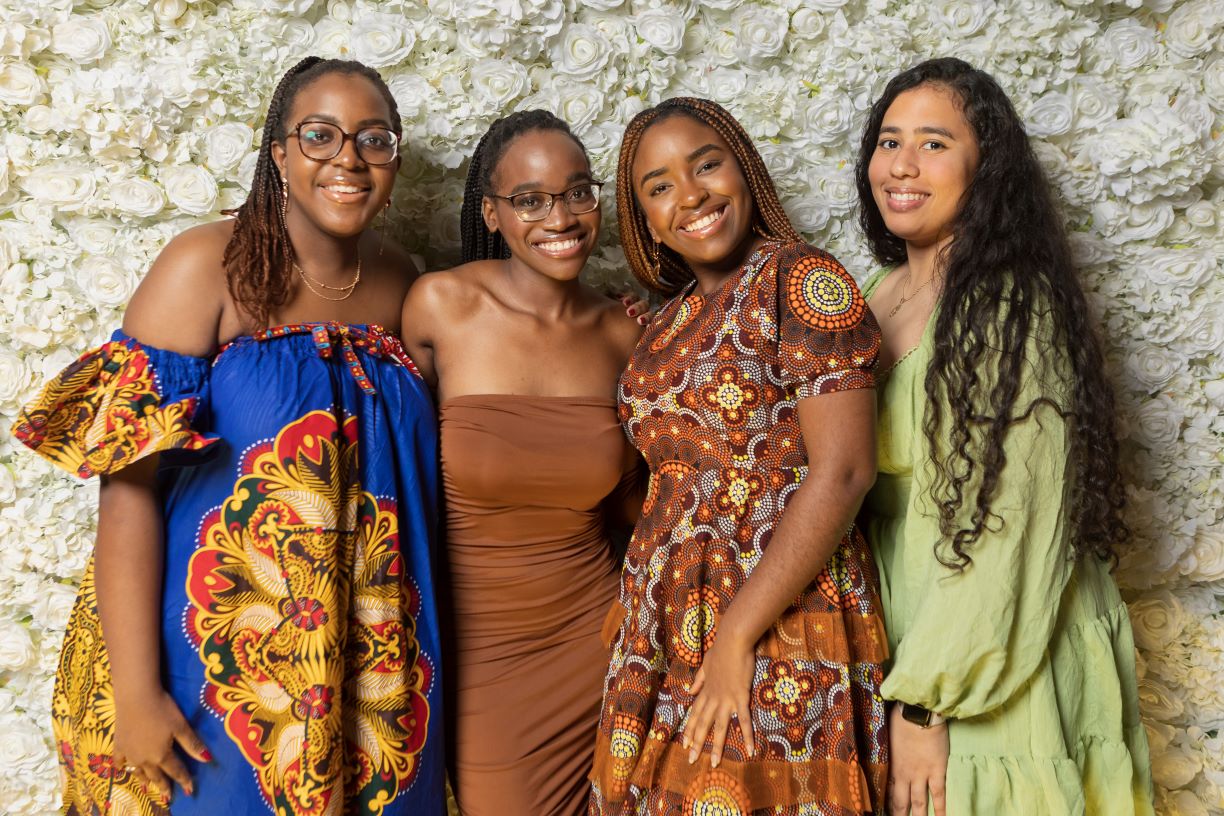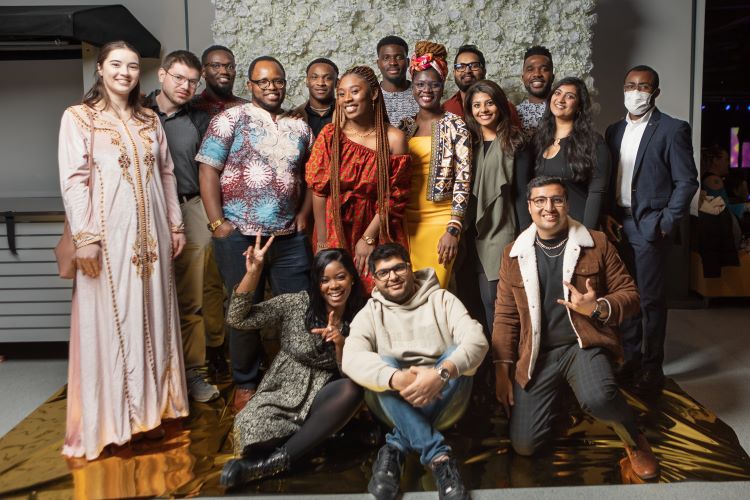 Emcee SMBE (Small Moto Big Engine®) contributed to the energetic vibe as the lights dimmed for live performances — and an audience dance competition — that kept the crowd on their feet. Nigerian Afro-fusion singer BNXN fka Buju was the headliner with Doctor Jay as the opener. The lineup also included DJ Wonka, the Tufts University's drum ensemble led by Professor Emmanuel Attah Poku and dance teams from Boston College (PATU/Presenting Africa to U) and Boston University (Afrithms). The festivities, which drew people from the Bentley community and beyond, were captured by photographer Kwame Blue and videographer KD Cinematic.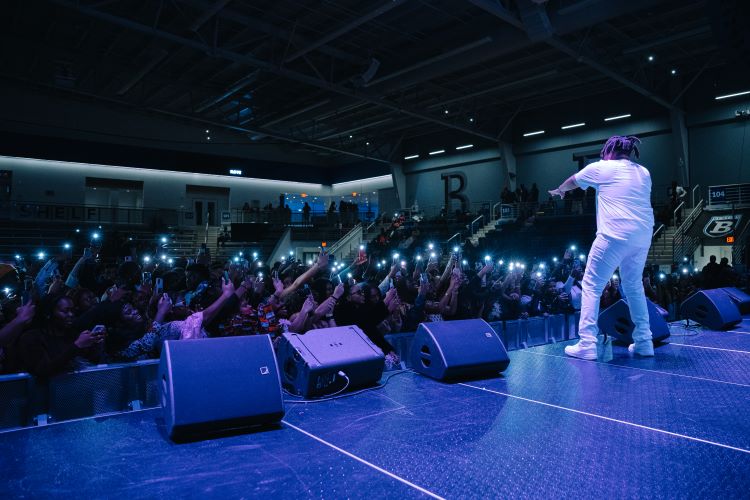 "This year's ASA gala epitomized Black excellence," says Kwame Owusu '26. "Hailing from West Africa, Ghana, and seeing African culture and customs made me feel at home, even though I am thousands of miles away. The turnout was amazing, and it was beautiful to see different cultures hailing from every corner of Africa. It was a night to remember." 
"Every year, the ASA gala radiates joy and brings about a sense of community," says attendee Jordyn Garrett '24. "It is an amazing way to experience other cultures and connect with people of different backgrounds and experiences." 
"The 2023 ASA gala was breathtaking," says Ariana Cadet '26. "It was one showcase of African art and culture right after another. As a Black freshman in a predominantly white environment, it was refreshing to be in a space that celebrated me and people like me. I hope that I get to experience more events like this in my future here at Bentley." 
Throughout the night, impromptu conversations and laughter filled the room as attendees enjoyed African cuisine provided by Anokye Krom and visited table displays highlighting African culture and economic developments. Abies Closet was on hand selling Nigerian clothing and accessories while Wondar Beads featured waist beads, bracelets, anklets and more from Ghana. 
"It was important for us to have an event that would not only bring the African community together and showcase the culture, but also highlight a side of Africa that is usually not talked about," Dishani says of the ASA e-board's goal, which ties into ASA's first business conference, Profit with a Purpose: Building a New Africa, which will be held on campus on April 1. "It entertained but also educated students on what it means to be African, understand what it takes to do business in Africa and push for Africa's continued rise to prosperity." 
Peprah agrees. "Seeing all our hard work pay off and providing an event that truly showcases African culture was very important to me — and this event was just a little taste of what our continent has to offer. One of our missions this year was to be unapologetically African; and through events such as the gala and our upcoming business conference we hope to accomplish it and continue to do so for many years to come."