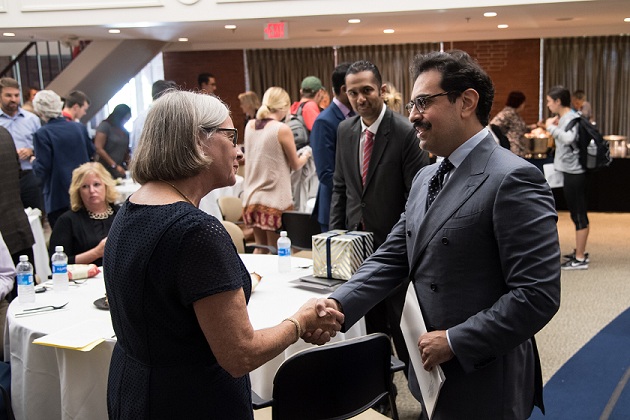 The newly appointed Ambassador of Bahrain and Bentley University alumnus Shaikh Abdullah bin Rashid Al Khalifa '01, MBA '03 visited Bentley on one of his first official visits outside Washington, D.C. He shared his most memorable Bentley experiences and discussed the political climate in Bahrain with more than 200 members of the campus community.
The ambassador said when it came to decide where to attend college in the United States, he chose Bentley for its strong academic reputation, diverse student body and faculty who were well-versed in the global economy. He earned two degrees from Bentley – a bachelor's degree in management in 2001 and an MBA in 2003.
The ambassador credited Bentley's on-campus education model for teaching him to trust and collaborate with his peers. During his first year at Bentley, he lived in the Trees residence halls, just like most first-year students do today.
"The more time you spend in your comfort zone, the more time you will have to prepare for absolutely nothing," the ambassador told the audience of Bentley students, faculty, staff and other guests. "Working under pressure will no doubt get to you, but don't let that scare you."
Khalifa was appointed Bahrain's ambassador to the U.S. in July 2017. In addition to this role, he is co-owner of Nomas Enterprises, a real estate company in Bahrain. He served as a board member of the Bahrain Olympic Committee and was among 76 people honored for significant contributions toward advancing the sports sector in Bahrain.