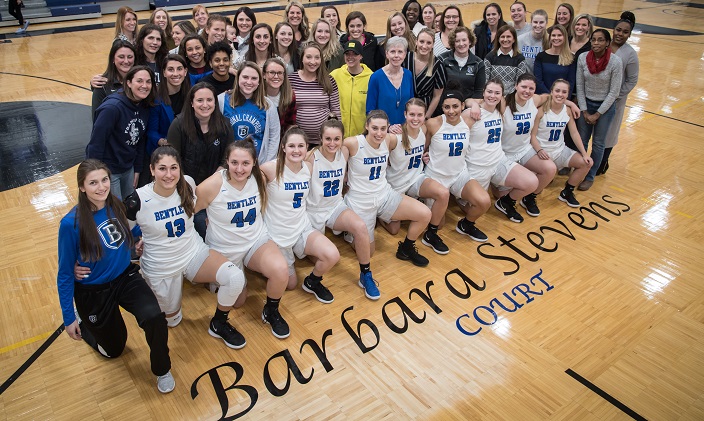 Coach Stevens (center, in blue sweater) with current and former players and assistant coaches. Photos by Brian Smith.
Basketball Court Named in Honor of Hall of Fame Coach Barbara Stevens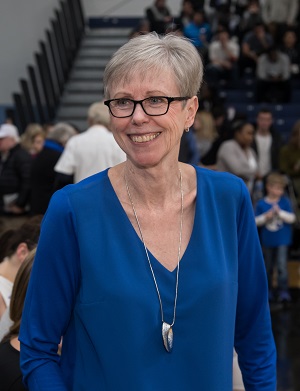 Bentley University has named the basketball court at the Dana Athletic Center in honor of Hall of Fame women's basketball Coach Barbara Stevens, the fifth women's coach in NCAA history to surpass 1,000 career wins. Stevens has coached at Bentley for 33 years, leading the team to the NCAA Division II national championship in 2014 and earning induction into the Women's Basketball Hall of Fame in 2006.
"For more than 30 years, Barbara Stevens has been not just a successful coach but also a hard-working mentor and role model to Bentley's student-athletes," said Bentley University President Alison Davis-Blake. "From this day forward, generations of Bentley students, athletes and fans will know Coach Stevens' name and remember her as the personification of excellence on and off the court."
Bentley student-athletes have a record of success outside and inside the classroom. Recently, the NCAA recognized Bentley's student-athletes as having the highest graduation rate in the country, at 99 percent. This is the fifth straight year that Bentley athletes have achieved a rate of 97 percent or better and the eighth straight year above 90 percent. Of the 19 Bentley sports evaluated, 13 had perfect, 100 percent scores, including every women's sport.
Stevens' coaching career started at Clark University when she was 23 years old. From there, she coached at the University of Massachusetts for three seasons before joining Bentley. She reached the 1,000-win milestone in January 2018 after 1,274 career games, with 842 of her victories coming as Bentley's coach. 
Read The New York Times Profile Of Coach Stevens After Her 1,000th Win
The pinnacle of Stevens' career came on March 28, 2014, when her 28th Bentley team capped off a perfect season, 35-0, with a come-from-behind 73-65 win over West Texas A&M for the program's first-ever NCAA Division II national championship.
Athletics is an important part of the student experience at Bentley, which opened a new, state-of-the-art multipurpose arena last spring that hosts the university's NCAA Division I hockey team and prominent university events such as career fairs, high-profile speakers, alumni events and concerts.
The dedication of the court in Stevens' name occurred on Saturday, after her team's win against the University of New Haven. Bentley's women's basketball team is in the midst of another winning season with a 16-2 record, giving Stevens an impressive 1,027-280 record over her 42-year career.
"Seeing my name on the court is truly humbling and a tremendous honor," said Stevens. "I feel fortunate to have been a part of Bentley Athletics over the last 33 years and to have worked with such talented and dedicated student-athletes and coaches. I share this honor with all of them."
Watch The Video Of Coach Stevens And Her History-Making 1,000th Win
[[{"fid":"334466","view_mode":"default","fields":{"format":"default"},"type":"media","attributes":{"alt":"History Made at Bentley as Stevens Wins 1,000th","class":"media-element file-default"}}]]