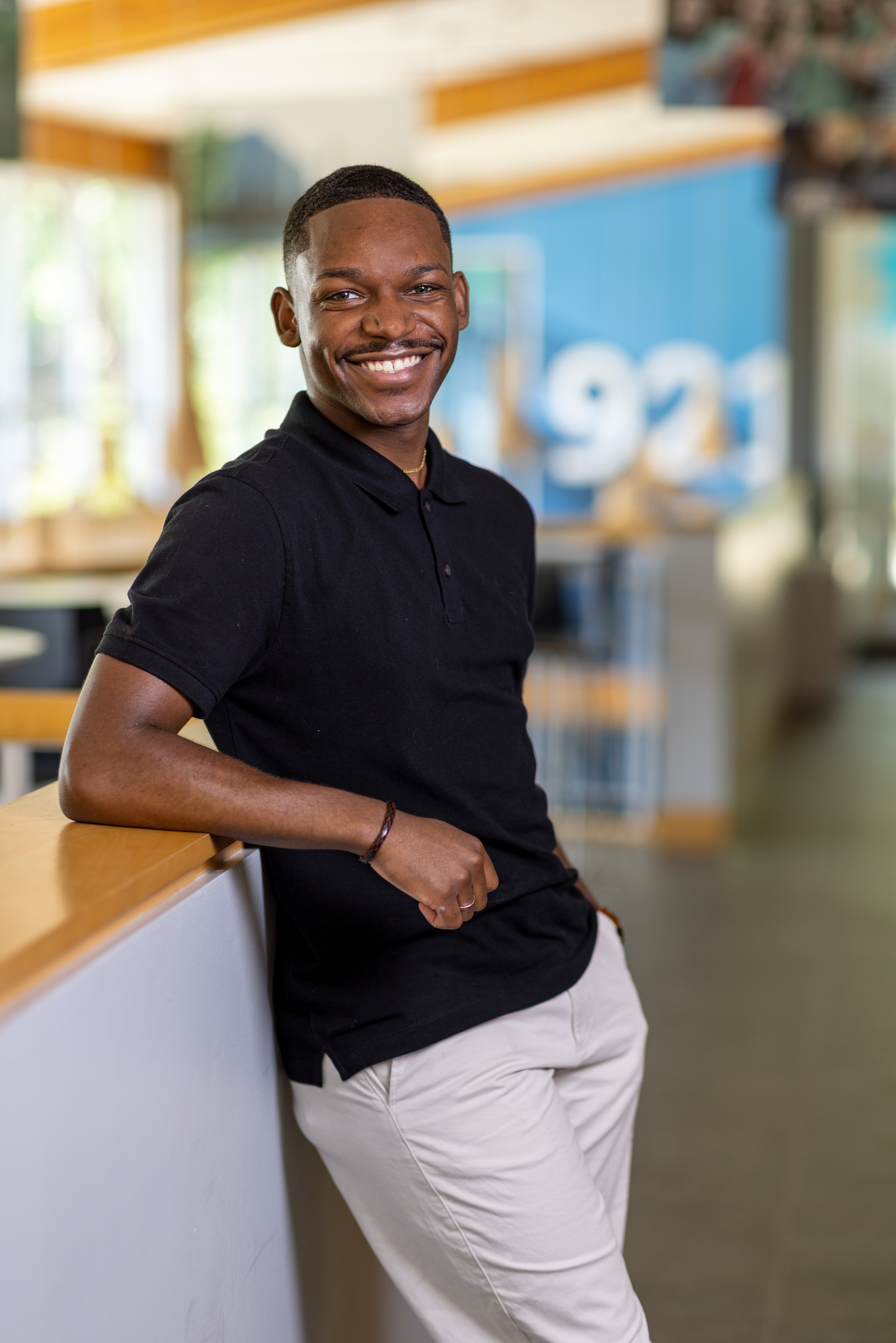 Photo by Kevin Maguire
Being Your Best Self
How Black United Body helped Tyler-Gary Louis '23 'bring visions to life'
Black United Body (BUB), founded to promote diversity, inclusivity and cultural awareness, is one of Bentley's oldest and most popular student groups. Tyler-Gary Louis '23 is a Finance major and BUB president — and served as director of the BUB fashion show, a high-energy event that featured a diverse group of local fashion designers and models walking the runway. Nearly 1,000 people gathered in the Bentley Arena for the sold-out show in spring 2022. Here, Louis shares about his journey to Bentley and how BUB has helped him "bring visions to life." 
Why did you choose to attend Bentley? 
I chose Bentley for the community. I first visited campus during high school to attend the Black United Body fashion show, which my friend and mentor Reginald Fils '21 was directing. In that moment, I understood how the Bentley community would welcome me and provide opportunities that would push me to grow. I knew at Bentley, I could authentically be myself and be a part of something bigger that would bring people together. 
You immediately joined BUB when you got to campus. What are some highlights of that experience so far? 
I am very passionate about bringing visions to life, and BUB is the place to do that. I served as assistant director and then director of the BUB fashion show — one of Bentley's biggest events. To go from attending the event to managing it was a full circle moment. My team and I helped create a space for people to tap into their creative side, and that's what BUB is about: creating platforms for greatness to happen. 
What are some unexpected benefits of joining BUB? 
When you're spending countless hours working with your team on something you are all passionate about, you build a bond that is indescribable and will last after we graduate from Bentley. You learn from so many different opinions and personalities that it reminds you why you're doing it in the first place. The BUB network goes so far back that each member you work closely with has the potential to become a connection that can last beyond college. 
What are your goals as BUB president? 
This role entails leadership, advocacy and community. I enjoyed identifying people's strengths to build an executive board of students who are authentically passionate about change and community. Serving as president presents a visible platform for me to help people bring their best selves to the table and think outside of their comfort zone. College is a time to discover who you are and what intrigues you. 
At Bentley, you discovered a new interest in a Finance major with a concentration in Financial Planning. What was this journey like? 
I initially intended to be an Accounting major, but a financial planning course drove my attention to the field of finance; I felt it brought out my personality. One of my strengths is developing a game plan to reach a goal and make things happen. I want to bring that to clients by helping them build financial stability that will carry them into the future.  
How did the BUB network lead to an internship opportunity? 
I got connected to a consulting internship at EY through the BUB community that connected me to the Bentley chapter of the National Association of Black Accountants. It's a great resource for students on campus and I can't wait to see where it will take me. 
Check out BUB Fashion Show highlights