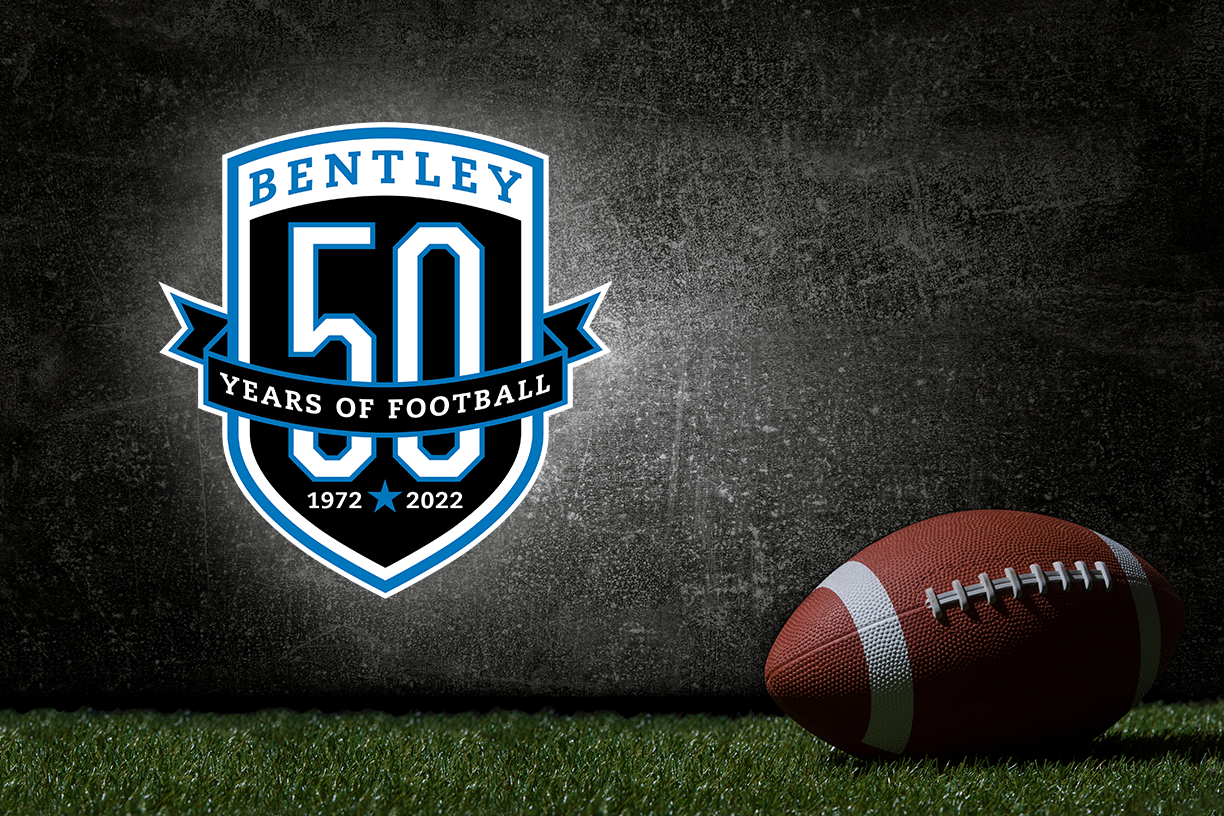 Bentley Football Celebrates 50 Years
More than 250 former football players returned to the field on Saturday, September 10 to see Bentley beat Pace 41-20 in the home opener and to celebrate 50 years of football. To mark the milestone, Bentley has launched a campaign to officially dedicate Peter Yetten Field as the home of Falcons football to honor Coach Peter Yetten, who led the team for 30 years. The successful campaign will support a brand new video scoreboard that bears his name.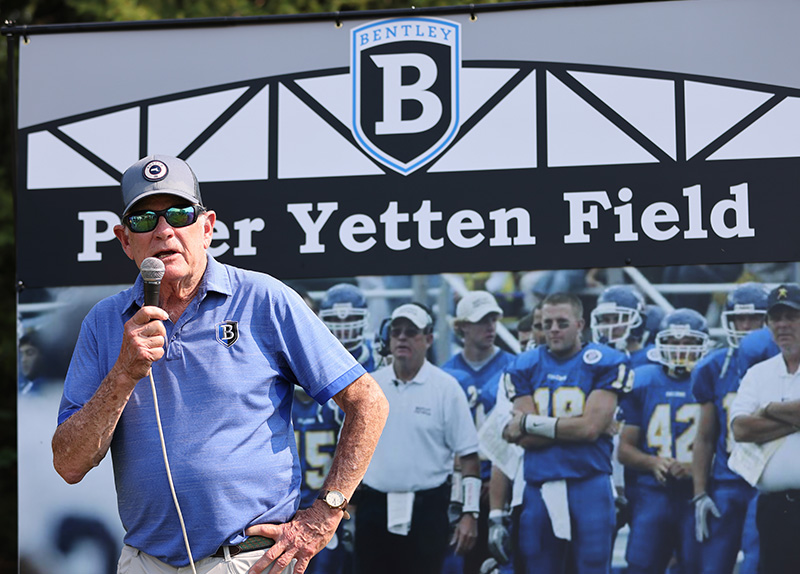 Coach Yetten is widely considered the reason Bentley's football program is what it is today, leading the program from a club sport to Division III to Division II. A staple in the Waltham and Bentley communities, Yetten coached 2,000 players over 30 years with much success, including a 30-game winning streak during 1993 to 1995, a top-25 ranking in the country from 2002 to 2004, and NCAA Division II playoff bouts in 2003 and 2004.
GOOD PLAYERS MAKE GOOD COACHES
"You made me a very good coach. You came here, you worked hard, you never quit," Yetten told his former players. That grit and tenacity is the mark of a true Bentley Falcon, in the classroom and on the gridiron. As part of the celebration, Athletics Director Vaughn Williams announced Bentley's 150 Impact Players, who left a legacy on the team and on their alma mater. See photos from the celebration.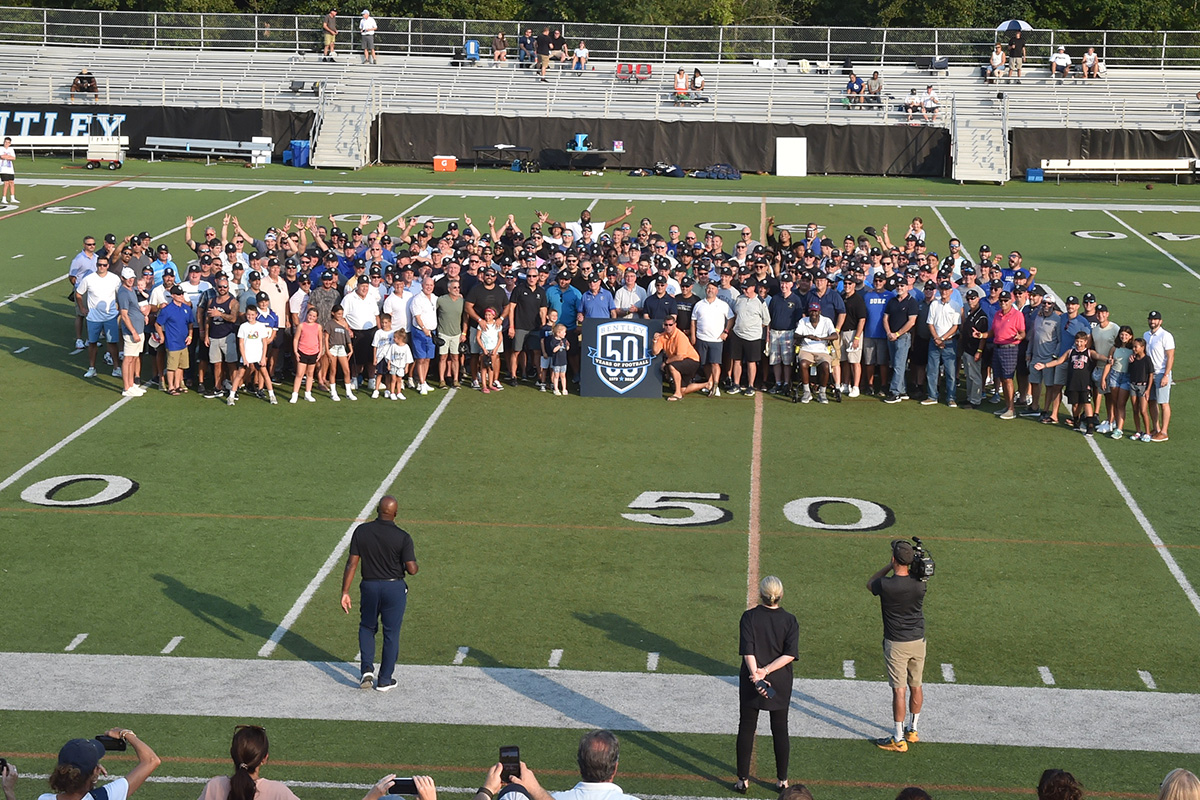 DEDICATION LEADS TO SUCCESS
Contributions to the football program will support athletic scholarships and financial aid; field enhancements; health and wellness; a focus on diversity, equity and inclusion; and pride and passion for the black and blue uniform.
Tony Remington '91 started his football career at UMass Amherst, playing alongside Athletics Director Vaughn Williams — who, he laughs, "doesn't remember me, but I remember Vaughn!" When Remington transferred to Bentley, he realized it was different. "The grit we had, the way Yetten put the team together, was something special." Remington kicked off the campaign to dedicate Peter Yetten Field with a $50,000 gift to this year's football program, and $200,000 more in endowed support, solidifying the football program for years to come. 
"I feel really lucky and blessed; it feels great to get back to Bentley. I met my two best friends here, godfathers to my kids. I would encourage all of you to take a breath, think through what Bentley did for you, and see if you can contribute to what we're trying to do here."
If you'd like to be a part of the 50 Years of Football campaign, visit our site.
Everything's about connection — and you're the connection. You're the foundation of the past that's moving us into the future. Excellence moving forward: that's what we want, and that's what we're going to do. I hope that you will help us in that endeavor.
Athletics Director Vaughn Williams