Bentley Student-Athletes Achieve Highest Graduation Rate in the Nation
For the fourth straight year, Bentley University's student-athletes once again have the highest graduation rate in the country at 99 percent, according to the latest NCAA Division II Academic Success Rate report. 
The Academic Success Rate is the percentage of student-athletes who graduate within six years of initial enrollment at a college. Bentley was the only institution to record a success rate of 99 percent for the third straight year. This also marks the seventh straight year that Bentley has achieved a rate of 97 or better and the 10th straight year above 90 percent.
"I could not be prouder of our student-athletes," said J. Andrew Shepardson, vice president for Student Affairs. "In this time of great uncertainty, the constant commitment of our student-athletes to academics and their sport is gratifying. I am grateful to our coaches, our faculty and all members of the Bentley community who support our student athletes."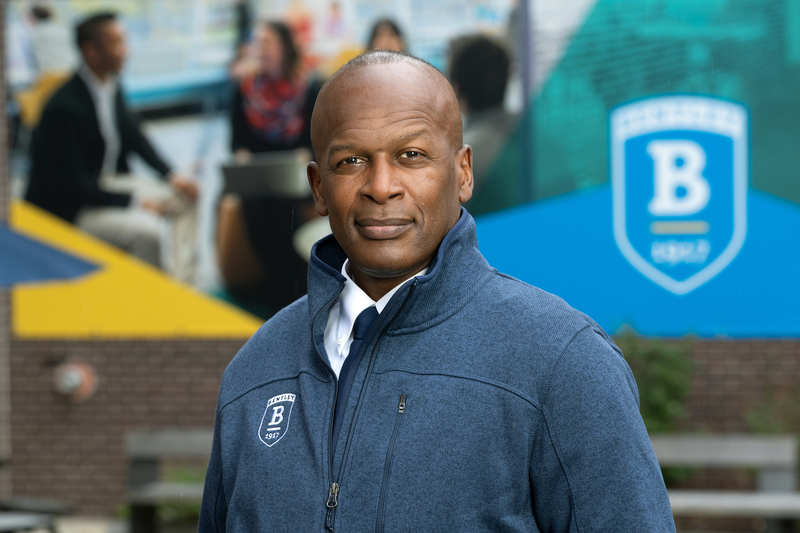 The honor comes as the university moves forward with a new strategic plan that sets out the mission, vision and values for Bentley Athletics for the next five years. The plan was created with input from across the university and is focused on ensuring that Bentley student-athletes will be successful leaders in sport, in the classroom and in the world.
"Being ranked number one in Division II in academic success rate is a tremendous tribute to Bentley University, our student-athletes and their dedication to succeeding in the classroom," said Director of Athletics Vaughn Williams. "Accomplishing this feat for the fourth straight year is truly remarkable!"
Bentley Names BC's Vaughn Williams to Lead Athletics
Of the 19 Bentley sports that were evaluated (indoor track, outdoor track and cross country are considered one sport), 16 had perfect 100 percent Academic Success Rate scores. They are baseball, men's and women's basketball, men's and women's cross country and track, men's golf, men's ice hockey, men's and women's lacrosse, men's and women's soccer, softball, women's swimming, men's and women's tennis, and volleyball.
Bentley's rate is significantly above the national standard. The national four-year Academic Success Rate average climbed one point to 74 percent, and the entering class of 2013 increased two points to 77 percent, an all-time high.
About the Ranking
The NCAA developed the Division II Academic Success Rate as a more accurate picture of student success than graduation data compiled by the federal government. The Academic Success Rate takes transfer students into account and removes students who left the institution in good academic standing. In addition, the rate also measures student-athletes who don't receive athletically related financial aid, a significant number of Division II athletes.
NCAA DIVISION II ACADEMIC SUCCESS RATE – TOP 10
1. Bentley University – 99
2. Thomas Jefferson University (Pa.) – 98
2. Saint Michael's College (Vt.) – 98
4. Hillsdale College (Mich.) – 97
5. Rollins College (Fla.) – 96
5. Biola University (Cal.) – 96
5. Trevecca Nazarene University (Tenn.) - 95
5. Point Loma Nazarene University (Cal.) – 95
9. Eckerd College (Fla.) – 94
9. Maryville University of St. Louis – 94
9. Seattle Pacific University (Wash.) – 94
9. Rockhurst University (Mo.) – 94
9. Dominican University of California – 94
9. Cedarville University (Ohio) – 94